Implementing SharePoint 2013 Hybrid for Search, Business Connectivity Services, OneDrive for Business and Yammer

Thursday, October 9, 2014 from 11:00 AM to 3:00 PM (EDT)
Event Details
This class will focus on SharePoint hybrid and on-premise environments. Attendees will learn how to make the hybrid environment work together with SharePoint services.
Note: Seats are limited in this class and it usually sells out fast. Please register soon if you plan to attend.
This is a jam-packed class with Lots of real world information and demonstrations taught by Fabian Williams, Microsoft SharePoint MVP, Microsoft Certified Solutions Developer, and Microsoft SharePoint Architect. 
Bonus materials: You never walk out empty handed from our classes. We provide you with deliverables / files you can use right away in your environment.
Deliverables of this class include:
 

PowerShell scripts for configuring

on

-

premise

and cloud environments

 

Complete recording of the class for you to keep

 

30 days access to SharePoint-Videos.com (850+ tutorials on the site)
All included in the price of the class!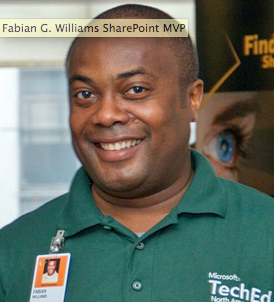 CLASS OUTLINE

Hybrid Defined
In this module, we will focus on what is it and how do you use it. We will gain some perspective on how many different type of Hybrid there are and which kind of Hybrid will fits into which situation. This is the entry point into the session and provides a high level overview of the technology.

What do you need to know before you embark on Hybrid
In this module, we will discuss and detail all the prerequisite that should be considered whenever embarking on a Hybrid project. This goes into all the planning which includes what service offerings will be consumed and how and by whom, identity, security, certificates, physical and logical planning.

Configure your On Premises SharePoint
In this module, we will talk about all that goes into squaring away the SharePoint On Premises Environment. This will detail how to manage Certificates, the PowerShell scripts needed to configure the On Premises Environment as well as the Service Applications and Site that are going to be exposed. Furthermore, we will look at the holistic environment that plays a role in this as well such as Active Directory Domain Services (AD), Active Directory Federation Services (ADFS), Proxy Server (Web Application Proxy) and all the elements that ties together that infrastructure.

Configuring your Office 365 SharePoint Farm
In this module, we will be looking at all the configuration elements required to ensure that the services may be consumed between both On Premises and Cloud (Office 365/SharePoint Online) Environment.  This will include binding the STS Certificates, configuring Secure Store and making Service Applications Available for consumption.

What Service Applications may be consumed in Hybrid
In this module, we will look at some of the Service Application that you will be exposing between On Premises to the Cloud (Office 365/SharePoint Online) or vice versa.  Some of these Service Applications will be Search, BCS, Duet, and we will also discuss en-roads to BizTalk via Azure.

OneDrive for Business and Hybrid
In this module, we will focus our time looking at what OneDrive for business brings to the table.  With Service Pack 1 for SharePoint Server it brought the ability to have redirection of end user content to the cloud with an inherently seamlessly process. We will look at the benefit of doing such a thing and the impact to governance, administration, security and accessibility.

Yammer for the Enterprise and Hybrid
In this module, we will again look to what was provided by having Service Pack 1 for SharePoint Server installed and also looking at Yammer for the Enterprise in Office 365/SharePoint Online. We will see how we can manage the entire Social Experience for users in our environment with the implementation of Yammer.

Summary and Wrap Up
We summarize what we have learned today as well as open up for Live Q & A.
Have questions about Implementing SharePoint 2013 Hybrid for Search, Business Connectivity Services, OneDrive for Business and Yammer?
Contact VisualSP
Organizer
VisualSP (established in 2004) is focused on empowering information workers, technical decision makers, administrators and developers in corporate environments with the SharePoint knowledge they need to be successful. Our goal has been to promote sustainable SharePoint adoption through education and support.