Description
Implementing SAFe® 4.5 w/ SPC4 Certification, (San Antonio, TX)
Become a leading agent for change—and enable your enterprise to succeed in a disruptive marketplace—when you certify as a SAFe® 4 Program Consultant (SPC). During this four-day course, you'll learn how to lead a Lean-Agile transformation by leveraging the practices and principles of the Scaled Agile Framework® (SAFe®).
You will learn how to effectively coach programs, launch Agile Release Trains, build a continuous delivery pipeline and DevOps culture, and empower a Lean Portfolio. The first two days of the course—Leading SAFe®—will provide you with the basis to teach SAFe to others. The final two days focus exclusively on what it takes to successfully implement SAFe in your enterprise.
Certification is optional to attendees. Those who achieve SPC certification are authorized to license SAFe training materials.
Audience
This course is intended for those who will be materially and directly involved in a SAFe adoption. This includes practitioners, change agents, and consultants responsible for implementing Agile programs and portfolios as part of an enterprise Lean-Agile change initiative. Attendees typically include:
Professional Services Consultants

Business and Technology Executives, Leaders, Managers, and Directors

Portfolio Managers and Fiduciaries, Project/Program Management Office (PMO) personnel

Development, QA, and IT management

Program and Project Managers

Product and Product Line Managers

Process Leads and Lifecycle Governance personnel

Enterprise, System, and Solution Architects

Internal Change Agents, Lean-Agile Center for Excellence (LACE), Agile Working Group
Topics Covered
Leading SAFe® Days 1 and 2
Implementing SAFe® Days 3 and 4
Introducing the Scaled Agile Framework (SAFe)

Embracing a Lean-Agile Mindset

Understanding SAFe Principles

Experiencing Program Increment (PI) Planning

Exploring, Executing, and Releasing Value

Leading a Lean-Agile Enterprise

Empowering a Lean Portfolio

Building Large Solutions

Reaching the SAFe Tipping Point

Designing the Implementation

Launching an ART

Coaching ART Execution

Extending to the Portfolio

Sustaining and Improving

Becoming an SAFe 4 Program Consultant (SPC)
Learning Objectives
To perform the role of a SAFe® Program Consultant (SPC), you should be able to:
Lead an enterprise Lean-Agile transformation

Implement the Scaled Agile Framework (SAFe)

Empower with a Lean Portfolio

Align the organization to a common language and way of working

Perform value stream identification

Launch and support Agile Release Trains and coordinate large solutions

Build and execute an implementation rollout strategy

Configure the Framework for a specific enterprise context

Train managers and executives in Leading SAFe®

Act as a SAFe® 4 Lean-Agile Leader (SL) certifying agent

Continue your learning journey and become enabled to train other SAFe roles in the enterprise
Attendees must attend all four days of the course in order to qualify for the exam.
What You Get
The class registration includes:
Attendee workbook

Preparation and eligibility to take the SAFe 4 Program Consultant (SPC) exam

One year membership to the SAFe Community Platform

Course certificate of completion
Prerequisites
All stakeholders in a Lean-Agile transformation are welcome to attend the course, regardless of experience. However, the following prerequisites are highly recommended for those who intend to take the SAFe® 4 Program Consultant certification exam and practice as a SAFe® 4 Program Consultant (SPC):
5+ years of experience in software development, testing, business analysis, product, or project management

3+ years of experience in Agile

One or more relevant Agile certifications
Upon achieving SAFe® 4 Program Consultant (SPC) Certification
As a SAFe® 4 Program Consultant (SPC), you can continue your learning journey by achieving validation to license and teach SAFe courses. Courses available for validation are:
Leading SAFe®

SAFe® for Teams

SAFe® Product Owner/Product Manager

SAFe® Scrum Master

Advanced SAFe® Scrum Master

SAFe® Release Train Engineer

You will receive access to no-cost license materials, videos, and artifacts that support launching Agile Release Trains

Inclusion in the SPC directory listing (optional)

Access to the private SPC Community
Annual Renewal
Membership renewals are one year from the date certification is earned
Professional Development Units (PDUs)
Attendees may be eligible to apply for 30 PDUs toward their continuing education requirements with the Project Management Institute (PMI) for PMP, PgMP, and PMI-ACP certifications
Scrum Education Units (SEUs)
Attendees may be eligible to apply for SEUs under category C, toward earning or renewing their CSP through Scrum Alliance
Presented by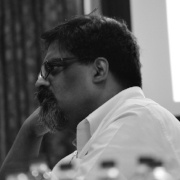 Siraj Sirajuddin, SPCT, MBA
"With his 25+ years of experience with transforming enterprises, culture and leadership, Siraj has provided excellent change management coaching and leadership to large organizations from all over the globe.
He is the author of the book "The Soulmate: The Poetry Book of Temenos" and upcoming book "The Temenos Effect: The Surprising Results of Wounded Healers Approaching the Transforming Enterprise, Culture and Leadership".
Siraj Sirajuddin founded Temenos in 2012 after two decades of intense experimentation and deep dives into the hard work of Enterprise Transformation. He is an MBA and one of the few global SPCTs (Scaled Agile Framework SPC Trainers). He and his team of enterprise change agents work with large and complex enterprises all over the world. He is a global nomad and travels between USA and Asia Pacific every month. Siraj hosts the venerable annual STIA+Temenos conference that is celebrating its 25th anniversary this year.
He has two daughters and loves poetry, music, movies, singing and painting."