Description
SAFe® PROGRAM CONSULTANT (SPC4) TRAINING & CERTIFICATION COURSE (San Antonio, TX)
DESCRIPTION
The SAFe Program Consultant Training and Certification course is for internal agile change agents and external consultants. It provides the tools to implement agile programs and validates their knowledge in agile programs, program portfolio management, agile architecture, and leadership so that they can launch Agile Release Trains as part of an enterprise Lean|Agile change initiative.
The goal of this course is to prepare internal change agents and external consultants to:
Lead an enterprise agile transformation

Implement the Scaled Agile Framework® (SAFe)

Train managers and executives in Leading SAFe and act as a SAFe Agilist (SA) certifying agent

Train teams in SAFe ScrumXP for Teams and act as a SAFe Practioner (SP) certifying agent
The first two days of this class is an intensive version of Leading SAFe. The goal is to prepare certified SAFe Program Consultants (SPCs) to teach the course and act as a certifying agent for SAFe Agilists (SAs). You will also gain the knowledge necessary to lead an enterprise agile transformation by leveraging the Scaled Agile Framework and its underlying principles of lean thinking and product development flow. You will leave with an understanding of how the principles and practices of the framework support Agile Teams, Agile Programs, Agile Program Portfolio Management and Agile Architecture.
In the second two days, you will gain the knowledge needed to identify, plan, and implement SAFe programs with Agile Release Trains. Further, you'll have the briefings, artifacts and templates you need to identify the value streams, prepare the organization, launch agile programs, plan and execute the major events, and implement effective processes and measures for continuous program improvement.
AUDIENCE
Internal change agents, external consultants and managers and leaders responsible for implementing agile programs as part of an enterprise Lean|Agile change initiative
LEARNING OBJECTIVES
By the end of this course, attendees will be able to:
Apply lean, agile and product development flow principles to improve productivity, employee engagement, time to market, and quality

Apply the Scaled Agile Framework based on lecture, real-world examples, and insights by Scaled Agile experts

Understand the skills necessary for an enterprise transformation based on the information and examples presented, and additional recommended readings and resources

Gain the insights into the leadership skill most effective in unlocking the intrinsic motivation of software development knowledge workers, and begin applying them in your context

Find the value streams around which to organize the enterprise's Agile Release Trains

Prepare the organization and the teams to launch the trains

Run the first Release Planning Meeting

Interact at key program touch-points to "help keep the train on the tracks"

Run Inspect and Adapt workshops for continuous program improvement

Introduce the organization to the principles of program portfolio management and agile architecture

Grow the leadership skills necessary to support the transformation
PRE-REQUISITES
For those taking SPC certification exam,
5+ years of experience in software development, testing, business analysis, product or project management

3+ years of experience in Agile

One or more relevant Agile certifications (e.g., CSM, CSPO, CSP, CSC, CST, Scrum.org, DSDM, ICAgile, PMI-ACP)
PROCESS
Attend the 4-day SPC Certification Class

Pass the SPC exam
BENEFITS
All SPCs in good standing receive the following benefits:
Usage of SAFe Foundations PowerPoint briefing

Access to SAFe courseware to train managers and executives in the Leading SAFe course and the ability to act as a SAFe Agilist (SA) certifying agent

Access to SAFe courseware to train teams in the SAFe ScrumXP for Teams course and the ability to act as a SAFe Practitioner (SP) certifying agent

Content updates

SPC Branding Kit (certification mark, material co-branding, etc.)

Certified SPC directory listing (optional)

Scaled Agile Academy LinkedIn community membership
Presented by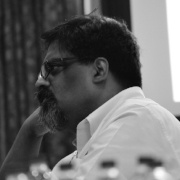 Siraj Sirajuddin
MBA, SPCT4
"With his 25+ years of experience with transforming enterprises, culture and leadership, Siraj has provided excellent change management coaching and leadership to large organizations from all over the globe.