Impeachment and Trials: A conversation with Professor Carlton FW Larson

Monday, December 9, 2019 from 7:00 PM to 8:30 PM (PST)
Event Details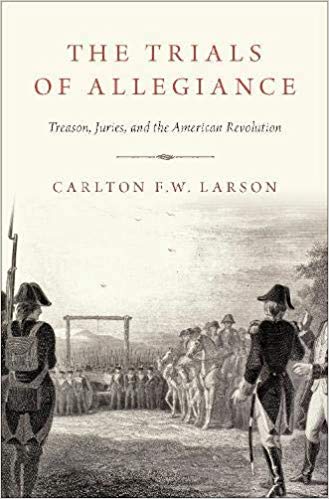 Given that Monday, December 9 is now the day that the House Intelligence Committee report in the impeachment inquiry is being presented to the House Judiciary Committee, the event has been changed up. Instead of a live podcast, there will be plenty of discussion with our local expert who literally just wrote the book on topics that are playing out on our television screens!
UC Davis constitutional law expert Carlton Larson has a new book out entitled "The Trials of Allegiance: Treason, Juries, and the American Revolution" that sounds like a relic but replace "American Revolution" with "Current Times" and it might be accurate. A graduate of Harvard and Yale Law School, Larson clerked for Ninth Circuit Court of Appeals judge Michael Daly Hawkins before working in private practice and joining UC Davis in 2004. 
As Carlton and Scott graduated law school the same year, he makes Scott feel very unaccomplished. 
Capital Books opened this spring a block from the State Capitol next to the historic Crest Theatre to bring new book and gift shopping to a retail desert. It is family-owned, makes quick turnaround special orders, and is a great place to discover in a way you can't online. Trust us--Scott has a book from there titled "From Crook to Cook" by Snoop Dogg with a forward by Martha Stewart. That sure didn't pop up on his dot-com recommendations, and you can't meet mascot Lily if you don't visit in person. 
We'll have copies of the book on hand and I strongly you encourage them to buy them through our host for the live podcast, Capital Books. If you are around the Capitol, they can order copies from you and if you're out of the area, they can ship it to you.
RSVP for Monday, December 9, show up early and do your holiday shopping in a great new local independent bookstore. The event begins at 7pm and 
This is a must-RSVP event and the store will be closed to the public after 7pm. Please do not RSVP unless you fully intend to go. It's going to be a great discussion!
When & Where

Capital Books
1011 K Street
Sacramento, CA 95814


Monday, December 9, 2019 from 7:00 PM to 8:30 PM (PST)
Add to my calendar