Description
Problem Solving Forum - Conference Call
Impactful Writing For The CFO
hosted by The CFO Leadership Council
Wednesday, June 6, 2018
12:00PM - 1:00PM ET
Note: Dial In info will be sent in your registration confirmation
As a CFO, you are at the center of the flow of information through your firm's many internal and external customers. Your ability to write well can be a critical determinant of your effectiveness and influence in your role. Unfortunately, CFOs sometimes struggle to find the right content, message, style, and tone, and miss the opportunity to be impactful.

Join Ken Wunderlich, President, Wunderlich Consulting as he guides you through a 10-step process to broaden your skill set as a written communicator and increase the impact you have on your firm.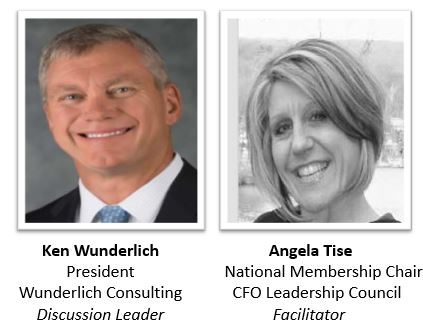 About Our Speaker
Ken Wunderlich is President of Wunderlich Consulting, LLC, which provides strategic planning, corporate finance, and transaction advisory services to growing, privately-held, middle-market companies.
He is also a Senior Consultant with Cincinnati Consulting Consortium, a global, multi-functional management consulting firm of former Procter & Gamble executives.
Mr. Wunderlich currently serves as Chief Financial Officer for Trucent, Inc., a Michigan-based firm using advanced separation technology to extract and reclaim valuable fluids in industrial and agricultural applications.
Mr. Wunderlich previously served as Chief Financial Officer of EQ-The Environmental Quality Company, a fully-integrated environmental services firm based in Wayne, Michigan with sales of $400M annually. He and his management partners grew the company over twelve years from a $70M management-owned business, through a period of private equity ownership, and ultimately exiting through a sale to a public competitor in 2014. Mr. Wunderlich was honored in 2008 by Crain's Detroit Business as a CFO of the Year finalist.
Mr. Wunderlich also served for 18 years in various roles with Procter and Gamble, Hewlett-Packard, M&M/Mars, and SRI International.
Mr. Wunderlich received his Bachelor of Arts from The College of William and Mary, with Honors, in Economics. He received his Masters of Business Administration in Finance from the Booth School of Business at the University of Chicago.
Mr. Wunderlich lives in Bloomfield Hills, Michigan with his wife Jean.
Topic Questions
If you have specific questions in advance of the presentation, please send them to Angela Tise at angela@cfolc.com for inclusion in the presentation.
We know this topic can generate hours of conversation and because we value your time and have only allocated one hour, we want to work as many of your questions as possible in to the initial discussion. Please note, we will leave time for Q&A at the end and we will also invite your questions and comments as the presentation is happening.
Registration
To register for this program, simply click on the green tickets button. All CFO Leadership Council members can attend this event for free. Non-member senior financial executives who are CFOs, Vice Presidents of Finance, Directors of Finance and Controllers (or the like) are welcome to attend this program.
CPEs are not offered.
---
More Information
For more information about this program or The CFO Leadership Council, please contact Angela Tise, National Program Chair at angela@cfolc.com.
---