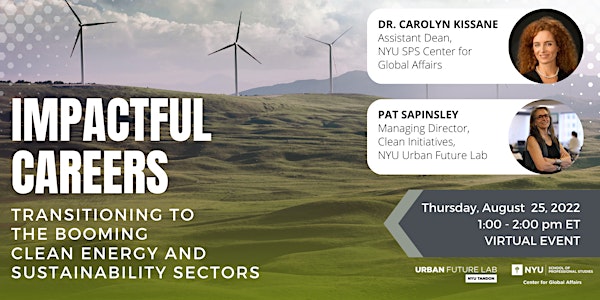 Impactful Careers: Transitioning to Clean Energy and Sustainability
Transition to an impactful and rewarding career in clean energy and sustainability.
About this event
Job growth and investment in the clean energy sector is at an all time high and hiring rates for the sector are outpacing overall US job growth according to the recent 2022 US Energy and Employment Report. Opportunities to contribute to this important and meaningful work exist at local, federal, and global levels and encompass a wide variety of career tracks such as law, marketing and sales, public policy, finance, data analysis, computer programming, design, project management, and more.
Join CGA Assistant Dean and Director of the NYU SPS Energy, Climate Justice, and Sustainability Lab, Dr. Carolyn Kissane, and Pat Sapinsley, Managing Director of Cleantech Initiatives at the NYU Urban Future Labs, for a discussion on the future of jobs in the clean energy space and strategies and tips for professionals seeking to leverage their experience and skills to transition to an impactful career in this sector including the joint NYU Professional Certificate in Clean Energy Program.
—---------
Dr. Carolyn Kissane is Assistant Dean of the Center for Global Affairs within NYU's School of Professional Studies where she also serves as Clinical Professor and Director of the Energy and Environment Concentration. She teaches graduate-level courses examining the geopolitics of energy, comparative energy politics, energy, environment and resource security, and climate change and security. She is faculty adviser to the Energy Policy International Club.
Dr. Kissane is Director of the NYU SPS Energy, Climate Justice and Sustainability Lab. She was awarded the esteemed NYU Excellence in Teaching Award in 2007, the SCPS Award for Teaching Excellence in 2009, and nominated for the NYU-wide Distinguished Teaching Award in 2008, 2009, 2016, and 2021. She is a lifetime member of the Council on Foreign Relations, member of the National Committee on US-China Relations and she serves on the boards of the New York Energy Forum, New York Energy Week, and the Clean Start Advisory Board.
She was named Breaking Energy's Top Ten New York Women in Energy and Top Ten Energy Communicator. She hosts Fueling our Future, an energy series she moderates which brings in energy and environment experts for conversation and debate.
Dr. Kissane received her Ph.D. from Columbia University.
Pat Sapinsley is the Managing Director of Cleantech Initiatives at Urban Future Lab/ NYC ACRE at NYU Tandon School of Engineering.
The Urban Future Lab is home to the New York City Accelerator for a Clean and Resilient Economy, which has supported the city's clean-energy and clean-tech entrepreneurs since 2009. NYC ACRE provides resources to start ups which focus on alternative energy and clean technology. This includes product or service offerings that have a clear linkage to a more sustainable urban environment, such as Smart Grid or Smart City innovations. We also offer the Clean Start Program to educate career changers who wish to enter the green economy, the Carbon to Value Initiative and the H2 Refuel Program.
A LEED AP architect, Pat holds a Master's in Architecture from the Harvard Graduate School of Design and has served on their Alumni Council. She is past Co-Chair of the Committee on the Environment of the New York Chapter of the American Institute of Architects, a member of the Board of Building Energy Exchange, a frequent lecturer and industry panelist, and an active member of the U.S. Green Building Council and Urban Green. Prior to joining UFL/ACRE, Pat worked in venture capital at Good Energies and consulted with startups in the building energy efficiency space. She was CEO of Watt Not, an LED lighting consultancy, and Build Efficiently, LLC. As a Visiting Scholar at Harvard's Wyss Institute for Biologically Inspired Engineering, she assisted in translating biologically-inspired technologies into commercial products. She brings 15+ years of experience in the industry, connecting startups to sources of funding, customers, and business mentors.