Description
Explore the intersection of Customer Success and social impact

Customer Experience (CX) and Customer Success (CS) are fast-growing departments within Cloud-based companies. CX/CS leaders accelerate business growth through close engagement with customers and partners. The goal of Impactathon® Customer Success for Good is to discuss ways CX/CS professionals can drive social impact and solve societal challenges. Corporate social responsibility(CSR) goals are easier to achieve by developing a conscientious customer success program.
Join this event to:
Listen to honest, candid experiences and perspectives from thought leaders and participants in the Customer Success for Good space; hear about their successes and challenges and how they continually pivot to pursue both CS milestones and social impact

Join teams and engage in rounds of ideation around ways Customer Success can innovate to better incorporate and pursue social impact.

Work in small groups to build an idea and 'mini pitch'. Beyond the idea, you will have a chance to build relationships with motivated, talented individuals aligned with a shared goal of creating social impact that can create community beyond Impactathon.

Meet & network with industry professionals in the Customer Success space

Enjoy light snacks with new friends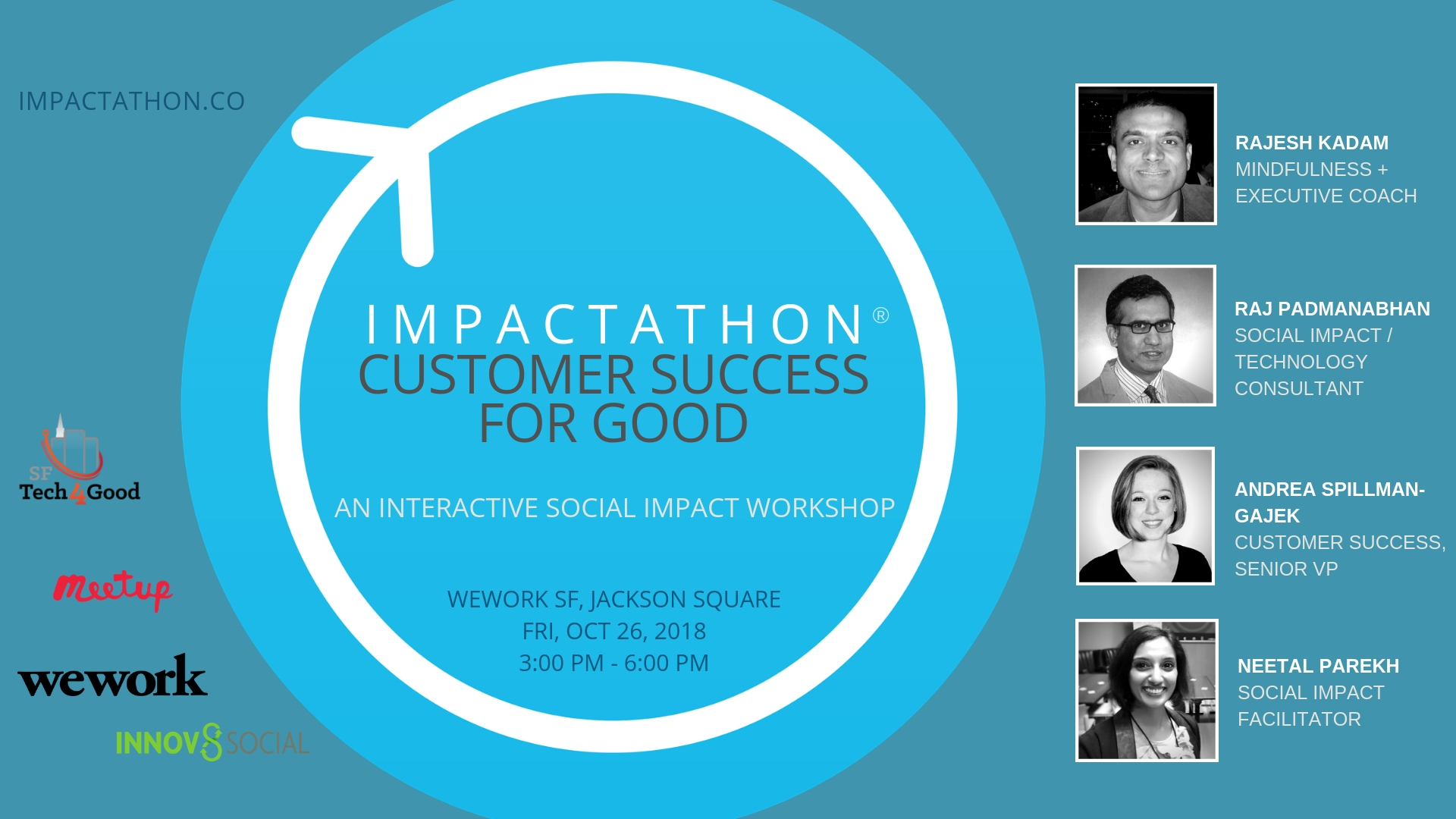 About Impactathon®
Innov8social partners with mission-driven companies, institutions, and foundations to bring together individuals together for Impactathons, interactive social impact events that catalyze collaboration, innovation, working in teams, and pitching social impact solutions for feedback and potential recognition.
Impactathon has partnered with entities across the country to deliver 8 Impactathons in cities San Francisco, New York City, Aliso Viejo, Palo Alto, Los Angeles, Baton Rouge.

About the speakers
Rajesh Kadam, mindfulness & executive coach
Raj Padmanabhan, social impact / technology consultant
Andrea Spillmann-Gajek, Customer Success Senior VP
About the facilitator
Neetal Parekh, social impact ecosystem builder, founder, author, convener
Photography and filming
Please note that by purchasing a ticket, you acknowledge and agree to being photographed and filmed.