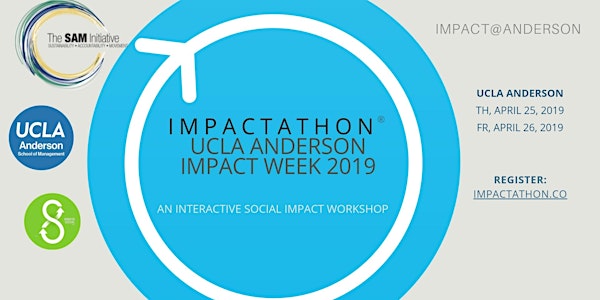 Impactathon® at UCLA Anderson: Interactive Social Impact Workshop & Hackathon
When and where
Location
UCLA Anderson School of Management, Executive Dining Room, Gold Hall, B210 110 Westwood Plaza Los Angeles, 90095
Refund Policy
Refunds up to 1 day before event
Description
Calling all LA social entrepreneurs and individuals driven to create social impact! Win up to $10,000 for your social enterprise solution or up to $1,000 for mapping out a solvable problem.
If you have ever been called to create positive impact, whether locally for Los Angeles or globally for the world, this event was designed for you!
In partnership with UCLA Anderson School of Management and The SAM Initiative, Impactathon® is back, as part of Impact Week. At Impactathon, you will learn from esteemed UCLA Anderson faculty about methodologies and frameworks for understanding how social impact works as a system. You will hear from local social entrepreneurs and subject matter experts about their candid experience in deeply understanding a societal issue and building a social impact initiative. You will participate in a design-thinking approach to understanding a problem.
Whether you are an experienced social entrepreneur or new to the space, you will have the opportunity to work in teams and further your enterprise or understanding of a solvable problem. Teams will have the chance to pitch to judges and potentially win funding to further their work.
Be part of this unique opportunity to create change in Los Angeles and beyond!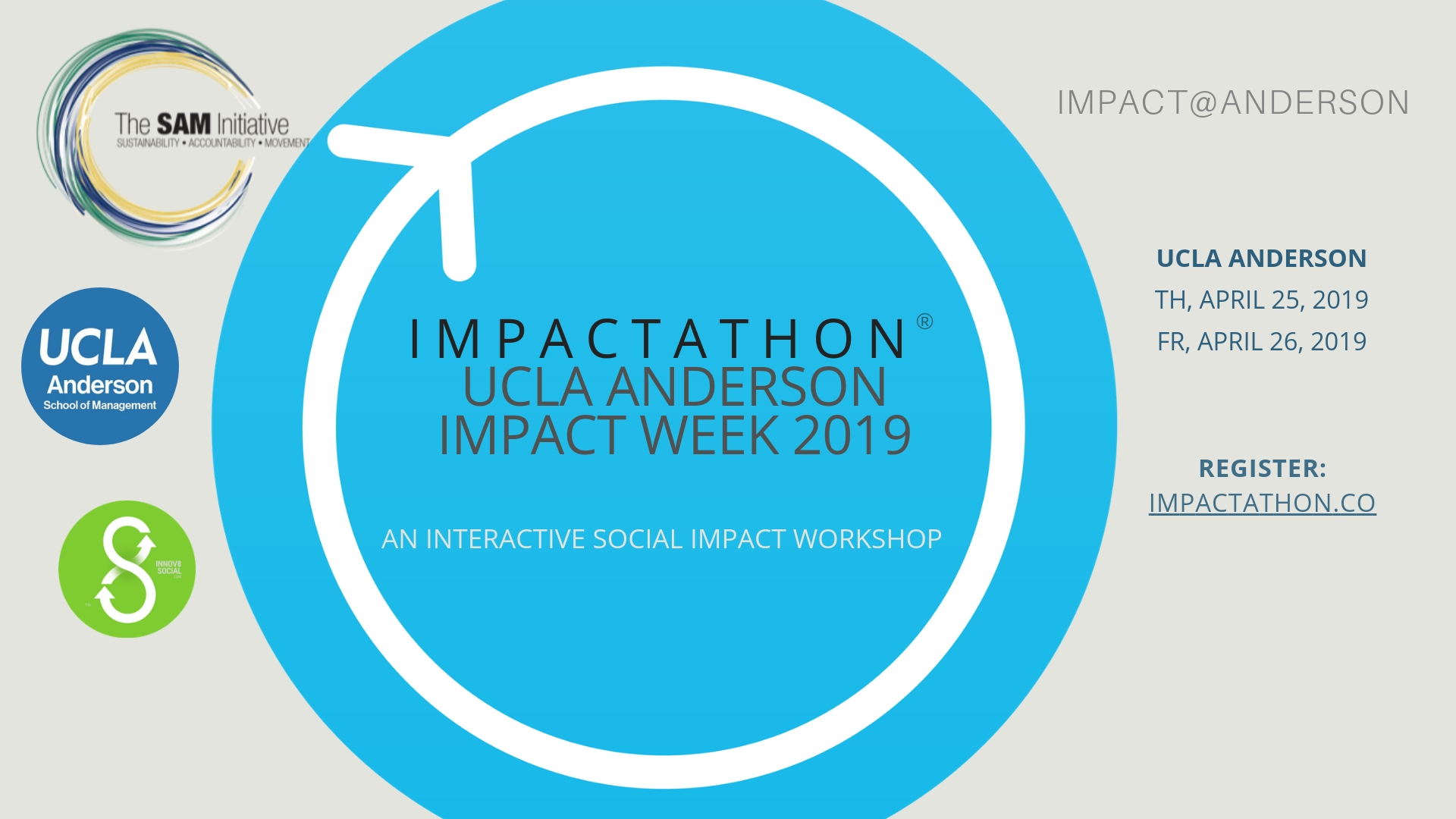 Our Themes
This year's Impactathon at UCLA Anderson will spotlight the following United Nations Sustainable Development Goals:

Social entrepreneurs working to create or advance good health and well-being; sustainable cities and communities; and/or responsible consumption and production, are especially encouraged to apply. The UN Sustainable Goals (SDG's) were launched in 2015 to address the global challenges we face, including those related to poverty, inequality, climate, environmental degradation, prosperity and peace and justice.
Who Should Attend
- Social entrepreneurs with proven ideas and traction who are looking to scale their work.
- UCLA Anderson students and other business leaders seeking to share their skills with existing teams
- UCLA undergraduate and graduate students, alumni, community members excited to cross-pollinate ideas and lend their perspective to deeply understanding local and global issues and brainstorming innovation
- Local undergraduate and graduate school students studying or interested in engaging in the social impact sector
- Any individual that wants to learn about social impact and social entrepreneurship, map a problem, and ideate solutions to a local or global issue
*note: Tickets also give you access to robust programming as part of Impact Week at UCLA Anderson. Financial assistance is available for tickets.
Impact Talks
Bhavna Sivanand, Executive Director of Impact@Anderson.
Nurit Katz, Chief Sustainability Officer at University of California, Los Angeles
Charles Corbett, Professor of Operations Management and Sustainability at UCLA Anderson
Eli Calderón Morin, Founder of All_ebt
Workshop
Gayle Northrop, Lecturer at UCLA Anderson and Senior Advisor of Impact@Anderson, President and Principal at Northrop Consulting.
About Impact Week at Anderson
In its 5th year and with the theme Purpose + Profits, Impact Week at UCLA Anderson is focused on building a robust bridge to local issues in Southern California as well as global issues. Recognizing that some of the best ideas to solve social challenges come from the communities in which those challenges persist, Impact@Anderson believes social innovation and entrepreneurship must bridge the gap between community and classroom.
About The SAM Initiative
Founded in 2013 by Mindy Freedman, the SAM Initiative is a group of individuals who have pooled their financial resources and experience to fund and support exceptional and innovative programs in Los Angeles that promote social change and benefit women, children and families. The SAM Initiative was founded on the belief that we have more impact together than we have alone. Together, we strive to educate and engage donors by investing in community-based organizations that reflect our passions and address the most pressing needs in our community.
About Impactathon®
Innov8social partners with mission-driven companies, institutions, and foundations to bring together individuals together for Impactathons, interactive social impact events that catalyze collaboration, innovation, working in teams, and pitching social impact solutions for feedback and potential recognition.
Impactathon has partnered to deliver 10 Impactathons in cities including San Francisco, New York City, Aliso Viejo, Palo Alto, Los Angeles, Baton Rouge.
Schedule for Impactathon
Thursday, April 25th 2019
9:00 Breakfast + registration
9:30 Welcome
9:45 Impact Talks by Bhavna Sivanand, Nurit Katz, Charles Corbett
10:30 Breakout sessions facilitated by speakers
11:00 Group formation
11:30 Impact Talk by Eli Calderón Morin
11:45 Lunch
12:30 Workshop by Gayle Northrop
1:30 Pitch deck overview
2:00 Hackathon
Friday, April 26th 2019
9:30 Join Impact Week Opening Keynote
10:30 Hackathon + Pitch Practice
11:30 Lightning Round Pitches
12:45 Lunch
1:15 Hackathon
2:00 Final Pitches
3:30 Join Impact Week Closing Keynote
4:30 Results announced + Judges' Remarks
4:40 Reception
Judges
Lightning Round

Gayle Northrop, Lecturer at UCLA Anderson and Senior Advisor of Impact@Anderson

Rachael Parker-Chavez. Founder of Defining: good

Elaine Hagan, Associate Dean, Entrepreneurial Initiatives, UCLA Anderson School of Management

Final Pitches

Amy Cheng-Tran, Head of Brand Partnerships at Enso

Betsy Densmore, Founder of Academies of Social Enterprise

Mindy Freedman, Founder of The SAM Initiative

Allison Gingold, Member of The SAM Initiative

Jill Rosenberg, Member of The SAM Initiative

Jennifer Walske, Faculty Director of Impact@Anderson
Photography and filming
Please note that by purchasing a ticket, you acknowledge and agree to being photographed and filmed.

Financial Aid
Please email info@innov8social.com in case in need of financial support. Early bird rates are also available until 4/19.
Media Partnership
We welcome aligned media partners to share Impactathon with their communities. To learn more about how to become a media partner, email media@innov8social.com
FAQ's
Read Frequently Asked Questions about the event
Speaker, Judge, Catalyst Bios
Read bios of Impact Talk Speakers, Catalysts, and Judges
Parking
Please park in Lot 4 and let the kiosk attendant know that you are attending Come early, parking space my run out!