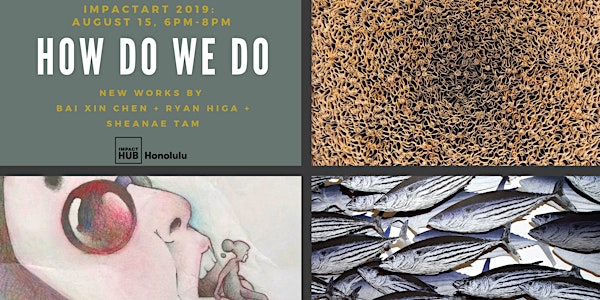 ImpactART: How Do We Do, works by BAIXIN CHEN + RYAN HIGA + SHEANAE TAM
When and where
Location
ImpactHUB Honolulu Coworking 1050 Queen Street #suite 100 Honolulu, HI 96814
Description
Impact Hub Honolulu presents ImpactART 2019, "How Do We Do." This is the first ImpactART group exhibit featuring three Hawaii artists, Baixin Chen, Ryan Higa, and Sheanae Tam.
The ImpactART exhibit will showcase a variety of works by Chen (collage with wood shavings), Higa (colored pencil and graphite on paper) and Tam (acrylic on canvas) on the first floor of the creative coworking space. The ImpactART evening will feature a brief program, a scavenger hunt, and a Q&A session with all three artists.
Of the title, featured artist Ryan Higa explains: "To me, the title 'How Do We Do' works on two levels. First, it refers to the physical and technical processes that we use to make the work. It's the 'How do you do that?' Second, it suggests an emotional or intellectual state of being in reference to the work that we're creating. That's the 'How are you doing?' I feel that most art is a fluid combination of both Hows." Chen added, "It refers to the physical aspect of making as well as the emotional and psychological."
More about Impact Hub: The ImpactART program supports Hawaii's artists by creating an equal exchange of artwork for studio and exhibition space. Co-created by Impact Hub Honolulu and Honolulu Biennial Foundation in 2017 to address the need for art studios and the proper valuation of artists' work. Each of these artists have previously contributed unique art to the Impact Hub location as part of their ImpactART trade.