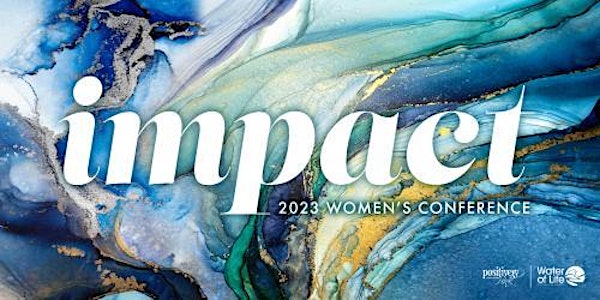 Impact Women's Conference 2023
Annual Women's Conference March 10-11, 2023
By Water of Life - Positively Pink
When and where
Location
Water of Life Community Church 7625 East Avenue Fontana, CA 92336
About this event
Impact 2023 Women's Conference, featuring Bianca Olthoff and Christa Smith is coming this March!
Join us at our main campus in Fontana. If you are a small group, church or organization we would love to partner with you and offer incentives to your group.
We have discounted tickets for 10 women or more, so grab some friends and make a party of it!
Event Times:
Friday March 10
4:30pm** - 6:00pm Check-in and Pre-Conference Party!
6:15pm - Doors to Worship Center Open
6:30pm -9:00 pm - Day 1
** Food Trucks, DJ Music, Bookstore, Cafe, Merch Sales and Check in on the Concourse. Purchase a meal from one of our food trucks (limited menus and availability) or stop by and get your favorite take out and bring it along! You won't want to miss out on the fun! We will have lots of seating and eating places upstairs in the Mezzanine (changed from patio to inside due to weather)
Saturday March 11
8:30am** - Arrival Time
8:40am - Doors to Worship Center Open
9:00am to 12:30pm - Day Two
**Coffee, pastries, muffins available for purchase. Come early and get ready for Day 2!
About our Speakers:
Bianca Olthoff:
Bianca inspires today's generation to discover meaning and purpose in Jesus. Bianca is a passionate Jesus-loving, bible-teaching, book-writing MexiRican who loves to help people navigate life, connect in community, and live significantly.
Her why? She has seen way too many of her closest friends lose their way, live isolated, and forget their faith. She says, "If Jesus is real, raw and revolutionary, we can be too! It's time to get out of the box, color outside of the lines, and live counter-culturally. It's time to live in the name of love.
Bianca is an author and has written, "How to Have your Life Not Suck: Becoming Today Who you Want to Be Tomorrow" and "Play with Fire" which will encourage you to discover who God is and transform you into who He created you to be.
Bianca lives in California and partners with her husband, Matt, in preaching and teaching at The Father's House in Orange County
Christa Smith
Christa is a national and international speaker and her passion for the Lord pours out of her. Her life was significantly marked after a powerful encounter with the Holy Spirit as a young girl. From that moment on, the prophetic heart of the Father became the foundation of her walk with Jesus.
Christa delivers her message with humor, accuracy, and powerful personal experiences. She is known for her passionate preaching and down to earth approachability.
Christa's background includes graduating from Seattle Pacific University with a degree in Communication. She then went on to Hillsong International Leadership College in Australia where she completed the Pastoral Ministry Program. She added author to her resume by releasing her first book, "Singled Out in a Couples World". She currently resides in the San Francisco Bay area and travels full time with her husband, Sean, ministering together throughout America and beyond.
Parking:
We have two options for parking:
Option 1: WOL Lot B parking - For all volunteers and for those from Water of Life that would consider parking here and using the shuttle so we can save the parking structure spots for guests that are not familiar with the Water of Life Campus. Shuttles will be available and running back and forth starting at 4:30 pm (3:30pm for volunteers)
Option 2: WOL Parking Structure - Two levels available. Limited parking spaces. If the structure fills up please proceed to Lot B where a shuttle will be available to take you to the Worship Center Patio.
** To honor other ministries taking place on campus the weekend of our event, please do not park behind our North and South Venues or in the area near the 2-Story building.
Thank you!