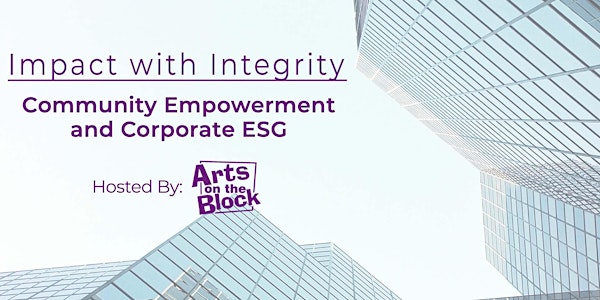 Impact with Integrity: Community Empowerment & Corporate ESG
A Fireside Chat hosted by Arts on the Block
When and where
Location
Arts on the Block Studio 900 Wayne Avenue Suite 1A Silver Spring, MD 20910
About this event
Throughout its almost 20 years, youth-driven, creative social enterprise, Arts on the Block (AOB) has successfully collaborated with companies- ranging from small local businesses to Global FT 500 corporations- to design, fabricate, and install public art commissions in diverse communities.
Authentically engaging the communities with whom we work while creating corporate client initiated projects in those communities, AOB is uniquely positioned to host "Impact with Integrity: Community Empowerment & Corporate ESG".
Bringing together leaders across industries, ESG and CSR executives, community and nonprofit CEOs and directors, and local, municipal, and county decision-makers, AOB's Executive Director, Christopher Barclay, will moderate a panel of three.
Master Planner and activist Molline Jackson and People & Culture Coordinator for Diversity, Equity & Inclusion at BDO USA, LLP, Shareem King will be accompanied by Jerome Tennille, Director of Social Impact & ESG at The Uplift Agency to share on the ground experiences and take a deep dive into the impact of corporate ESG on underserved communities, authentically engaging communities, and maintaining company integrity from all perspectives.
Schedule
6:00 PM - 6:30 PM: Networking & Refreshments
6:30 PM - 7:30 PM: Fireside Chat
7:30 PM - 8:00 PM: Q & A
Who Should Attend
This conversation is well worth your investment; whether you are an executive establishing ESG strategy across your organization, or a facility-level leader executing on an ESG plan, the experiences you'll hear about and the discussion you'll engage in, will leave you with actionable ESG take-aways.