Impact Track: Swedish Sustainable Fashion Forum
About this Event
THE PLOT
The Fashion industry is responsible and being held accountable for polluting the planet and exhausting its resources. A transformation is sorely needed and, the good news is, industry leaders and innovators across the globe are responding to the call for action. Sweden stands out as a trailblazer and torch bearer, with Swedish fashion brands at the forefront of both global conversation on sustainable practices, as well as delivery in the areas of fashion production and related circular economy.
Stockholm Fashion Week was recently canceled in the name of climate impact and sustainability. The net effect? The "Sustainable Fashion Capital of the World" is gearing up to change the way the world purchases and consumes clothes forever.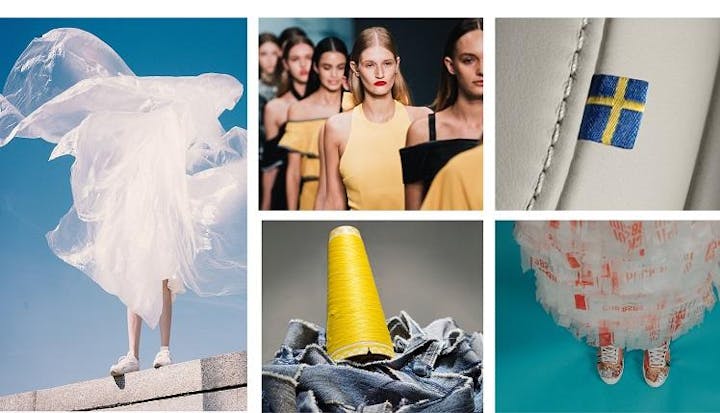 THE MISSION
We are calling on all change-makers seeking systemic disruption in fashion to positively affect mindsets and habits.
The Swedish-American Chamber of Commerce in New York (SACCNY) invites you to explore, interact with, and get inspired by, Swedish trailblazers in fashion who are weaving sustainability into not only the fabric of their designs and clothes, but into society at large.
The SACCNY Sustainable Fashion Forum, presents carefully curated fashion brands and innovators from Sweden – not only touting proven positive impact on the industry, but inspiring sustainable production and shopping habits around the world.
Welcome!
Have questions about the Forum or about SACCNY Impact Track? Contact: Yasmina Backström, Head of Communications & Impact Track: yasmina.backstrom@saccny.org
THE PLAN
- Panel: Sweden - The sustainable Fashion Capital of The World
- Sustainable Fashion Show: Experience Design with Impact
- Fireside Chat: Fashion x Tech - What Happens Next? Trends vs. Long-Term Solutions for Impact
- Fashion Expo & Mingle: Meet The Trailblazers in Sustainable Fashion
THE PARTNERS:

THE SUSTAINABLE FASHION EXPO COMPANIES:
ARTBY - HIKKI - SIGR - AKENBERG - IDUNN WINE - CATHARINA CARLSSON DESIGN - LOTTA LAMPA - WYILDA AF NORDEN - THE PATTERN LANDSCAPE - ERICA HUUVA - C/O GERD - HUMLEBÄCK - DUODJE BY KSS - STYLE OF NORRLAND -VEMÖDALEN BOOTS - MONICA L. EDMONDSON
THE SACCNY'S IMPACT TRACK
On track for collective impact
SACCNY's mission is to create synergies between Swedish and American companies and is now gearing its energy towards building a network of sustainability movers and shakers. In a time where we are battling the clock against climate change, we believe that business has a big role to play. By facilitating learning and building partnerships between companies across sectors and continents, we can move towards reducing negative impact faster. The Impact Track aims to build coordinated movements of global companies, social entrepreneurs and investors and shape an impact network based on the type of collaboration that scales impact.