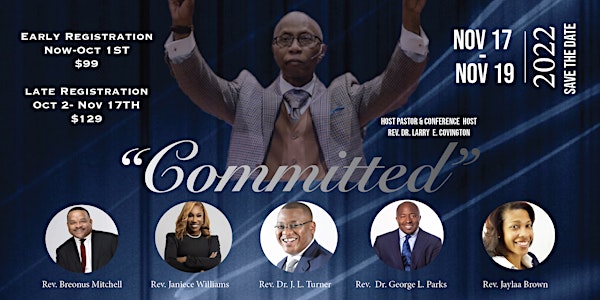 Impact Pastors and Leaders Conference
The Ebenezer Church in partnership with INSTEP Ministries. is proudly sponsoring the IMPACT PASTORS AND LEADERS CONFERENCE
When and where
Location
Ebenezer United Church of Christ 734 Apple Street Burlington, NC 27217
About this event
For almost twenty-seven years, the Lord has allowed me to give visionary leadership to the Ebenezer Church in beautiful Burlington, North Carolina located between the Triangle and the Piedmont Triad of this great state! God continues to bless our ministry efforts with anointing, power, and influence, and again this year in partnership with INSTEP Ministries; the Ebenezer Church is proudly sponsoring the IMPACT PASTORS AND LEADERS CONFERENCE.
Previously, this conference was known as the Harvest Conference, then in 2018 in partnership with Dr. Drayton Bland and the First Baptist Church of Apple Street, it was renamed the Impact Conference. This year, the Impact Pastors and Leaders Conference will be held at the Ebenezer Church on November 17th-19th. The theme is: "Committed." In light of the many distractions that the universal church is navigating in this post-truth, post-Christian and COVID-ladened age in which she finds herself as the bride of Christ; the Lord is challenging the church to stay COMMITTED to:
The Great CHRIST of the Church,
The Great COMMANDMENT to the Church, and
The Great COMMISSION of the Church!
Over the course of these three impactful days of lectures, sermons and workshops, we will thoroughly explore these 3C'S and their relevance to the task of the church as she is called upon to serve in this present age!
Be sure to visit the conference webpage for information about our dynamic speakers, the conference itinerary, and registration & lodging information. Please share this information with your colleagues and plan now to register and attend because the IMPACT PASTORS AND LEADERS CONFERENCE 2022 IS GOING TO BE IMPACTFUL!!