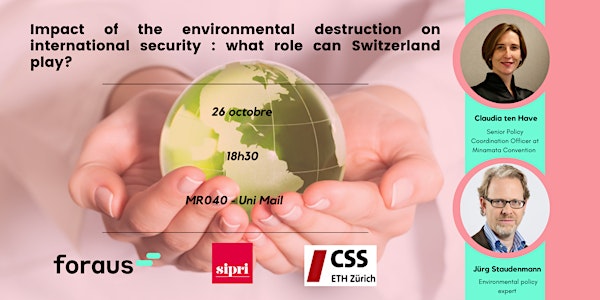 Impact of the environmental destruction on international security
How the environmental/climate crisis impacts peace and security – and vice-versa ?
When and where
Location
Uni Mail, Salle MR040 40 Boulevard du Pont-d'Arve 1205 Genève Switzerland
About this event
During this event, we'll talk about the implication of climate change and environmental destruction on peace and security with two sommities in their field.
Claudia ten Have, Senior Policy Coordination Officer at the Secretariat of the Minamata Convention on Mercury, who has been working for 20 years at the United Nations Environment Programme. She is currently working within the Geneva Enviroment Network, a network that links all of Geneva's international environmental organizations.
Jürg Standenmann, Swiss seconded advisor to the Stockholm International Peace Research Institute (SIPRI), expert in peace, climate, sustainable development and environmental security, he worked for over 13 years at the United Nations Development Program.
Two experts in their field, to whom you will be able to ask your questions at the end of the discussion, or in a less formal way during the aperitif that will follow.