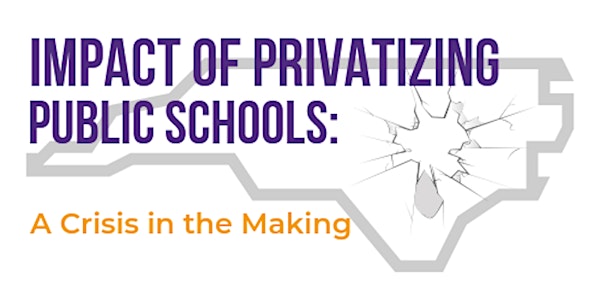 Impact of Privatizing Public Schools: A Crisis in the Making
When and where
Location
Jane S. McKimmon Center at NCSU 1101 Gorman Street Raleigh, NC 27606
Description
To celebrate 10 years of advocacy for public schools, we invite you join us in this work by attending a half-day conference to explore the "Impact of Privatizating Public Schools. How have various education policies and programs contributed to the increased segregation of our public schools by race and income? What is contributing to the growth in the number of high-poverty schools? Join us for this critical community conversation!
Free and open to the public but registration is required due to space limitations.

Checkin and Coffee at 8 AM



Program Begins Promptly at 8:30 AM and ends at 1:00 PM

BACKGROUND: In 2009, a group of concerned citizens gathered in a Raleigh church basement to organize a response to threats to our nationally recognized Wake Co. school system. Those citizens would go on to form "The Great Schools In Wake Coalition," a grassroots advocacy organization with the mission of providing "accurate information to educate the public about policy initiatives that would impact the quality of education, to foster well-informed discussions about critical education issues, and to advocate for policies that improve public education in Wake County." Our members attended countless school board meetings, hosted community forums, wrote hundreds of Letters to the Editor and worked diligently to hold the 2009 school board accountable for keeping our schools diverse and providing equitable resources to all students in Wake County regardless of a student's zip code or income. Based on our work in Wake County, we expanded statewide in 2013 establishing Public Schools First NC. Both organizations are going strong and are working together to present this timely conference.