Impact Investing: The Game - Fierce Urgency of Now!
Join Boston Impact Initiative for a fun and engaging impact investing workshop played with the Integrated Capital Cards.
About this event
We believe that we can best support the creation of equitable and inclusive economies by using a range of integrated capital tools: loans, credit enhancements, equity investments, royalty finance, direct public offerings, crowdfunding, grants and more. Over the last eight years, the Boston Impact Initiative has learned how to choose the best capital instrument for the age and stage of each organization we invest in to help close the racial wealth divide in our community. Now we've turned what we've learned into a card game that can support impact investors, foundations, entrepreneurs, activists and other place- based organizations with a commitment to economic justice.
Join us for a fun and engaging virtual session playing with the Integrated Capital Cards, a bilingual (English/Spanish) deck is made up of 121 cards in 8 suits that help match types of capital and transaction structures with startups, small businesses and nonprofits that are contributing to building regenerative and equitable economies. The deck includes Impact Criteria and Impact Covenants so that all transactions fully integrate both financial and impact expectations.
Participants will engage in an experiential learning opportunity that will deepen their understanding of creative financial tools for solving wealth inequality, as well as to broaden their view of how multiple stakeholders can solve problems together. And we'll do it while playing a game!
A special thanks to Roxbury Innovation Center for hosting the event.
Card decks will be mailed to you at no cost, thanks to the generosity of The Boston Foundation as our session sponsor.

AGENDA: Program is 90 minutes with 30 minute networking reception
• Welcome and Introduction
• Purpose of the Integrated Capital Cards
• Game: Investment Committee Role Play
• Debrief and Close
• Networking Reception
SPEAKERS:
Betty Francisco, CEO of Boston Impact Initiative
Henry Noel Jr, Investment Director of Boston Impact Initiative
Aliana Pineiro, Impact Director of Boston Impact Initiative
Aditi Joshi, Investment Associate, Boston Impact Initiative
THIS EVENT IS HOSTED BY: The Boston Impact Initiative
The Boston Impact Initiative works to build a sustainable, inclusive and equitable economy that restores the productive capacity of communities of color in Eastern Massachusetts. We do this by investing integrated capital(equity, debt and grants) in regenerative local enterprises that are owned and controlled by entrepreneurs of color or are serving communities of color. BII Fund works with our portfolio companies to strengthen the impact they have in their communities, improve the effectiveness of entrepreneurial services in Eastern Massachusetts and educate fellow investors and philanthropists about investing to close the racial wealth divide.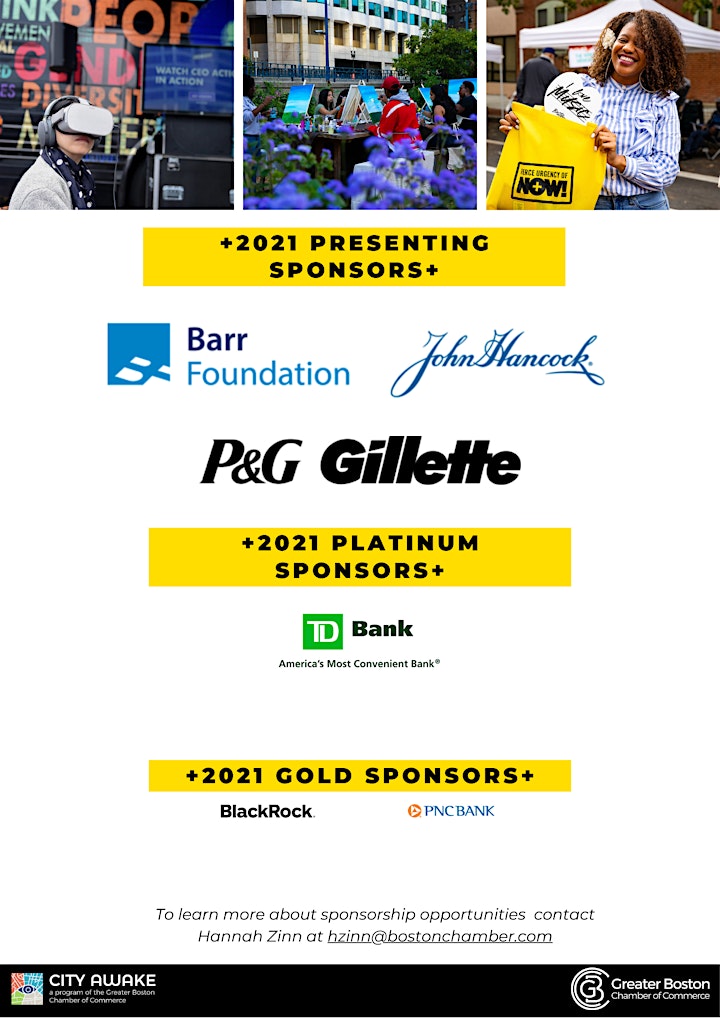 Organizer of Impact Investing: The Game - Fierce Urgency of Now!
Each year, as a part of City Awake, the Greater Boston Chamber of Commerce's young professional network, we host the annual Fierce Urgency of Now festival in partnership with organizations throughout the Greater Boston region. The festival draws thousands of attendees across five days with over 35 events highlighting the challenges and experience of young professionals of color.
F.U.N. encourages our community to share what steps their company or industry is taking to improve the experience of young professionals of color in Greater Boston. Through our programming we also continue to highlight Boston's diverse neighborhoods, voices, organizations, and perspectives through social, cultural, civic, and community events.