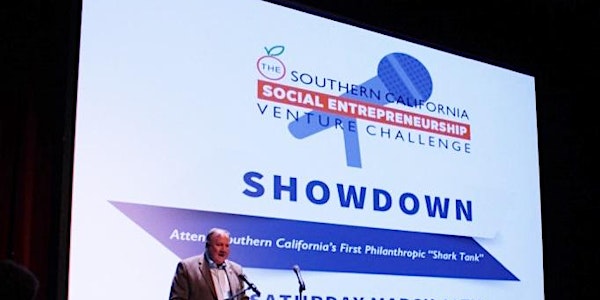 Impact Investing Showcase & Symposium
Location
Petroleum Club-Long Beach*
3636 Linden Avenue
Long Beach, CA 90807
Description
IMPACT INVESTING SHOWCASE AND SYMPOSIUM
FRIDAY, MAY 6TH, 2016, 11:00 AM TO 2:00 PM
DISCOVER THE "DEAL FLOW" FOR IMPACT INVESTING. LEARN ABOUT EXEMPLARY SOCIAL ENTERPRISES, LOCALLY & AROUND THE WORLD.
FEATURING
SOC ENT CHALLENGE FINALISTS
Leaders from all sectors are calling for ventures that blend the best of business and philanthropy. Social enterprises do just that -- using market-driven mechanisms to address problems ranging from environmental clean up to employing ex-offenders to bringing fresh produce to neighborhood "food deserts".
The Southern California Social Entrepreneurship Venture Challenge (www:SocEnt Challenge.org) is a six-month program that integrates training, mentoring and business plan/pitch development for early stage social enterprises. The program takes a two-pronged approach to support aspiring social entrepreneurs -- connecting them first with skilled business advisors and seasoned entrepreneurs to vet them and then introducing them to potential investors whose interests are a match for their ventures. This unique economic development strategy will improve the quality of life for disadvantaged populations and expand investment opportunities for foundations and individuals seeking ventures that have social and financial returns. These are the finalists who will present:
codeSpark's virtual world, called The Foos, teaches the ABC's of computer science through a combination of structured challenges and creative play. The "no words" interface has allowed kids as young as 4 years old in over 150 countries to play.

Desolenator's globally patented technology uses sunlight to turn all forms of dirty water (ie. seawater, brackish, groundwater, river water, well water) into drinking water.

Takachar patented a process for converting agricultural biomass waste to fuel pellets that are cleaner and cheaper than kerosene and can be produced by small scale farmers.
ALSO FEATURING TWO EXPERTS ON THE IMPACT INVESTING LANDSCAPE:
MARCO VANGELISTI

Marco Vangelisti worked in the finance industry for 25 years and for the last six in the investment management industry, primarily managing portfolios on behalf of large foundations and endowments. For twelve years, he taught Chartered Financial Analysts (CFAs) portfolio management, asset allocation, performance analysis and risk analysis. More recently, he was instrumental in the formation of the Slow Money Northern California chapter and became a 100% impact investor. He speaks nationally as guest lecturer and author on the topic of Essential Knowledge for Transition- assisting others in making the shift to investments in social purpose businesses.

ADLAI WERTMAN


Adlai Wertman is Professor of Clinical Entrepreneurship and Founding Director of the Brittingham Social Enterprise Lab at USC. He spent seven years as President and CEO of Chrysalis, the only non-profit in Los Angeles devoted solely to helping homeless change their lives through employment. Prior to Chrysalis, Professor Wertman spent 18 years as Managing Director and Manager of Prudential Securities' West Coast Public Investment Banking Group.
*Founded by the "oil fraternity" of Long Beach entrepreneurs in 1954, the Petroleum Club is well loved for its extensive meeting faciilities and convenient location 5 minutes north of the 405 freeway. Take the Atlantic Avenue exit and go north to 36th Street. Turn left, go 1 block, and turn right onto Linden. The Club is on your right. There is a large parking lot next to it, as well as abundant street parking.