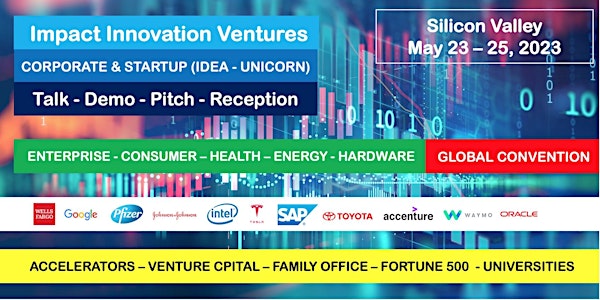 Impact Innovation Ventures Summit
Startup Innovation and Ventures Investing Conference with Trade Shows
By OneTraction Impact Ventures
Date and time
May 23 · 9am - May 25 · 5pm PDT
Location
Computer History Museum 1401 North Shoreline Boulevard Mountain View, CA 94043
About this event
2 days 8 hours

Mobile eTicket
Impact Innovation Ventures Summit
8th Annual Conference, with exclusive focus this year on mission driven Innovation and Investing, that help accelerate resolution to pressing challenges and improve human life at the global scale. While leveraging emerging deep tech, among disruptive startup, academic scientists, and global fortune 500 companies seeking to shorten time to market or invest in transformative innovation that lead us to a better tomorrow funded by top ventures investors.
Focus: Digital, Scientific and Hardware Innovation from idea to commercial and growth stage in any sector powering the current global economy of $100 Trillion.
Audience: We expect over 2,000 decision makers at C suite level, comprised of Startup across stages through Unicorns / Post IPO, Top Universities Scientists, Global Fortune 500 Companies Executive, Serial Entrepreneurs, HNWI investors, Family Office, Venture Capital and Endowments with a combined $500 Billion+ Funds.
Speakers: Fortune 500 Leaders, Growth to Exit Stage Startup Founders, Venture Capital and prominent Expert from the most Innovative Institution in the world.
Agenda: Thought Leadership, QA Sessions, Pitching, Demo, Expo and Networking with Breakout Room and VIP Reception. Across industries (Enterprise, Consumer, Health, Energy and Hardware).
Day I: 9am - 5:30pm Innovation: Emerging Tech for Impact Innovation (Digital, Scientific and Hardware) + Book Singing: The Future of Innovation
Day II: 9am - 5:30pm Funding: Venture Capital - Corporate Ventures - Family Office (Pre-Seed to Unicorn Stages Pitch by 100 Startups) + Book Signing: Masters of Corporate VC.
VIP Reception* 6pm - 9pm (Open Bar / Dinner). Fireside Chat during the VIP Reception with industry icon.
Day III: 10am - 4pm Go-to-Market (Demo and Expo)** (Indoor and Outdoor) by 200 Startups (Expo Setup Session: 8am - 10am and 4pm - 5:30pm) + Book Signing: Blitzscaling
Breakout Room (Upon request for Corporate and Investors to meet recommended Startups).
Programs Detailed Schedule (Open Here) / Exchange
Dress Code: Business Attire, Age: 21 or older (Indoor)
Registration: By Ticket Type (Exclusive to our ecosystem members only - no Public guests).
VIP Pass (Global Fortune 500, Top 100 Unicorns, Top 50 Family Office / VC / LP)
Corporate: Click on get Ticket (Speak / Breakout room: Must use your business email)
Startup Click on get Ticket (Demo: Must use your business email)*
Investor: Click on get Ticket (if accredited seeking to invest, same as startup**
University: (Faculty, Employees, Alumni and Students) must use .edu email
Media and Group: 12+ Contacts us from this page (must use your business email)
OneTraction Members: Register through your Exchange account if you are at Level I and above. Otherwise purchase your ticket from this page. Non_members: Upon your ticket purchase register as new member here: OneTraction.com / Exchange
Founder and Startup: To attend, demo or pitch at the conference you must be a member, sign up here: OneTraction.com / Exchange "upon your ticket purchase".
*Startup Pitch: Free and open to featured startup with paid demo ticket. After your ticket purchase, create a profile to describe your pitch here: OneTraction.com / Exchange (Our team will reach out 2 weeks prior if selected to pitch). Will have 100 Startup Pitch on Day I "1min - 3min verbal". Pitch open to pre-revenues only, Startup with revenues must get GTM Demo pass and pitch "individually during the Expo".
**Investor: To attend startup pitch sessions, you must create a complete profile to ensure startup and accredited investors are in compliance and can reach each other's here: OneTraction.com / Exchange. Min investment: $500k.
Panel Speakers: Select 1 Session from the Programs Schedule above, and contact us from this page "upon purchase of your ticket - Open for VIP Pass, Corporate and Unicorns leadership (Investor Panel: by Invitation from our members only ).
Demo/Expo (200): 100 Indoor open for Startup (4x4 per ticket), plus Outdoor open for Mobility, Hardware and any other large physical object 100 space (1 compact parking per ticket).
Food / Beverage: Included for Full 3 Days Conference Pass holders on Day I - Day III (Breakfast, Lunch and Coffee/Tea/Water/Beverages.)
Free Parking with Shuttle to Mountain View CalTrain, plus (Stanford University Group of 24+, Upon Request).
Lodging: Upon Ticket Registration contact us to inquire about promo code, which will be shared on first come basis.
Sponsors Package: get standard VIP pass from this page or Contact us from for larger and custom request.
Past Events: We hosted over 100 conferences (View List)
Organizer: OneTraction Impact Ventures
Featured Video from Past Conference at Stanford - SF Fairmont Hotel - Global.
Featured Invited Panel Speakers. OneTraction.com / Exchange / Sign up
About the organizer
OneTraction Ventures:sponsored over 100 Global Events with leading Corporations, Universities, Venture Capital and Law Firm, we are an Impact Ventures investing and supporting startup, along investors, Corporate and Academic partners who are fully dedicated into solving the worlds pressing challenges, and primarily offer product or services that benefit positively both the end users and our environment with zero negative impact. Visit our site: OneTraction.vc or past events here: https://www.eventbrite.com/o/onetraction-ventures-7052835663