Description
Impact Innovation Hackathon - (Software - Hardware - Cumputing) / Consumer and Enterprise

Build and Launch your Startup in 3 Days among 100 Hackers!
Top 3 winners get (Prizes + Sponsors giveaway worth up to $100k)!

Top 3 Winners are guaranteed acceptance to OneTraction Tech Incubators + (Potential Funding of $500k) + Featured at the Global Venture Summit here
Join the first Impact Innovation Hackathon in the world designed to build and launch your startup in 3 days, open to founders with or without demo or technical cofounder. You will enjoy this chance to mingle and network with potential co-founder, mentors, partner, corporate clients, investors, and top industry experts. Watch past event video (click here)

Why: We believe disruptive innovation can change the world, since our mission is to help leading corporate, startup and universities implement disruptive innovation, we are gracefully providing our resources and expertise to implement the most promising idea's by converting them into 100 viable startups (Built and Launch in 3 Days).
How: Hackathon participants should capture one of their target market challenges "across industries" and expand on it to explore potential solutions which would be refined during the hackathon into product and a launched alpha (You will share it during the Demo and Prizes Award Reception).
What you need: Bring your disruptive solution to urgent problem in large global market, a laptop and entrepreneurial mind with the attitude to make it happen
When: 3 Days OnSite as listed above

Who can Join: anyone 18 or older with a drive to change the world

Where: OnSite and Virtual (If you cannot attend OnSite)

Prizes: as listed above

How Many Startups: 100

Our Deliverables: IP submission review, Web Site, Video Explainer and Mentors
Your Deliverables: Provide all contents and script for the Pitch, Website. IP and Video Explainer

IP Ownership: You own 100% of the IP created during the Hackathon through the newly formed company

Hackathon Fees:
Equity for Demo: $0 Upfront + 5% of the newly formed Company (to cover Tech Labs Engineering cost)*

Build your Demo: Buy your pass if you plan on using your team (no Labs Engineers or Mentors).
Team Formation: Optional - Our Tech Labs Team and Mentors would act as your team during the entire Hackathon. You can join as solo CEO or with your team (technical cofounder is optional).

*Detailed Terms Sheet would be shared upon your application acceptance (10 Days Prior to Starting Date)
Application: All Hackathon participants (alone or as a team) must sign up and submit one complete application through our site here, under Startup Program / Hackathon. Within your application and under referred by? enter Impact Innovation Hackathon and make sure to use your @stanford.edu email if affiliated. You do not need demo, pitch or even a formed team / startup, you simply need to describe your disruptive innovation, market, key differentiator and team background with relevant past experience or achievement that can help execute your go-to-market roadmap (initial advisors are acceptable as a team).
Registration: Once you submit your application as instructed above, please add your name on the eventbrite waiting list (click on ticket above). Our team will send a cinfirmation and release your pass upon final acceptance by March 31.
Contact us: Please read the entire event page first, along each ticket description "show info". If you still need help, please contact us using the link at the end of this page "above the map": CONTACT
================Day One=======================
Agenda: Day 1 Product

Part I: Disruptive Innovation Validation

8:45am Check in
9:00am-10am: Product Definition

Feasibility validation, market needs and team formation (peers review by our mentors)
10am-12pm: Product Development Roadmap (Alpha)

Use Case Definition and Product Demo (Video Explainer) - You provide a script.

Website content with Video Explainer - You provide content and script

Web/Mobile App Design - You create UX wireframe using our platform (Post Hackathon Beta/Extra Fees)

==============Lunch Break=====================
OneTraction Tech Labs recommended design and development - non-stop (Due Last Day 12pm)

=========Alpha Development Start===

Part II: Business Viability Validation

1pm-2pm: Branding and Slogan Contents with Marketing Roadmap.

Create logo, domain name, slogans with website catch phrase and review with our mentors
2pm-3:pm: Legal Formation, Compliance Risks (IP / Patents Review where applicable)

Company Formation, Patents submission and regulatory compliance referrals

Company and Patent preparation (Submission Review)

3pm-5pm: Business Model, Go-To-Market and Fundraising Roadmap (Pitch v1).

Feasibility validation and market insights peers review by our mentors and domain experts
=============Day Two===================
Agenda: Day 2

Part III: Execution Capability Validation

8:45am Check in
9:00am-10am: Your Team Role and Skill Definition

Feasibility validation and talent need peers review by our mentors and domain experts

10:00am-12pm: Your Pitch Preparation (Pitch v2)

Pitch preparation with your team using OneTraction's provided top design templates
==============Lunch Break=====================
OneTraction Tech Labs Alpha demo v1 release (24 Hours)

=========Alpha Development v2==================
Part IV: Pre-Launch Review

1:00pm - 3pm: Product Release (Demo v1 Review)
Demo Testing along use case, contents submission and product sign off

3:00pm - 5pm: Judges Panel Review and Feedback
Live Demo, Pitch (Including Elevator Pitch, Disruption, Use Case, G2M and Fundraising)
===============Prizes Award Reception============
Hackathon Prizes Award Reception
6pm - 9pm Hackathon Demo, Pitch and Award Reception.

===============Hackathon End=================
Snapshot of past attendees from across the globe and industries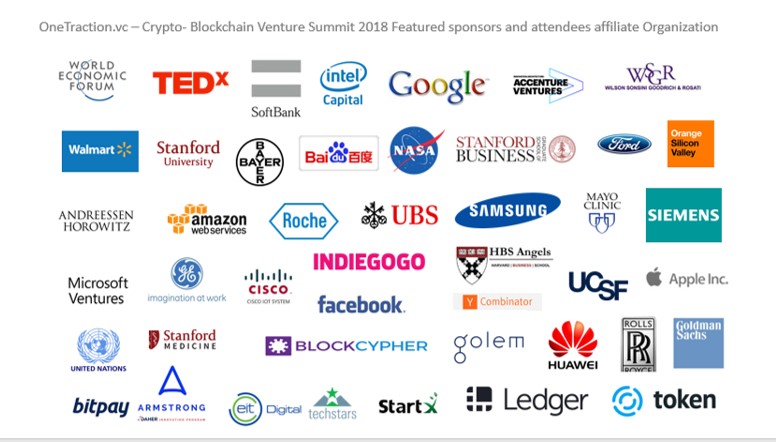 Event Terms: All ticket sales are final with no exchange. In case of last-minute change or cancellations of the venue by the host, we will reschedule for a future date and issue replacement ticket for the new venue at no additional cost. Given Panel speakers busy schedule, last minute changes happen, and will do our best to find replacement without any guarantee that any or all panelists listed above will attend. Discounted and promo tickets cannot be transferred or exchanged. All obtained tickets that does not meet the discount or promo criteria would be considered void and non-valid. By joining this event you agree on all terms as listed by respective sponsors, organizers and venues host under their respective terms of services web pages.
Organizer and Sponsor:
ONETRACTION IS THE FIRST ON-DEMAND VENTURE CAPITAL, THAT DISRUPTS HOW CORPORATIONS, STARTUPS, AND INVESTORS IMPLEMENT INNOVATION!
Our founders are serial entrepreneurs, Stanford, Harvard, MIT, McKinsey, Accenture and Google alums!
Based in Silicon Valley, we help global founders build innovative products for the right market, backed by top corporate clients and investors, see past events, featured startups portfolio or join our program here