iMpact Fall Conference: Becoming a Person of Influence

Friday, October 18, 2013 from 8:00 AM to 12:00 PM (CDT)
Ticket Information
This event is invite-only
You need an invitation to register for this event. Contact the
host
to find out more.
Event Details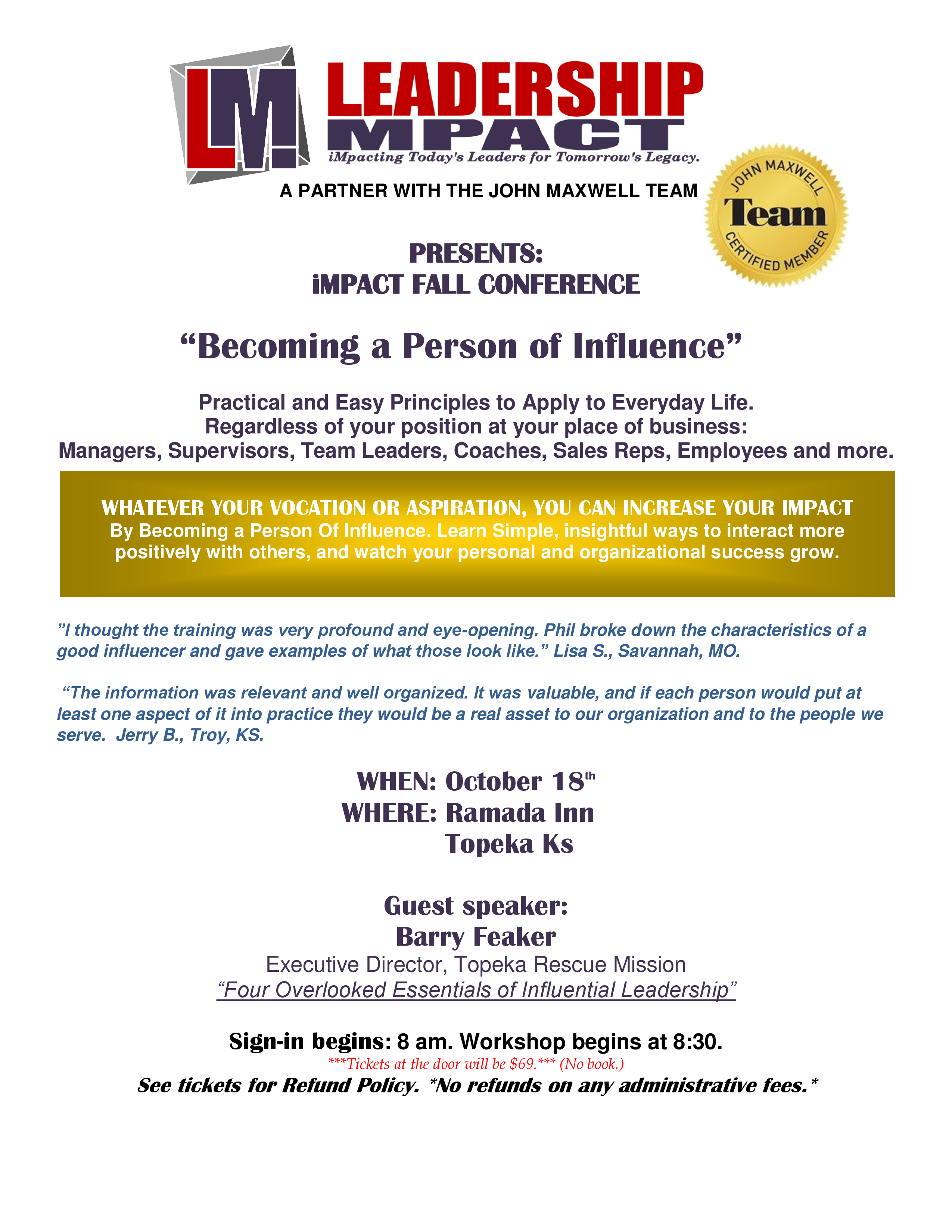 Organizer
CRC/Phil Walton (Leadership Mpact)
CRC: http://www.crcnet.org/
The Community Resources Council links with other collaborative groups to address specific needs in the community. This is accomplished through the development of community-wide initiatives that avoid duplication of services, maximize available resources, implement community plans designed to meet a specific outcome, and monitor progress.
 Mission Statement:
 To Connect the Resources in our Community through Collaboration, Advocacy, Research and Education.
Vision:
 Community Resources Council is a catalyst to promote community action
Leadership Mpact: www.leadershipmpact.com
Leadership is not for the fainthearted. Many in leadership positions are there because they want to be, regardless of the costs. Many are there because they are required to do so; they need to be there. There are many reasons why and how a person obtains a leadership position. But there are many people who are leaders that are not in leadership positions. No matter your position, no matter your role, leaders need to understand what is required of them.
Leadership (and all that it encompasses) can make or break organizations. It is how we impact lives. Leadership is action we must live out. Leadership growth/development, effective communication, employee engagement, and personal growth are important to effective leadership.I work with my clients in how to leverage their leadership and maximize their impact, thus resulting in significantly better performance of themselves and those they lead.
iMpact Fall Conference: Becoming a Person of Influence