Description
In response to the COVID-19 outbreak, many of our teams have moved from the traditional workplace to our own homes. But with social distancing in play, how do we lead our teams in a virtual environment? How do we keep our employees engaged?
Join us on April 22nd for our digital take on our quarterly "Impact Breakfast" with our first ever Impact Breakfast Webinar! This webinar is perfect for actionable takeaways on how to effectively lead your virtual team! Engagement in the workplace is extremely important and can be difficult to maintain in a digital environment. With this webinar, you'll become an expert in leading your telecommuting teams in no time. So grab your coffee, bring your breakfast, and register today to become an effective virtual leader.
---
About the Instructor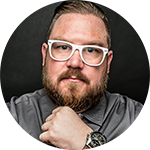 Adam Brooks is a first-generation college student with a Bachelors in Speech Communication and a Masters in Special Education and Leadership Development. Adam attributes a portion of his success to performing off Broadway in 2004, which adds to his entertaining style of speaking. His areas of expertise include communication skills, inter-personal communication, intra-personal communication, small group communication, and organizational communication. He focuses on the 360-degree model of leadership: we lead, we help, and we push, if needed.
Adam is also the author of Understanding Millennials, a best-selling mini book designed to help companies understand the talent they have sitting in the cubicle next to them, and The Effects of Social Media, where he discusses the pitfalls of relying too heavily on social media.