Description
In this free workshop, participants will discover ways to drive motivation in the workplace.

As a leader, a manager, or when working on a team, knowing what motivates you and how to motivate those around you is essential for success. This workshop will explore the relationship between power, affiliation, and achievement in the workplace.

Do your employees have any of these common workforce issues?
• Low engagement
• Lack of commitment
• No shared sense of team

Help employees learn to:
• Identify the role of different forms of power in the workplace
• Describe the connection between affiliation and job satisfaction
• Develop strategies for recognizing individual and shared achievement

Registration is required and breakfast is included.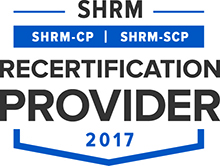 This program is valid for 1 PDC for the SHRM-CPSM or SHRM-SCPSM.