Description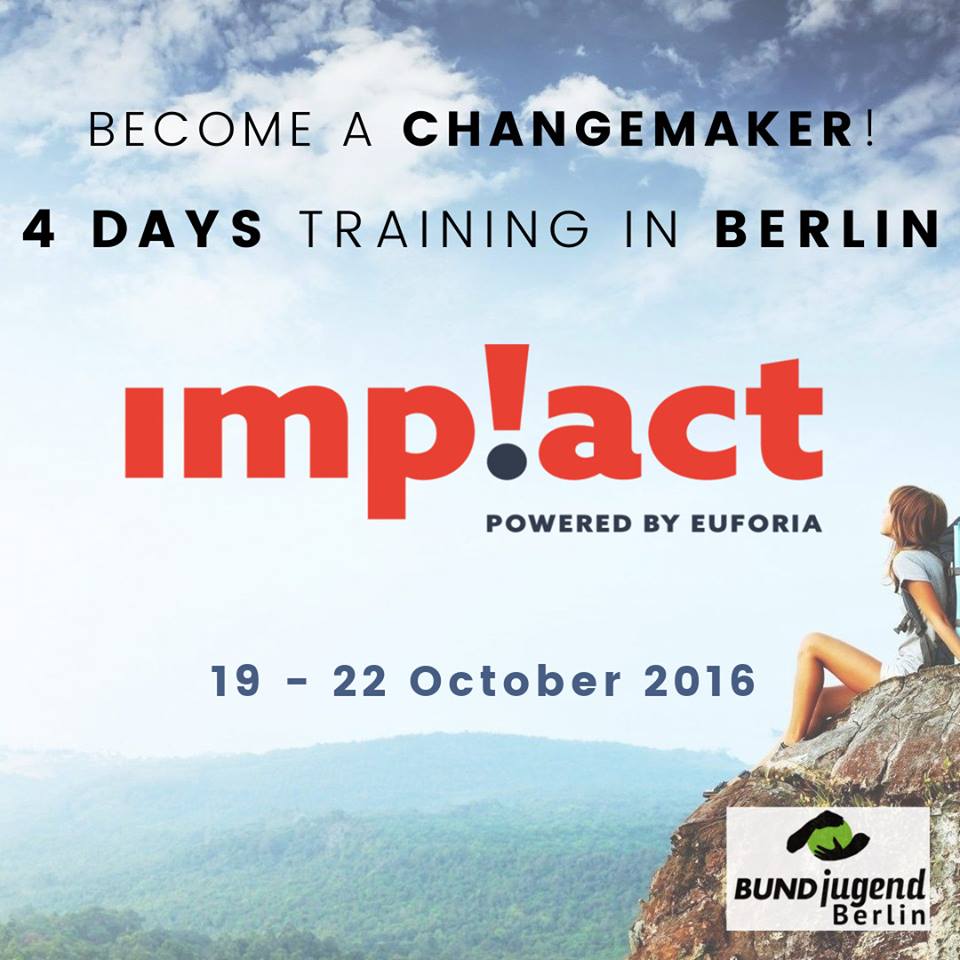 You want to start your career, but you need experience to get your dream job?
You worked hard and finally finished your education, but you're lacking actual hands-on experience?
You think this world needs some change?
Then our imp!act Berlin training is what you need!
Develop a project and find a team to make it happen!
At imp!act Berlin, you get together with 20-35 enthusiastic young people. After some crazy brainstorming and team building, you develop your own local social or environmental project and set out to test it right away. You also have the chance to get feedback by renowned experts - all of that within only 3.5 days!
Realize you can make a difference by creating your own social or environmental project!
NOT CONVINCED YET? HERE ARE OUR TOP 3 REASONS TO PARTICIPATE:
Get the boost and tools to turn your ideas into action: Practice professional & personal skills that will serve you throughout your life. Learn how to capture an audience with your presentations, how to manage a project from the first idea to its implementation, how to convince people or sponsors to join your project, etc.
Meet renowned experts from business, social enterprises and NGOs. Join a community of highly-motivated young changemakers that will bring you a broad network.
Finally, don't underestimate the positive energy released once you start following a secret passion or simply use your creativity to make things move. You'll work hard, but - promised - there will be enough time left for fun!
Apply now!
Tell us why you want to join and if you already have an idea for a project. Carla (Carla.euforia@gmail.com) is waiting for your email!

The training will be held in English and is open to anybody (nationality does not matter). A sufficient level of English is mandatory!
Material, lunch, dinner, coffee, tea and snacks during the training will be provided. Food will be vegetarian and either organic (bio), fair or local. Therefore, the participation fee is 45 Euros, but we are happy for any donations on top – either financial, in form of food or just by you having a great time! You have to take care of your own sleeping arrangements, we try to arrange snacks during all our events for you.