Let's celebrate the recipients of our new Equity and Health & Well-Being Grants and reconnect in-person with fellow members at Zilker Lodge!
About this event
#JoinImpactAustin for this outdoor celebration of community, connection, and collective giving!
Town Hall is one of Impact Austin's Signature Events and we're changing it up this year with a two-night celebration!
Following our virtual meeting on November 16, we welcome Impact Austin members to reconvene on November 18 for an exciting outdoor reception at Zilker Lodge! We'll meet and mingle with our newest Community Partners and enjoy an evening of camaraderie and connection with fellow members.
Capacity for the in-person reception is limited to 150 attendees.
Register now to reserve your spot.
We can't wait to see you!
* * * * *
Eventbrite Registration for the in-person reception closes on Wednesday, November 17 at 12:00 PM CT.
For event details, or to register last minute, please visit: https://www.impactaustin.org/townhall.
* * * * *
This event is free for Impact Austin members ; donations are greatly appreciated.
Questions? Email us at contact@impactaustin.org.
Impact Austin's Town Hall Meeting is made possible by incredible Event Sponsors! If you are interested in becoming a sponsor, please view the 2021 Town Hall Meeting Sponsorship Brochure.
By registering for this event you authorize Impact Austin to use your picture and likeness. You also grant Impact Austin the right to use, publish, and reproduce, for all purposes, your name, pictures in film or electronic (video) form, sound and video recordings of your voice, and printed and electronic copy of the information described above in any and all media for the purpose of promoting Impact Austin.
About Impact Austin
We are an Austin-based women's collective giving organization, funding Central Texas nonprofits that provide services in Bastrop, Hays, Travis, and Williamson counties.
Since Impact Austin launched in 2003, we have invested $7.64 million in Central Texas. Our members value knowing more about the needs in our community and engaging with friends who share a passion to support it.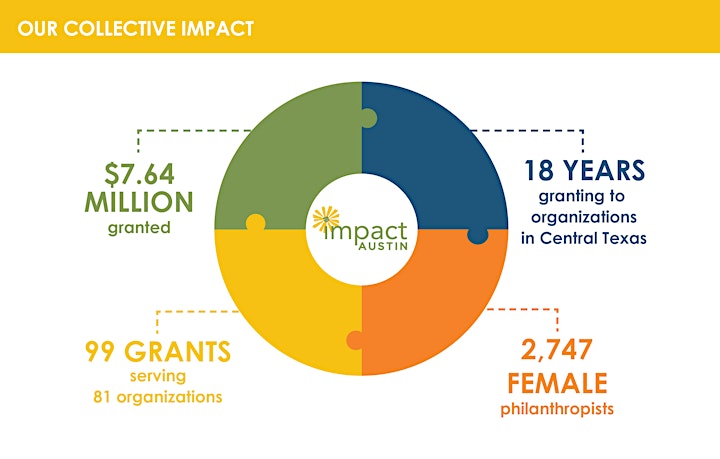 Our membership and leadership proudly reflect the many faces, cultures and walks of life that make up our society. We believe diversity helps us to better understand and address the issues facing our community.
Learn more at: https://www.impactaustin.org or email us at contact@impactaustin.org.
Supporting Our Community
It has been a year of milestones missed, loved ones lost, and communities struggling to stay afloat. Through this many of us have gained a new perspective and with this comes opportunity - an opportunity to impact those around us, an opportunity to create lasting change - together.
Let's use this new perspective to advance equity across our our community and create change that inspires others to participate alongside us.
Learn how Impact Austin's Community Partners have stepped up during this challenging time and led by example:
Organizer of Impact Austin - Town Hall Meeting 2021 - Together We Shine Brighter