Location
Water of Life Community Church or Livestreaming Option (New for 2021)
7625 East Avenue
Main Worship Center
Fontana, CA 92336
Sales Have Ended
Ticket sales have ended
Thank you! You should receive your ticket shortly in your inbox. If you purchased a virtual ticket(s) then you will receive a link 3-4 days prior to the event that you will use to view the conference. The conference will be live-streamed so you will need to join in during the conference times. Please refer to our website at impactwol.com for dates and times. Any questions can be directed to janines@wateroflifecc.org
About this event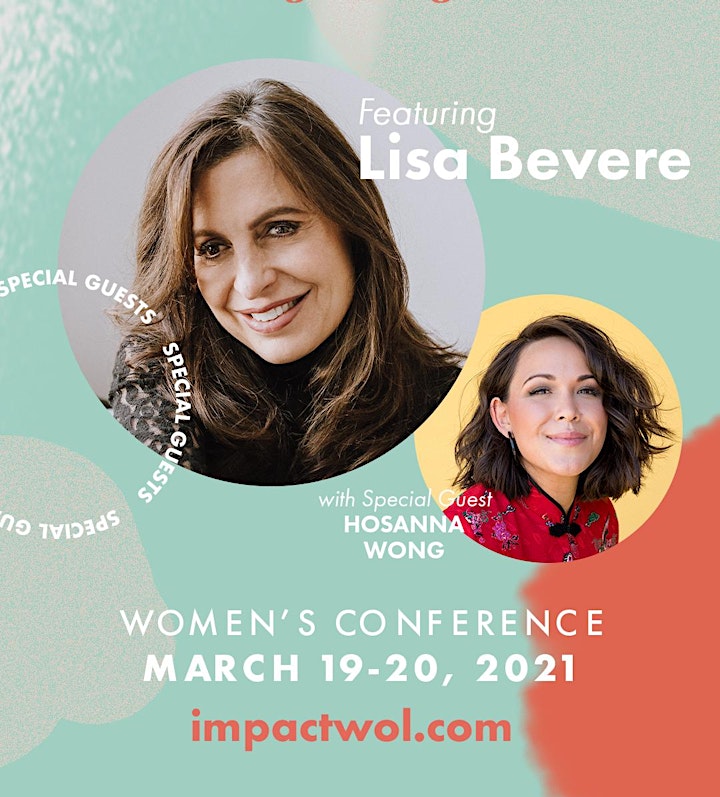 Impact 2021 Women's Conference, featuring Lisa Bevere and Hosanna Wong, is almost here!
We would love to have you join us in person at our main campus in Fontana but we are currently AT CAPACITY due to social distancing restrictions (subject to change as restrictions are updated and or lifted).
Exciting News! We are offering the option to LIVE STREAM the conference this year and are creating a fun Online Experience for those who are more comfortable viewing it from the comfort of your own home or meeting space. If you are a small group, church or organization we would love to partner with you so that you can join in from a home, worship center or venue. We have discounted tickets for live streaming based on the number of women you have participate. If you will be joining us online we ask that you purchase a ticket for each person that will be joining in.
Event Times:
Day 1: Friday, March 19, 6:00pm to 9:15pm
Day 2: Saturday, March 20, 8:30am to 12:30pm
About our Speakers:
Lisa Bevere has spent three decades empowering women to find their identity and purpose. She is a cancer survivor and a New York Times bestselling author. Her books include Without Rival, Adamant, Lioness Arising, and Girls with Swords. Lisa and her husband, John, co-founded Messenger International to develop uncompromising followers of Christ who transform their world. To this end, Messenger has given away nearly 40 million resources in over 100 languages.
Hosanna Wong is an Author, Bible-Teacher, and Spoken Word Artist, sharing captivating stories of a powerful God with churches, conferences, prisons, & other events around the country year-round. She is passionate about empowering this generation to know who they are, & boldly live out their purpose.
Her sermons & spoken word pieces are rooted in her upbringing on the streets of San Francisco, her first-hand experiences with loss, hope, & redemption, & her innermost desires to see lives healed and restored by the power of Jesus.
Hosanna is the Teaching Pastor at EastLake Church in the San Diego area, & the Executive Director of Calvary Street Ministries, an outreach bringing hope to the homeless & low-income families in San Francisco. Under the name Hosanna Poetry, she has released two spoken word albums Maps, Boots, & Other Ways We Get There (2013), & Figless (2015), and authored 2 books, I Have a New Name (2017) & Superadded (2018).