Description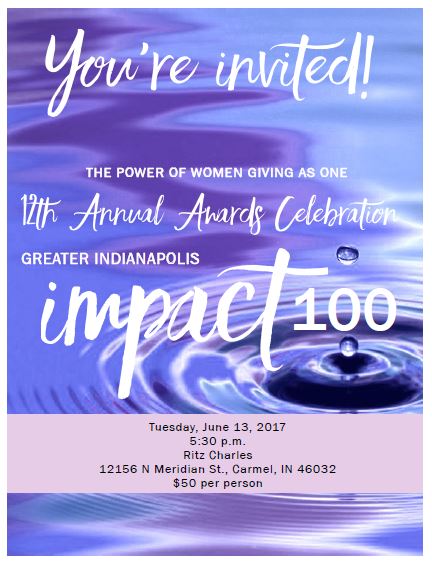 Please Register by May 31. Guests are welcome, and you may add them to your ticket purchase or forward this invitation so they can purchase their own. The evening's agenda is:
5:30 Registration, Cash Bar, Raffle
6:00 Program Begins
6:30 Grant Finalist Presentations
7:15 Dinner, Dessert & Voting
8:30 Announcement of 2017 Grant Winner
The Celebration will be in the Ritz Charles Ballroom, 12156 N Meridian, Carmel. Please note that easiest access to parking is from Illinois Street on the west side of the venue.
2017 Members: We must have your response by May 31 so we can prepare ballots. Members who cannot attend should click on Register above, and then select the Ticket Option "Sorry, I Cannot Attend." Members who cannot attend will be sent an absentee ballot via email.
2017 Shared Members: If all members of a Shared Membership cannot attend, an absentee ballot will be sent to only one of the women in that Shared Membership, and that member will be responsible for reaching out to the others to determine how their vote is to be cast.
Cutoff dates: Please Register by May 31. Please return absentee ballots by June 11.
Vegetarian or special diet needs:You will be asked after you purchase your ticket for any special dietary needs. If you have any other special requests, please send an email to impact100indy@gmail.com.
You can help make the Annual Awards Celebration a financial success by bringing cash to participate in the raffle and for the cash bar. You can also add a donation when you select your Registration option to help cover expenses. We are still accepting sponsorships, so please send us an email at impact100indy@gmail.com if you or someone you know are interested in sponsorship opportunities.