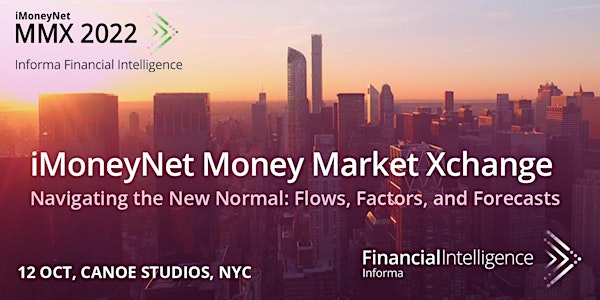 iMoneyNet Money Market Xchange (MMX)
We are delighted to announce this year's event program: MMX - 'Navigating the New Normal: Flows, Factors and Forecasts'.
When and where
Location
Canoe Studios 601 West 26th Street New York, NY 10001
About this event
iMoneyNet MMX Event - October 12th, 2022
Join our money fund experts and guest speakers for an unmissable discussion on money fund reform, the changing interest rate landscape, and the impact of ultra-short duration bonds in the industry. MMX is the longest-running educational and networking event for the money fund industry, investors, securities issuers and service providers.
More Information
We are hosting the event at the popular Canoe Studios in New York City with breathtaking views of Upper and Lower Manhattan, as well as the Hudson River.
Super Early Bird and Early Bird ticket offers apply for a limited time only, so take advantage of discounted tickets before they're gone! Super Early Bird tickets are available through August 31st at $626.50 (30% off full price), Early Bird tickets are available through September 30th at $760.75 (15% off full price), and Full Price tickets are available until the start of the event on October 12th at $895.00.
Want to learn more? Stay up-to-date with the latest event details, visit: www.myepfrevents.com