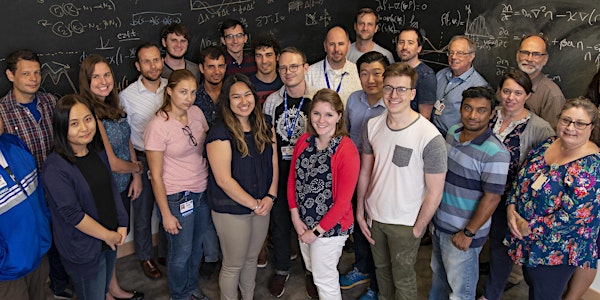 IMO Workshop X: Cancer Communities
Welcome to the registration page for the 10th Integrated Mathematical Oncology workshop at the Moffitt Cancer Center.
When and where
Location
Moffitt Cancer Center 12902 Magnolia Drive Stabile Research Building Tampa, FL 33612
About this event
Now in its 10th year we are fully supported by the Moffitt Cancer Center and the Center of Excellence for Evolutionary Therapy. These workshops were historically funded through the Moffitt PSOC as part of the greater Physical Sciences Oncology Network (PS-ON) supported by the National Cancer Institute (NCI). The IMO workshop is designed to motivate and facilitate a hands-on modeling experience focused on understanding and potentially exploiting the Cancer Community. The workshop is comprised of both an educational event and competition and divides participants into multiple teams combining clinical, experimental and theoretical members. These teams integrate their energies to develop and implement a mathematical model focussed on the Cancer Community to facilite treatment discussions across a range of cancers. The teams are expected to come up with a model, solve it and give a presentation all within 4.5 intense days. As always we will have several independent judges to view both the specific aims and the closing presentations to decide the winning team. To facilitate integration and motivate participation we are offering an Amazon gift voucher to active participants of the winning team and to the runner up team. In addition, to facilitate further development of the winning project we are offering a $50K pilot grant (generously funded by Moffitt Cancer Center) to the leaders of the winning team.
As with last years workshop there will be a "speed dating for scientists" to break the ice among diverse group of participants on the 30th. The opening presentation on the 31st will summarise what is expected of the teams and serve to motivate the subsequent hands on model development sessions. We plan to have an seperate poster session on the evening of the 31st to allow participants to showcase their own research. Participation in the workshop requires registration in order to generate the teams and give numbers for the food and beverages we are providing throughout the workshop. 
We are offering deluxe travel awards for external participation!!! Each award will cover flight + accommodation for up to 6 nights and allow for both national and international scientists to participate in this unique hands on educational event. If you are either a PhD student, Postdoctoral student or junioir faculty with a passion for research and a desire to better understand Cancer Communities as well as how to build integrated models then please apply during the registration process. Please note: the travel awards are extremely limited and will be offered on a competitive basis, application does not gaurantee participation. If you are able to cover your own expenses, please indicate this during the registration process.
Please note
TRAVEL AWARD APPLICATIONS WILL BE CLOSING ON MONDAY 30th of September 2022 at Noon EST. AWARD WINNERS WILL BE CONTACTED before the 4th of October 2022.
What
Community works here on many levels, at the top is the greater Mathematical Oncology community that we seek to nurture through these workshops, through our newsletter, blog and website. Community in Cancer is also crucially about the ecological interactions that shape cancer growth, evolution, metastesis and treatment response. Such interactions can be driven by immune, vascular, stromal and other tissue components, these are also modulated by the metabolic, chemokine and growth factor environment that is created by the cancer community dialogue.  This holistic view is only just becoming possible with significant advances in clinical imaging that can capture organ scale changes, imaging mass cytometry for cell scale interaction dynamics and spatial transcirptomic imaging capturing spatial molecular changes for the first time in context. With these emerging technologies whats becoming clear is that a tumors environment is as spatially complex and dynamic as the the tumor itself. Therefore its ciritcal that we view such complexity through the lens of mathematical modeling, in order to detangle the feedback between an evolving tumor and its adaptive environment. A major open question is how to effectively and efficiently utilize this complex data, covering diverse scales and sources, to better understand the current state of a tumor and its environment to facilitate treatment decisions in a dynamic patient specific manner. The focus of this year's workshop is to try, in under week, to come up with novel methods to integrate data, and facilitate a better understanding of the communitites present, the interactions that drive them and what treatments might best target them.
When
Sunday, 6PM, 30th October 2022 - Friday 2PM, 4th November 2022. 
Where
Speed dating: SRB Atrium, 6PM 30th October.
Intoductory presentation: SRB Murphey, 9AM 31st  October.
Poster session: 7th Sun Brewing, 7PM 31st  October.
Working group sessions: Various rooms, 31st  October -  3rd November.
Closing presentations: SRB Murphey, 9AM 4th November.
Chair and contact
The IMO Workshop is chaired and organized by the IMO Department Chair, Sandy Anderson. For more information concerning participation or about the workshop in general please contact IMO Department Asisstant Danae Paris directly at Danae Paris.