Description
Immunohistochemistry (IHC) Hands-on Workshop 2.0
Registration is Now Open
DESCRIPTION
his course will provide a basic training in IHC theory and practise to those working within higher education institutions or within industry. The course will teach you the knowledge and confidence to manipulate basic IHC techniques to fit applications within your workplace.
TOPIC THAT WILL COVER
The intensive workshop is specifically designed to address
Introduction to IHC

History and background of IHC staining

Fixation techniques,

Tissue sectioning, non-specific staining

Wax processing

Antigen retrieval , IHC staining techniques

Control samples

False positive and false negative staining

Light microscopy
IS THE COURSE RIGHT FOR ME?
The beginners IHC course is suitable for anyone who has a basic science background and wishes to gain an understanding of theory and practical experience in current and popular immunohistochemical techniques. It will consist of a series of lectures and lab based practical sessions and is taught over two days. Refreshment breaks and lunch will be provided.
The course will provide you with a sound knowledge of the basics behind IHC and you will leave having gained the skills to perform and manipulate IHC on tissue to identify one antigen/cellular component in a single tissue section.
WHO SHOULD ATTEND?
Master/Ph.D. Students, Scientists
Research Assistants, Technical Officers
Academic Staff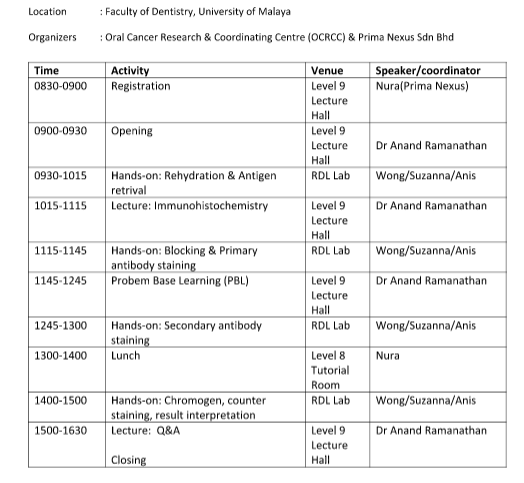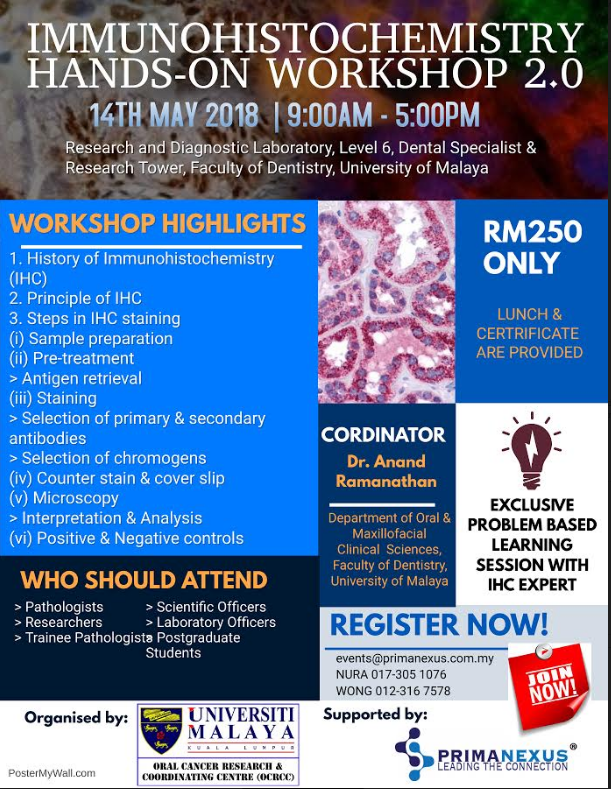 For those who are resgistering using Bank Transfer Payment,

Please deposit the payment into our CIMB Bank account (8006968490), and email in the payment slip to events@primanexus.com.my.
Registration only valid after full payment is received.


Hope to see you there!