Immigration Today: A Conversation with Ali Noorani and Evelyn Rangel-Medina
Description
Please join the League of Women Voters of Palo Alto for an in-depth look at immigration in our nation today. This timely discussion will cover the latest on DACA and explore a constructive dialogue on immigration policy solutions that serve the interests of America, especially its workers and their families.
Raj​ ​Mathai,​ ​ ​primary​ ​news​ ​anchor​ ​at​ ​NBC-owned​ ​KNTV​ ​in​ ​the​ ​San​ ​Francisco​ ​Bay​ ​Area, will​ ​moderate​ ​a​ ​conversation​ ​with​ ​Ali​ ​Noorani​,​ ​Executive​ ​Director​ ​of​ ​the​ ​National Immigration​ ​Forum,​ ​and​ ​Evelyn​ ​Rengal-Medina​,​ ​Executive​ ​Director​ ​of​ ​the​ ​Restaurant Opportunities​ ​Center​ ​of​ ​the​ ​Bay​ ​Area​ ​at​ ​ROC-United with introductory remarks from LWV Board Member, Aisha Piracha Zakariya.
Wednesday, October 18th, at 7:30 p.m. @ Congregation Beth Am, 26790 Arastradero Rd, Los Altos Hills,CA

Doors open at 7:00 p.m.
Please submit questions to: lwvpaoffice@gmail.com and include "Immigration" in the subject line. We will also take questions from the audience that evening.

The National Immigration Forum advocates for the value of immigrants and immigration to the nation. The Forum is one of the few organizations to work across a broad political spectrum, from right to left and both nationally and locally. Given recent news on DACA and the fact that California is home to 29% of the United States' Dreamers, this work is more important than ever.

Ali Noorani is the author of the new book, There Goes The Neighborhood: How Communities Overcome Prejudice and Meet the Challenge of American Immigration, published in April of 2017. Ali Noorani's book will be available for purchase and signing at the event.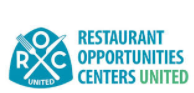 Restaurant Opportunities United (ROC-United) engages workers, employers and consumers to improve the wages and working conditions in the restaurant industry.

The League of Women Voters of Palo Alto is a nonpartisan political organization, which encourages informed and active participation in government, works to increase understanding of major public policy issues, and influences public policy through education and advocacy.
Co-Sponsors:
LWV of Cupertino/Sunnyvale, Los Altos/Mountain View, San Jose/Santa Clara, South San Mateo Count, Southwest Santa Clara Valley