LGBTQ+ person of color dealing with immigration issues, the effect on their mental health, and their choices/decisions.
About this event
"Immigration and My Mental Health" - An LGBTQ+ Peoples of Color Discussion Forum
This discussion forum focuses on immigration: LGBTQ+ peoples of color are impacted by their immigration status or absence of status, a look at detention and deportation, culture shock and assimilation, refugee, economic deprivation - homelessness and couch surfing (survival sex and abuse), money, food; health and mental health care, the law and criminal justice system, and lived experiences - intended to make it normal or much easier to speak out, to ask for help and to know what rights and resources are available - that no one has to struggle or suffer alone.
At this discussion forum, panelists, representing a diverse cross-section of these communities will feature advocates, mental health professionals, and legal perspectives to look at many of the factors, including deportation, detention, and asylum; the mental health effects on a person who's struggling with and living in fear; the legal ramifications for someone who is LGBTQ+ and a person of color.
Panelists:
presentation by NYC Mayor's Office of Immigrant Affairs
Tsion Gurmu, Esq. (Baji, Inc.)(Immigration Attorney)
Steve Welch, LCSW-R (mental health professional)
Orlando Ferrand (writer/artist/poet)
Uchechukwu "Uche" Onwa (QDEP)
Alicia Anabel Santos (Moderator)
Participating agencies and organizations:
Hostos College - CUNY
NYC Mayor's Office of Community Affairs
NYC Office of Immigrant Affairs
NYC Commission on Human Rights
NYC Civilian Complaint Review Board
ThriveNYC
LGBT Expo
QDEP
DBGM & IMM2020
Caribbean Equality Project
Recoveries R US
NYC Care
NYU Langone Health
Fountain House
NYC Health+Hospitals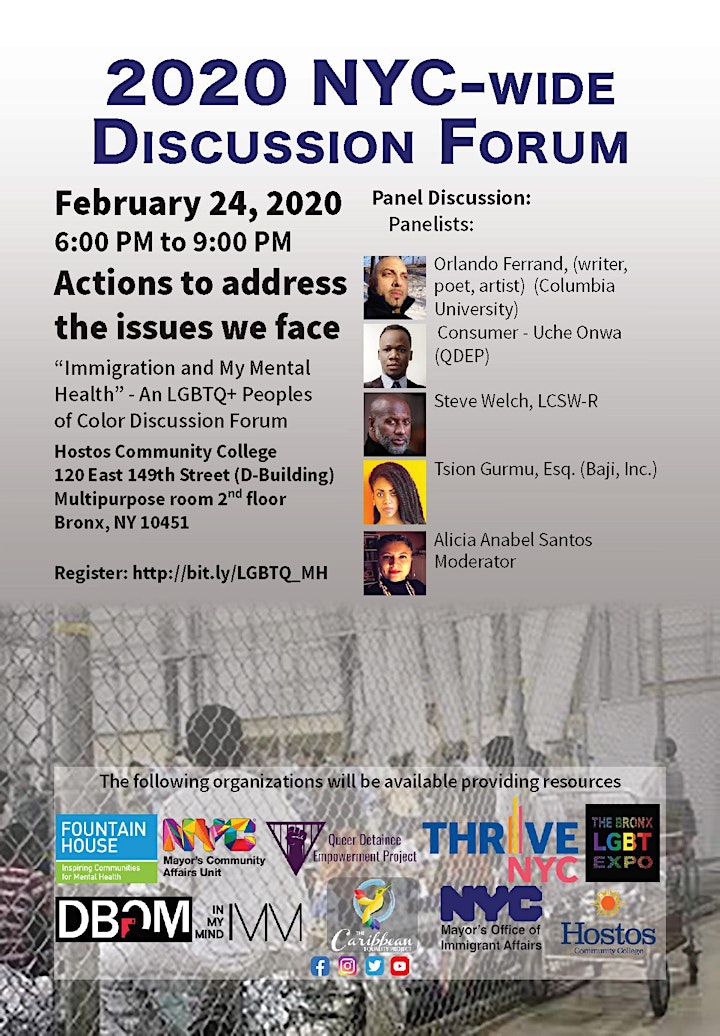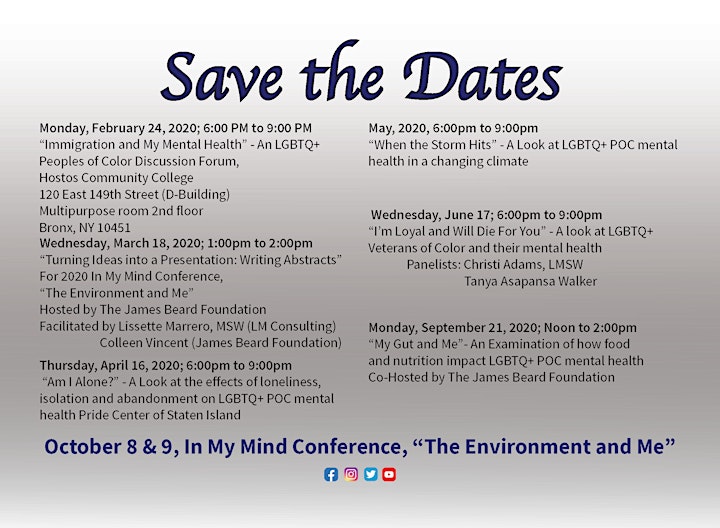 Organizer of "Immigration and My Mental Health" - An LGBTQ+ Peoples of Color Discussion
DBGM, Inc seeks to raise awareness of depression as a mental illness that affects Black gay men. It attempts to look at and shine a light on some of the underlying psycho-social and socio-cultural issues (exogenous) factors which lead to depression and suicidal ideation, attempts or completion. The organization encourages examination and conversations/discussion on the denials of sexual identity, expression, and orientation, of sexual abuse and trauma, the role of religious promotion of homophobia, stigma, and discrimination; of the factors surrounding an HIV diagnosis, and the issues facing older Black gay men. DBGM, Inc. is a registered 501 (c)3 organization.
DBGM hopes to influence change in the many ways Black gay men are regarded by family, create more opportunities for Black gay men to feel safe and comfortable to seek help, and in so doing, prevent suicides, in whatever form or manner.