Event Information
Location
Hostos Community College
120 East 149th St (D Building)
Multipurpose Room, 2nd flr
The Bronx, NY 10451
LGBTQ+ person of color dealing with immigration issues, the effect on their mental health, and their choices/decisions.
About this event
"Immigration and My Mental Health" - An LGBTQ+ Peoples of Color Discussion Forum
This discussion forum focuses on immigration: LGBTQ+ peoples of color are impacted by their immigration status or absence of status, a look at detention and deportation, culture shock and assimilation, refugee, economic deprivation - homelessness and couch surfing (survival sex and abuse), money, food; health and mental health care, the law and criminal justice system, and lived experiences - intended to make it normal or much easier to speak out, to ask for help and to know what rights and resources are available - that no one has to struggle or suffer alone.
At this discussion forum, panelists, representing a diverse cross-section of these communities will feature advocates, mental health professionals, and legal perspectives to look at many of the factors, including deportation, detention, and asylum; the mental health effects on a person who's struggling with and living in fear; the legal ramifications for someone who is LGBTQ+ and a person of color.
Panelists:
presentation by NYC Mayor's Office of Immigrant Affairs
Tsion Gurmu, Esq. (Baji, Inc.)(Immigration Attorney)
Steve Welch, LCSW-R (mental health professional)
Orlando Ferrand (writer/artist/poet)
Uchechukwu "Uche" Onwa (QDEP)
Alicia Anabel Santos (Moderator)
Participating agencies and organizations:
Hostos College - CUNY
NYC Mayor's Office of Community Affairs
NYC Office of Immigrant Affairs
NYC Commission on Human Rights
NYC Civilian Complaint Review Board
ThriveNYC
LGBT Expo
QDEP
DBGM & IMM2020
Caribbean Equality Project
Recoveries R US
NYC Care
NYU Langone Health
Fountain House
NYC Health+Hospitals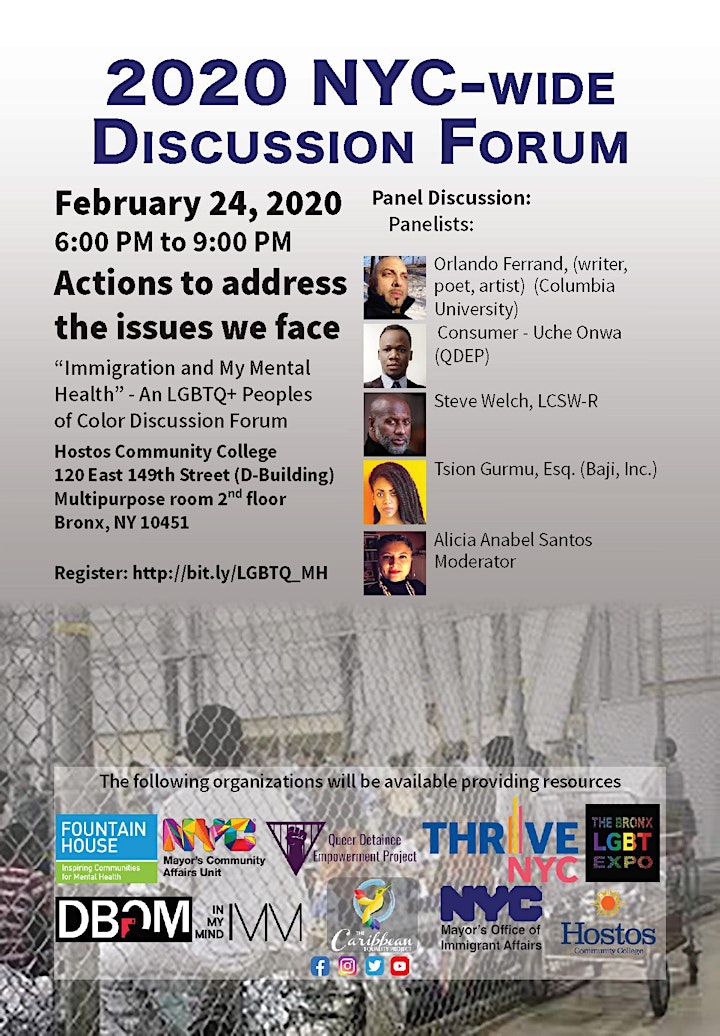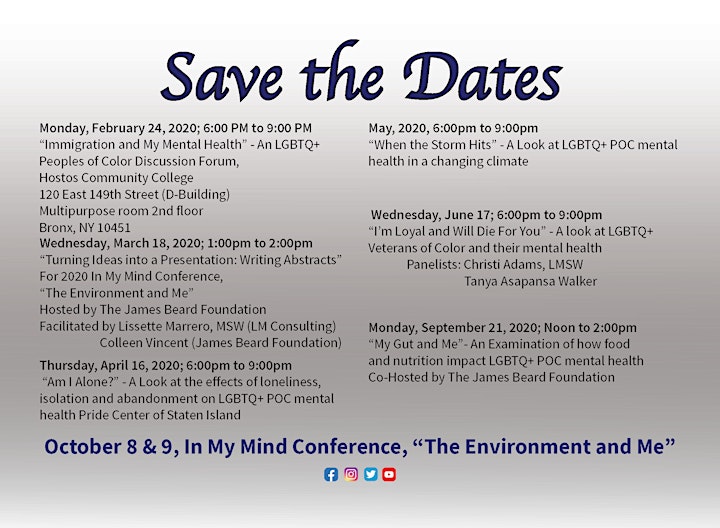 Date and time
Location
Hostos Community College
120 East 149th St (D Building)
Multipurpose Room, 2nd flr
The Bronx, NY 10451