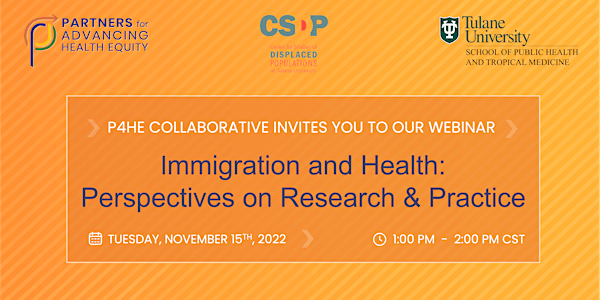 Immigration and Health: Perspectives on Research and Practice
Join us in a discussion on immigration and its health implications through a research lens.
About this event
Immigration affects the health of those who migrate –and those left behind –in many ways. The effects are both positive and negative. Some impacts are fleeting while others are long lasting. Causal mechanisms are complex. Migration can affect health and vice-versa; selection effects (migration is not a random process) muddy the waters.
Organized by Partners for Advancing Health Equity (P4HE Collaborative), the Center for Studies of Displaced Populations, the Department of International Health and Sustainable Development and the Department of Social, Behavioral, and Population Sciences, this panel discussion will highlight recent scientific findings and more practical public health implications of population mobility and health.
In this webinar we will:
Review the dominant paradigms describing the relationships between immigration and health
Critically evaluate these paradigms
Explore major health –and other -challenges immigrants face during their journeys and at destination
Discuss conventional and innovative ways to meet these challenges
Panelists:
- Mark Dal Corso, Associate Professor - Department of Social, Behavioral, and Population Sciences, Tulane University
- Lara Ho, Chief Operating Officer - Dupont Clinic
- Jeremy Jong, Staff Attorney - Al Otro Lado
- Olga Ocampo, Community Health Navigator II - De Paul Community Health Centers
- Diem Nguyen, Chief Executive Officer - NOELA Community Health Center
Moderator:
Mark J. VanLandingham, Professor, Director - Center for Studies of Displaced Populations, Tulane University