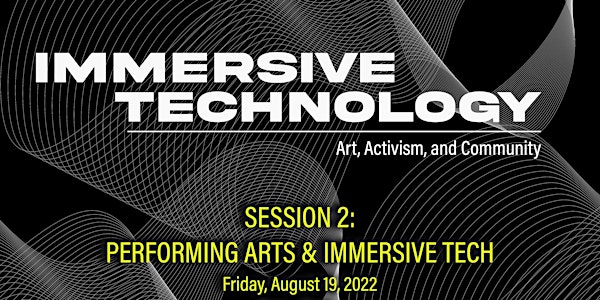 Immersive Technology: Art, Activism & Community Session 2: Performing Arts
Immersive Technology at the Intersection of Art, Activism and Community hosted by En Foco, BronxNet, Pregones and Bronx Council on the Arts.
About this event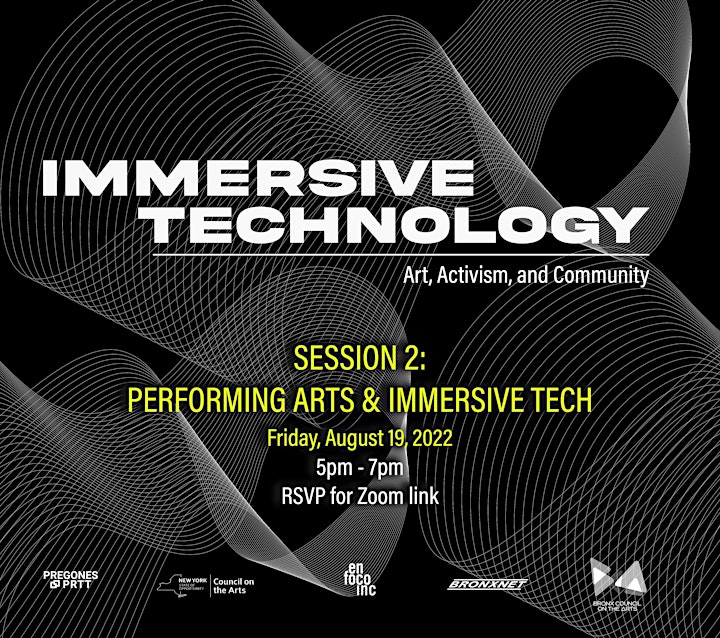 En Foco is proud to announce the launch of its new virtual summer workshop series, Immersive Technology: Art, Activism, and Community, hosted in collaboration with BronxNet, Pregones PRTT, and the Bronx Council of the Arts. The sessions and panels will focus on sharing valuable informational tools and promoting community engagement and accessibility to immersive technology resources.
The second of four sessions will be held virtually on August 19, 2022 from 5-7pm and will address the questions: Are new and immersive technologies ushering in a new era of experimental, hybrid digital and live performance for global majority artists? What do Immersive Technology, AR/VR, MR/XR, and their kind have to offer theater creatives in terms of freedoms of expression? Do they widen or bridge the gap between artists and audiences, producers and consumers, individuals and community? This panel engages early adopters in the performing arts in conversation about what attracts them to these emergent technologies, what has worked, what's ahead, and how presenting venues can best support this kind of work. Featuring members of Anonymous Ensemble (Eamonn Farrell & Lucrecia Briceño) Kyoung's Pacific Beat (Kyoung H. Park), and North Star Projects (Adriana Gaviria.)
Attendees will be encouraged to consider how immersive technology can be implemented in their communities to achieve cultural equity and access. The series, which is free and open to the public, will also address the critical lack of tech-based programming and support in the Bronx.
Presenters will discuss their use of the technology and highlight examples of how it is being used by artists, cultural organizations, communities, and beyond. Following sessions will be panel discussions led by artists, activists, and organizations engaging with Immersive Technology as part of their practice.
No previous experience or equipment is required to attend. All presentations will be hosted virtually and rebroadcast on BronxNet. Please register for access to the Zoom link. ASL and Closed Captioning services will be provided.
ABOUT THE PANELISTS
KYOUNG H. PARK is a North Korean writer and theater-maker, born and raised in Santiago, Chile, currently living in Brooklyn, New York. As Artistic Director of Kyoung's Pacific Beat, he has written/directed three full-length plays and created over 35 community-based, experimental projects including performances for new media. His work centers stories of (im)migration, queerness, identity and the ways these intersect in communities of color; it's described as "intensely personal" by American Theater Magazine and "very much of this moment" by the New York Times.
EAMONN FARRELL is a Brooklyn-based video designer and theater/media maker. With his company, Anonymous Ensemble, he has created dozens of original media-based performances and events in New York City and around the world. Eamonn teaches "Projected Spaces: Experimental Set Design" at City College and "Live Film: Media Design for Performance" at Princeton University. www.eamonnsgarden.com
LUCRECIA BRICEÑO is a Peruvian artist currently based in Brooklyn. Her work has been associated with artists developing innovative and original pieces. Her work includes theatre, opera, puppetry & dance, as well as collaborations in several non-performance projects. She is an associate artist with The Civilians, a Core Member of Anonymous Ensemble, a resident designer with Pregones Theatre/PRTT and La Micro. MFA: NYU Tisch School of the Arts. Member of 829.
ADRIANA GAVIRIA is an actor, producer, director, writer, and advocate in the United States. She is a founding member and artistic producer of The Sol Project, a national initiative to support Latinx theater, and the founder and producing artistic director for North Star Projects, an arts initiative that supports independent artists and theaters. Her advocacy also includes leadership roles with the Parent Artist Advocacy League (PAAL).
GABRIEL TORRES is a multidisciplinary artist from Colombia and New York. Torres' work deals in the conversations between community engagement, creative placemaking, theater making and film. Gabriel is currently working on Haus of Dust, a campaign to bring awareness about substance use in latinx queer communities from his personal experience. To learn more, visit iamdust.org | gabrielgtorres.com
ABOUT EN FOCO | En Foco, Inc. is a non-profit that supports U.S.-based photographers of African, Asian, Latino, Native American, and Pacific Islander heritage. Founded in 1974, En Foco makes their work visible to the art world, yet remains accessible to under-served communities. Through exhibitions, workshops, events, and publications, it provides professional recognition, honoraria, and assistance to photographers as they grow into different stages of their careers. For more information, please visit: www.enfoco.org.
ABOUT PREGONES PRTT | Pregones/Puerto Rican Traveling Theater (aka Pregones/PRTT) is a multigenerational performing ensemble, multidisciplinary arts presenter, and owner/steward of bilingual arts facilities in The Bronx and Manhattan. For more information, please visit: www.pregonesprtt.org
ABOUT KYOUNG'S PACIFIC BEAT | Kyoung's Pacific Beat (KPB) is a peacemaking theater collective dedicated to working with artists, non-artists, and local communities to transform experiences of oppression into peace messages through public performance. For more information, please visit: kyoungspacificbeat.org/
ABOUT ANONYMOUS ENSEMBLE | Anonymous Ensemble was founded in 2001 and has created new work every year since. We have presented work throughout New York City and the United States, as well as Greece, England, Scotland, Norway, Germany, and Australia. anonymousensemble.org
ABOUT NORTH STAR PROJECTS | North Star Projects is a new arts initiative whose mission is to create a better world, one project at a time, by engendering experiences that empower, inspire, and build community through various platforms including live events and digital media. please visit: northstarprojects.org
This project is made possible with funds from the NYSCA in Partnership with Wave Farm: Immersive Art & Technology Initiative, with the support of the Office of the Governor and the New York State Legislature.