Immersive Technology : Art, Activism and Community hosted by En Foco, BronxNet, Pregones PRTT and the Bronx Council on the Arts.
About this event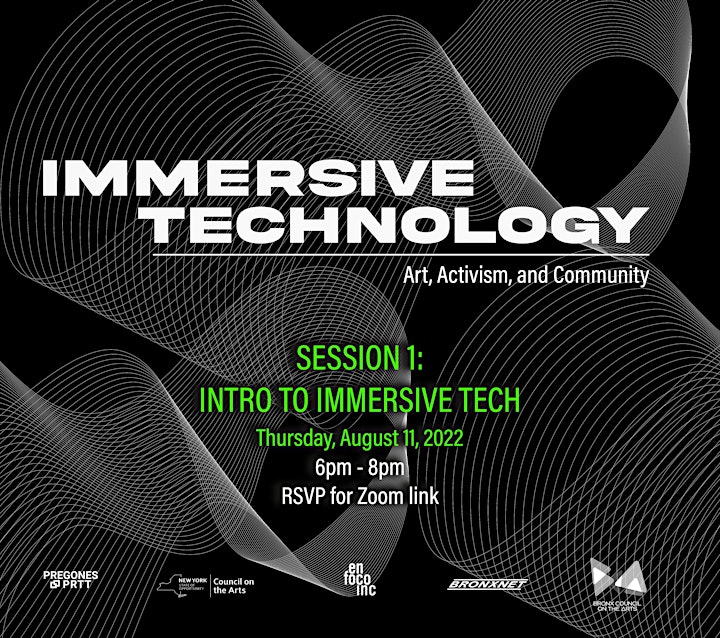 En Foco is proud to announce the launch of its new virtual summer workshop series, Immersive Technology: Art, Activism, and Community hosted in collaboration with BronxNet, Pregones PRTT, and the Bronx Council of the Arts. The sessions and panels will focus on sharing valuable informational tools and promoting community engagement and accessibility to immersive technology resources.
The first of four sessions will be held virtually on August 11, 2022 from 6-8pm and will be an introduction to immersive technology, including Virtual Reality (VR), Augmented Reality (AR), and Mixed Reality (MR) and their uses. The sessions following the introduction will feature Invited artists, activists, and other community organizations that are engaging with Immersive Technology will lead presentations and panel discussions. Details for the sessions following the introduction will be announced at a later date.
Attendees will be encouraged to consider how immersive technology can be implemented in their communities to achieve cultural equity and access. The series, which is free and open to the public, will also address the critical lack of tech-based programming and support in the Bronx. Presenters will discuss their use of the technology and highlight examples of how it is being used by artists, cultural organizations, communities, and beyond. Following sessions will be panel discussions led by artists, activists, and organizations engaging with Immersive Technology as part of their practice.
No previous experience or equipment is required to attend. All presentations will be hosted virtually and rebroadcast on BronxNet. Please register for access to the Zoom link. The full schedule of activities is included below. ASL and Closed Captioning services will be provided.
ABOUT THE PANELISTS
Trish Gianakis is an immersive, Emmy Award winning artist, digital art professor, NFT expert, published poet and artisan in residency at Bronxnet TV. Since March of 2021, she is known for turning her physical art into NFTs, incorporating 3D animations, augmented reality and creating Metaverse Art Galleries.
Will Roberts is a storyteller, spatial thinker, designer, 3D artist with a background in UX design. His strengths are designing experiences that bridge the physical and virtual. From concept to completion, he builds installations, games and storyworlds in the form of augmented and virtual reality. He's committed to designing experiences that help one maximize their physical potential.
Antonio Serna is a Mexican-American artist with both a collective and studio based practice. His current projects include Documents of Resistance: Artists of Color Protest, an art/research project focusing on the history of art and activism of people of color, and The Same Sun / Calendar, a multimedia mediation on time, place, and race. Working collectively, he is currently a member of the NYC Museum Workers' Organizing Committee, a by-and-for worker empowerment and solidarity group.
Betty Yu is a multimedia artist, photographer, filmmaker and activist born and raised in NYC to Chinese immigrant parents. Yu integrates documentary film, new media platforms, and community-infused approaches into her practice. She is also a co-founder of Chinatown Art Brigade, a cultural collective using art to advance anti-gentrification organizing.
ABOUT EN FOCO | En Foco, Inc. is a non-profit that supports U.S.-based photographers of African, Asian, Latino, Native American, and Pacific Islander heritage. Founded in 1974, En Foco makes their work visible to the art world, yet remains accessible to under-served communities. Through exhibitions, workshops, events, and publications, it provides professional recognition, honoraria, and assistance to photographers as they grow into different stages of their careers. For more information, please visit: www.enfoco.org.
ABOUT BRONXNET | BronxNet provides hands-on television production training, equipment access, and channels for Bronx residents. Award-winning BronxNet programs keep BronxNet in touch with the people, issues, neighborhoods, and activities that make the borough what it is today. For more information, please visit: www.bronxnet.org
ABOUT PREGONES PRTT | Pregones/Puerto Rican Traveling Theater (aka Pregones/PRTT) is a multigenerational performing ensemble, multidisciplinary arts presenter, and owner/steward of bilingual arts facilities in The Bronx and Manhattan. For more information, please visit: www.pregonesprtt.org
ABOUT BRONX COUNCIL ON THE ARTS | A pioneering advocate for cultural equity, the Bronx Council on the Arts (BCA) nurtures the development of a diverse array of artists and arts organizations and builds strong cultural connections in and beyond The Bronx. For more information, please visit: www.bronxarts.org
This project is made possible with funds from the NYSCA in Partnership with Wave Farm: Immersive Art & Technology Initiative, with the support of the Office of the Governor and the New York State Legislature.