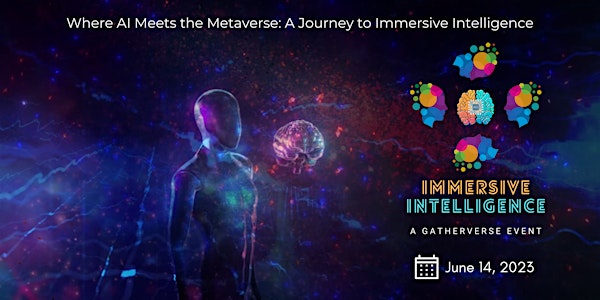 Immersive Intelligence: A GatherVerse Event
Join us on June 14 for "Immersive Intelligence" - exploring the AI-metaverse intersection with a focus on humanity-first approaches.
Date and time
Wednesday, June 14 · 8am - 12pm PDT
About this event
Empowering the Metaverse: Uniting AI and Human Potential
Join us on June 14th for "Immersive Intelligence" – a captivating journey into the intersection of artificial intelligence and the metaverse, brought to you by GatherVerse.
Engage with thought leaders, innovators, and futurists as we explore humanity-first approaches to creating immersive, intelligent environments that empower users while prioritizing accessibility, education, equality, and ethical considerations.
Together, we'll dive into the challenges and opportunities that arise as we combine AI-driven technologies with the boundless potential of the metaverse, shaping a future that champions community development, safety, privacy, and wellness for all.
Let's embrace the digital frontier and harness the power of Immersive Intelligence to create a more inclusive and equitable metaverse experience.
May our gather be well.
About the organizer
To form a gathering of professionals with expertise in,
education, technology, cybersecurity, wellness,
community development, accessibility and equality to
discuss the next steps of the Metaverse.