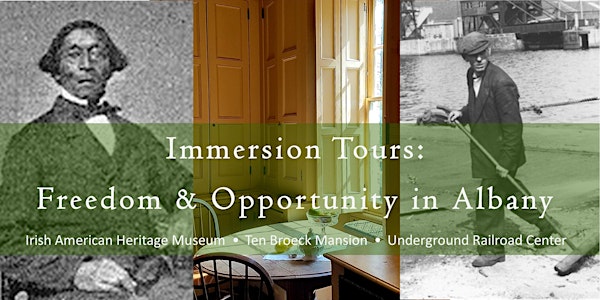 Immersion Tours: Freedom & Opportunity in Albany
Location
Albany County Historical Association
9 Ten Broeck Place
Albany, NY 12210
Immerse in history: join these special sequential tours exploring the roles of immigrants, free persons of color, abolition, and reform.
About this event
Immerse yourself in history! Join these special sequential tours, allowing you to visit three of Albany's finest historic sites exploring freedom and opportunity from the 1700s-1800s. Learn about the lives of enslaved persons, and the accomplishments and contributions of free persons of color in Albany. Learn how Albany grew and transformed: the lives of Irish immigrants, reformers and abolitionists, and Albany's important role for freedom-seekers on the underground railroad.
Opportunity & Freedom Immersion Tour:
Start at 2 pm: Irish American Heritage Museum (until 3:00 pm)
Middle: 3:30-4:30 pm Tour the Ten Broeck Mansion and visit the 4 acres of grounds and gardens - you are welcome to arrive early - bring and enjoy a snack in our gardens before or after your tour (we practice leave no trace).
End at 5 pm : Underground Railroad Education Center (Myers Residence - concludes at 6 pm)
Important tour information:
all visitors will be expected to comply with site regulations and safety practices, including public health measures.
please note: historic sites have uneven walkways and historic staircases: walking shoes recommended.
children must be accompanied by an adult at all times.
please ensure you leave enough time to travel between sites (about 2 minutes driving or 5-11 minutes walking). Tours start promptly.
tours are held rain or shine.
The Irish American Heritage Museum has paid parking. The Ten Broeck Mansion has ample free parking in an off-street lot, about a 11 minute walk from the Irish American Heritage Museum. The Myers Residence (last stop) is a 5 minute walk from the Ten Broeck Mansion, or limited on-street parking is available.
Or, visitors may park in the Ten Broeck Mansion's free off-site parking lot and walk to all sites (moderate walking ability required - slight uphill walks).
Please visit site websites for directions and parking information (printed directions will be provided upon request):
Irish American Heritage Museum: www.irish-us.org
Ten Broeck Mansion: www.tenbroeckmansion.org
Underground Railroad Education Center (Myers Residence): www.undergroundrailroadhistory.org
Due to the special nature of these tours, we are unable to offer refunds or member discounts. Your admission fee helps maintain these important historic museum sites.
Header images l to r: Stephen Myers, Courtesy of the Myers Residence, Ten Broeck Mansion Butler's Pantry, Irish Worker - Irish American Heritage Museum. Below: Irish Canal Workers and Irish Maid courtesy of the Irish American Heritage Museum, Ten Broeck Mansion Butler's Pantry, Myers Residence.