Immerse 2 Emerge is a women-created summit designed to help you remove current barriers, step into your true power and up level your life!
About this Event
No matter where you are in life today, Immerse 2 Emerge is your opportunity to break through current boundaries, step into your true power and up level your life! Spend the first day of May with a community of inspired and empowered women to:
DISCOVER
The POWER of your body and your breath, and new waves of MOTIVATION flowing in your life taking you to an ocean of VITALITY in your future;
EXPERIENCE
What opens up for you when you IMMERSE yourself in kindness for yourself and others, gain access to restored presence and release resistance.
RECEIVE
Tools and techniques to EMERGE new and ready to embrace new possibilities!
Immerse 2 Emerge Summit Sessions:
Powerful Flow Bops & Bangers with Callina Anderson
This 50 minute, all-levels vinyasa flow yoga class will bring you into your power, give you access to personal revolution, and encourage you to dance at your edge! Be ready to sweat and play at new levels of your practice! Please bring a hand towel and water. A mat towel and props are encouraged. *Music may be adult themed.*
Immerse in Spiritual Alignment with Simone Mayers
Do away with all you thought you knew about spirituality and align yourself with the sacred wisdom of our Universe. In this 50-minute session, we will dive deep into the chakras and explore how they map the intricacies and nuances of us as humans; debunk myths and stories surrounding Reiki healing; and gain tools and tips to impart spiritual alignment in your daily life! You will leave feeling grounded, centered and fully immersed in your true essence!
Creating Your Future with Haley Kennedy
In this 45-minute workshop, you will explore and identify what produces vitality in the areas of your life that are important to you. In this discovery, you will create and envision a future for yourself that cultivates motivation, possibility and restoration, enabling you to show up for yourself and others in a new way.
Cozy Slow Flow Yoga with Cat Kradel
This cozy, slow flow practice is all about cozy-ing up to, and being fully with - with your body, your breath, and your life. Through this 50-minute class, you will be invited to slow down, breathe deeply, and create a connection to your body and mind rooted in kindness and slow, gentle, loving movement. In this practice, you will be encouraged to incorporate all the supportive comforts within your home that you may want or need… pillows, blankets, fuzzy socks, tea (or wine?), fur babies, partners, heating pads, whatever else!… while we cozy up and restore together.
Ride the Tide: Pranic Healing & Meditation with River
In this 50-minute session, we will use rhythmic breathwork and guided imagery to experience the release of resistance and discover the pathway to freedom and its empowering consequences.
Emerge in Resilient Action with Kristin Burdge
Cultivate resilience! Close out your immersion in healing by applying your restored presence and strength to emerge and charge forward in this 50-minute session. First, we will briefly explore key factors of mental health awareness and recovery. We will close out the summit by landing ourselves in powerful visioning to go out and create our best, individual, radiant lives in action and in community. You will leave this workshop with simple, versatile & motivational tools that empower setting realistic, actionable goals - and a plan to start right now.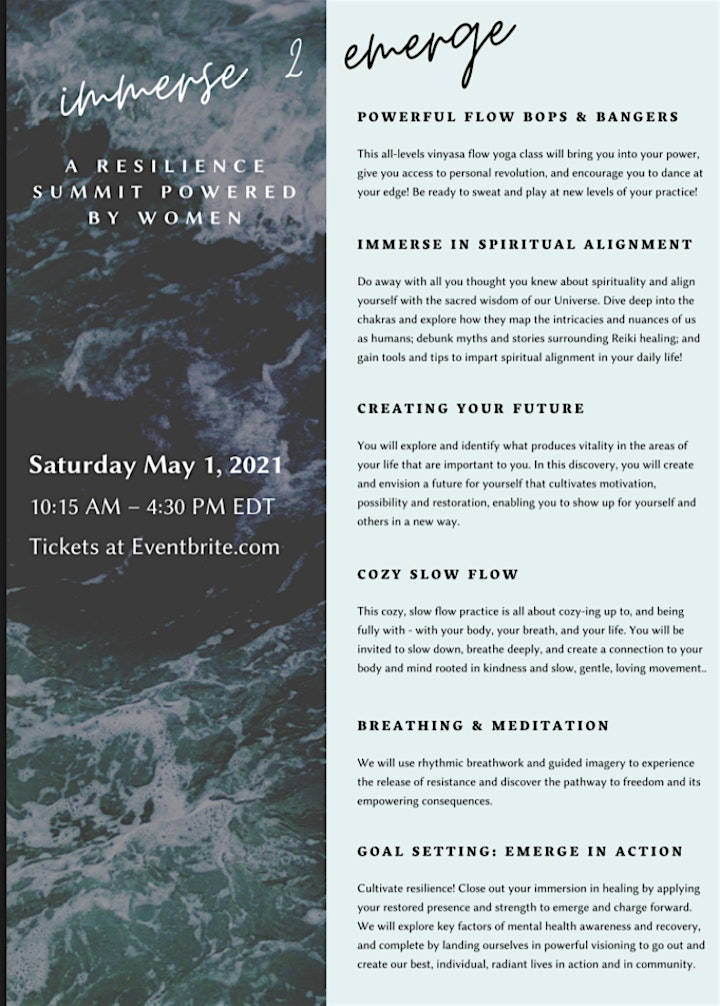 Date and Time
Location
Refund Policy