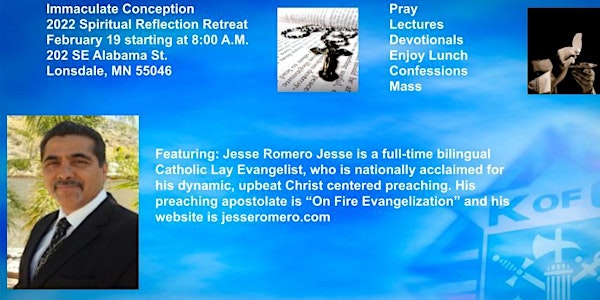 Immaculate Conception Spiritual Reflection Retreat
Spiritual Reflection Retreat by Jesse Romero --- Saturday, February 19th, 2022 --- At Immaculate Conception Catholic Church, Lonsdale, MN
When and where
Location
202 SE Alabama St 202 Southeast Alabama Street Lonsdale, MN 55046
Refund Policy
Contact the organizer to request a refund.
Eventbrite's fee is nonrefundable.
About this event
Jesse Romero is a full-time Catholic Lay Evangelist, who is nationally acclaimed for his dynamic, upbeat, Christ centered preaching. His preaching apostolate is "On Fire Evangelization" and his website is jesseromero.com
The spiritual reflection retreat will include: Prayer, Lectures, Devotionals, Lunch, Confession, and Mass. The day will begin with refreshments and prayer. We will have a total of four lectures from Jesse on various aspects of our spiritual life and the need to be strong in today's society.
Open to everyone (parishioners and non-parishioners). Intended for the entire family. Childcare will be available.
Adults/Teens: $10
Children under 12: Free
The day itinerary is as follows: (tentative timeline)
8:00 Arrival, Registration check in, Reception (Civic Center)
8:45 Opening Remarks
9:00 Lecture from Jesse Romero
10:15 Devotional
10:50 Lecture from Jesse Romero
12:00 Lunch
1:10 Angelus
1:15 Lecture from Jesse Romero
2:25 Devotional
2:55 Lecture from Jesse Romero
4:00 Adoration hour/Confessions
5:00 Mass
6:15 Event Concludes
*As a special note, Friday night (18 February) will be a special Lecture (Men Only) at 7:00 p.m.
The location for the event will be 202 SE Alabama ST. Lonsdale, Minnesota, 55046
You can register either here on Eventbrite or by calling the church parish office (507-744-2829). We look forward to seeing you all at the retreat and thank you for your prayers and support.
December 3, 2022 – Additional note to Knights of Columbus
Dear Brother Knights,
With our commitment to strengthening our faith as Catholics and our decision to serve God as members of the Knights of Columbus, leading our families through our acts, we can take advantage of the programs and events that happen around our great state. One of the opportunities to strengthen our faith and rally together as Catholics is through Spiritual Reflection. One of the required programs is to hold or attend a retreat and time of reflection within our councils or in conjunction with other councils.
This fraternal year, many of us have had to make decisions based on our needs and the needs of our families and events have been hard to come by. However, you have an opportunity on February 19th to attend a one day retreat at Immaculate Conception Catholic Church in Lonsdale, Minnesota. This year's Spiritual Reflection Retreat is hosted by Council 16225 and features a dynamic Catholic Evangelist, Jesse Romero. Our goal this year is to provide an inspirational day of lectures, prayer, adoration, fellowship, and all around concentration on our spirituality.
This event is open to everyone. There is a small charge of $10.00 for ages 12 and up and free for all others. The cost is used to help pay for your lunch, the speaker fees and travel expenses, and print materials that are to be used. We would ask that you either register as a council in which if you have 10 members or 10% of your council whichever is smallest, you notify me so that I can write a letter of confirmation that you have met the requirements for a retreat for your SP7. As well, I would encourage all in attendance who are able to dress out that we will have Color Corps for this event at the mass to close out the day. If you cannot make the event but would like to help with the expenses, donations are greatly appreciated.
-Michael Bass Smith