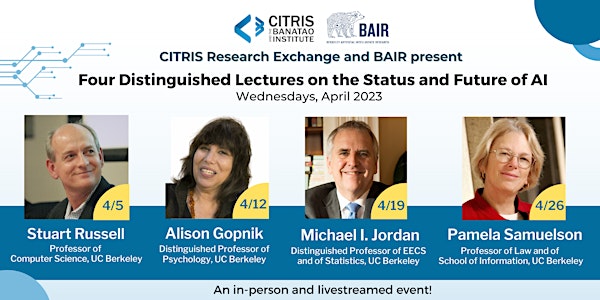 Imitation and Innovation in AI - Alison Gopnik
A Distinguished Lecture on the Status and Future of AI. Presented by CITRIS and the Banatao Institute and BAIR.
By CITRIS and the Banatao Institute
Date and time
Wednesday, April 12 · 12 - 1pm PDT
Location
Sutardja Dai Hall - Banatao Auditorium 2594 Hearst Avenue Berkeley, CA 94720
About this event
Speaker:
Alison Gopnik, Distinguished Professor of Psychology, UC Berkeley
Talk Title: Imitation and Innovation in AI: What Four-year-olds Can Do and AI Can't (Yet)
About Talk:
Young children's learning may be an important model for artificial intelligence (AI). Comparing children and artificial agents in the same tasks and environments can help us understand the abilities of existing systems and create new ones. In particular, many current large data-supervised systems, such as large language models (LLMs), provide new ways to access information collected by past agents. However, they lack the kinds of exploration and innovation that are characteristic of children. New techniques may help to instantiate child-like curiosity, exploration and play in AI systems.
About Speaker:
Alison Gopnik is a professor of psychology, affiliate professor of philosophy and member of the Berkeley Artificial Intelligence Research (BAIR) Group at the University of California, Berkeley. She is an internationally recognized leader in the cognitive science of learning and development and the author of the bestselling and critically acclaimed books "The Scientist in the Crib," "The Philosophical Baby" and "The Gardener and the Carpenter." She is a Guggenheim, American Association for the Advancement of Science (AAAS) and Cognitive Science Society fellow, a member of the American Academy of Arts and Sciences, and president of the Association for Psychological Science. She writes the Mind and Matter science column for The Wall Street Journal and has appeared on "The Charlie Rose Show," "The Colbert Report," "The Ezra Klein Show" and "Radio Lab."
About the Series:
The CITRIS Research Exchange and Berkeley Artificial Intelligence Research Lab (BAIR) present a distinguished speaker series exploring the recent breakthroughs of AI, its broader societal implications and its future potential. Each seminar takes place on Wednesdays from noon to 1:00 p.m. in the Banatao Auditorium at Sutardja Dai Hall on the UC Berkeley campus and will be livestreamed on YouTube. All talks are free and open to the public.
About the organizer
The Center for Information Technology Research in the Interest of Society and the Banatao Institute (CITRIS) creates information technology solutions for society's most pressing challenges.