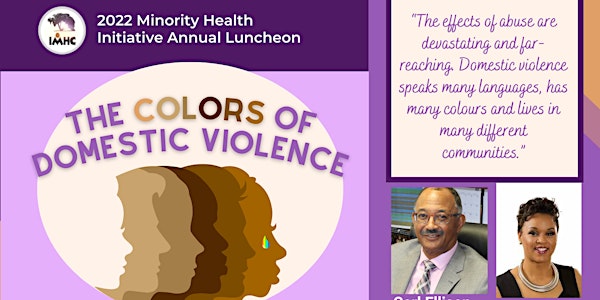 IMHC -Indiana Minority Health Coalition Webinar-Colors of Domestic Violence
TODAY ! The Colors of Domestic Violence" - How intimate partner violence impacts racial & ethnic minorities. IMHC- Indiana Minority Health
About this event
Please register and join us for our 26th Minority Health Initiative Virtual Webinar on Wednesday, October 26, 2022, 11:30 am-1 pm est.
In honor of October being domestic violence awareness month, Indiana Minority Health coalition will present "The Colors of Domestic Violence." This virtual Webinar event will have a panel discussing the disproportionate impact of domestic violence, particularly intimate partner violence (IPV), has on marginalized groups, such as racial and ethnic minorities and those that identify as LGBTQ+.
Domestic violence is an all-too-common issue affecting 1 in 4 women and 1 in 7 men. Unfortunately, these numbers are rising. The Indiana Coalition Against Domestic Violence (ICADV), an advisory partner on this event, shared the following data on IPV fatalities in Indiana: "From July 1, 2020 through June 30, 2021, ICADV recorded 98 intimate partner violence-related fatalities, an increase of 181% over the same time period of 2019-2020."
Please join us , as we work to address intimate partner violence , as it is a significant public health issue in our communities. Attendees will hear from a panel of speakers who will provide an overview of all that domestic violence entails, as well as, provide resources for those who have been impacted.
The mission of Indiana Minority Health Coalition (IMHC) is to eliminate health disparities through research, education, advocacy, and working to increase access to health care services in minority communities.
Speakers Bio's
Danyette Smith is a Game Changer (Survivor) of domestic violence and knows the effects it can have on kids and families firsthand. From having a gun placed to her head and being told she would be killed if she left, having two plates in her eyes currently to hold her cornea in place from being hit, or the effects it had on her children, she experienced it firsthand.
Danyette is the first Director of Domestic Violence Prevention for the City of Indianapolis with the Indy Public Safety Foundation, the founder and President of Silent No More, Inc, and was the Director of Strategic Initiatives at the Domestic Violence Network (DVN). She helped the community in different ways such as a CASA (Court Appointed Special Advocate) for Child Advocates with the Marion County Juvenile system, and an Academic Advisor for 9th-12th grade students at a charter school that covers the whole state of Indiana. She has her Master's in Nonprofit and Community Leadership and holds a degree in Business Management and a Bachelor of Science in Human Services with a concentration in Child and Family Welfare. Serving the communities is her passion. She is a contributing author of the book "When A Woman's Fed Up", using her voice as a Game Changer for survivors across the world and many awards like the 2016 Domestic Violence Advocacy Award winner and pictured on Indiana's IndyGo Public Transit buses regarding gun violence.
Through Silent No More, Inc, they have served many victims and survivors with emergency shelter placement, wrap-around services, advocacy, and more to help prevent abuse and gun-related deaths. Now, she is running the City of Indianapolis with ways to prevent and intervene with survivors and victims of domestic violence. Danyette is a voice for and in the community!
Zenebia Law has earned her Bachelor of Science degree in Psychology, focusing on Applied Behavioral Analysis. Zenebia then began her career working with survivors of trauma in 2012, when she became employed at The Center for Women and Families. As a certified Domestic Violence and Sexual Assault Victims' Advocate, Zenebia has worked with survivors in a variety of roles. Currently, as the Director of the Southern Indiana Programs at The Center, Zenebia uses her experience and knowledge for programmatic, and staff, development. This includes, but is not limited to, cultivating community partnerships. For example, being a member of the Indiana 211 Advisory Board helps to foster change at a community level, while still providing excellent services to survivors. Zenebia enjoys traveling and experiencing new restaurants, her motto is "I will travel for food".
Jessica Richmond-Castello is a domestic violence and sexual assault advocate. Her passion for the community is rooted in empowering and educating everyone around her. She is the Director of Victim Services with the Family Justice Center of St. Joseph County and has specialized training in crisis intervention, protective orders, strangulation, and danger assessment. Her work hinges on victim safety, accountability, and instilling hope for the future in her clients.
Options to donate are available , if you're considering donating to our organization click on the link below.
https://www.imhc.org/
Once redirected to our site, you'll see the Payment form button that's what will be clicked, you'll put in the amount you'd like to give, then you'll click the "Continue to billing", once that is clicked you'll see everything pop up such as your Membership, Sponsor level, etc.
Donations of any amount are also appreciated.
www.imhc.org