Sales Have Ended
Registrations are closed
Greetings! Thank you for your interest in attending ImBlackInTech :: Monthly Mixer Series. Unfortunately, the event is currently sold out. To answer a 1 question microsurvey about the vision and mission of ImBlackInTech, please visit: FdbkBox.com/ImBlackInTech At Your Service, Thomas K.R. Stovall http://www.LinkedIn.com/in/ThomasKRStovall
Sales Have Ended
Registrations are closed
Greetings! Thank you for your interest in attending ImBlackInTech :: Monthly Mixer Series. Unfortunately, the event is currently sold out. To answer a 1 question microsurvey about the vision and mission of ImBlackInTech, please visit: FdbkBox.com/ImBlackInTech At Your Service, Thomas K.R. Stovall http://www.LinkedIn.com/in/ThomasKRStovall
Description

MIDWEST'S LARGEST MEMBERSHIP NETWORK FOR BLACK & LATINX FOUNDERS OF EMERGING TECH STARTUPS

presented by TechLaunchParty






WHO IS THE IMBLACKINTECH MONTHLY MIXER SERIES FOR?
MEMBERS

-

Current members in the ImBlackInTech Network
POTENTIAL MEMBERS -

Founders, Starters, enthusiasts, subject matter experts in the tech field, investors, and community leaders who seek to support and celebrate the growth and expansion of a Chicago-based community of founders of color in the tech start-up ecosystem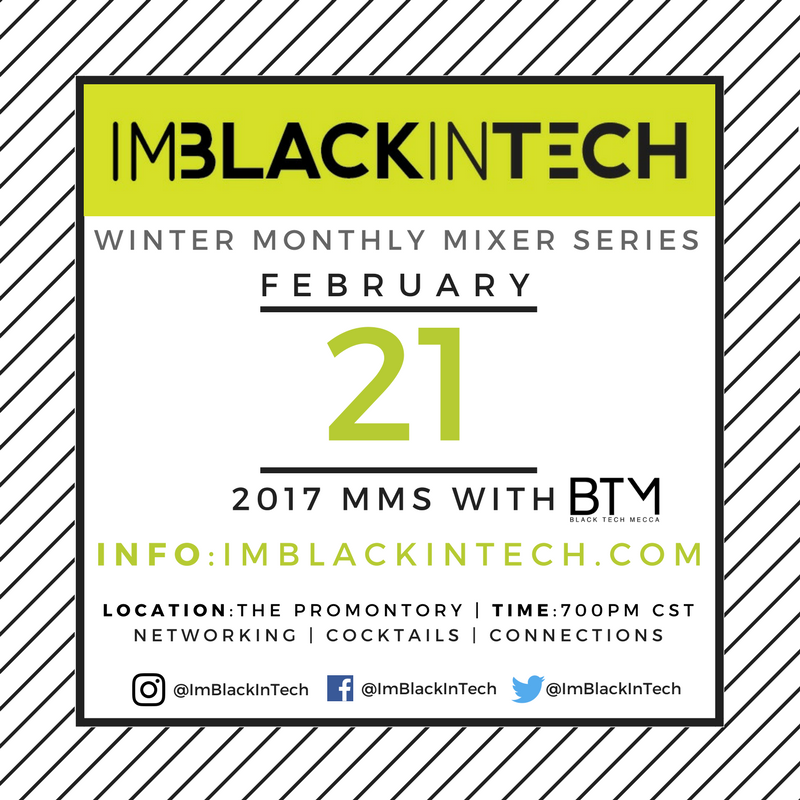 EVENT PURPOSE
The Monthly Mixer Series was created to bring together ImBlackInTech members, potential members and friends to mingle in a comfortable environment, share ideas, and build trust and rapport.

EVENT FREQUENCY
Mark your calendars. Throughout 2017, the ImBlackInTech Monthly Mixer will tentatively be held on the third Tuesday of every month, for cocktails and conversations.

EVENT LOCATION
Through Q1, the location for MMS will be The Promontory.

EVENT RSVP
Please note, you must RSVP to attend the event. If you do not RSVP, you will not be able to gain entry.

---
CONNECT WITH IMBLACKINTECH
#IMBLACKINTECH
Instagram.com/ImBlackInTech | Twitter.com/ImBlackInTech
Facebook.com/ImBlackInTech | Periscope.tv/ImBlackInTech
---
** If you attend the ImBlackInTech Monthly Mixer, you understand that your photograph may be taken, and you may be videotaped. By submitting your RSVP, and or attending, you agree to allow us the right to use images of you, or your likeness, in future ImBlackInTech promotional materials. **


See you there!
- ImBlackInTech Membership Network Team