Description

The IMA Portland Chapter is launching a live, instructor-led CMA Part 1 review course beginning October 2019!
In this review course, instructor Hank Mishima, CMA, will help prepare students for Part 1 of the CMA exam.
The class will meet on eight(8) Saturday mornings, 8am-noon, starting at the end of October and end just before the start of the January/February testing window.
Gleim CMA review materials will be provided in the full tuition price of $800 for this course.
Maximum class size is limited to 15 students in order to provide each student the attention needed to help be successful in passing the CMA Part 1 exam.
If a student already has their CMA review materials, they have the option to enroll in the course for $500. Please be aware that if you choose to enroll in the course using materials other than the Gleim CMA review materials that are included in the course, you do so at your own risk.
Class Dates:
October 26

November 2

November 9

November 16

November 23

No Class - Thanksgiving Week Break

December 7

December 14

December 21
---
A second CMA Review Course will be held in the Spring to prepare students for the May/June testing window for Part 2 of the CMA Exam. This second review course is available for additional purchase. See "#IMAPDX Instructor-Led CMA Part 2 Review Course" for registration.
---
For nearly 50 years, the CMA, or Certified Management Accountant, has been the global benchmark for management accountants and financial professionals - CMAs are able to explain the "Why" behind the numbers, not just the "What". A CMA credential can give you greater credibility, higher earning potential and ultimately a seat at the leadership table.
Here's what you need to become a CMA:
Education - A bachelor's degree from an accredited college/university or related professional certification

Experience - Two continuous years of professional experience in management accounting or financial management.

Exams - Pass Part 1 and Part 2 of the CMA exam.
Questions? Reach out to ima.pdx@gmail.com and your local IMA Portland Chapter will be happy to assist!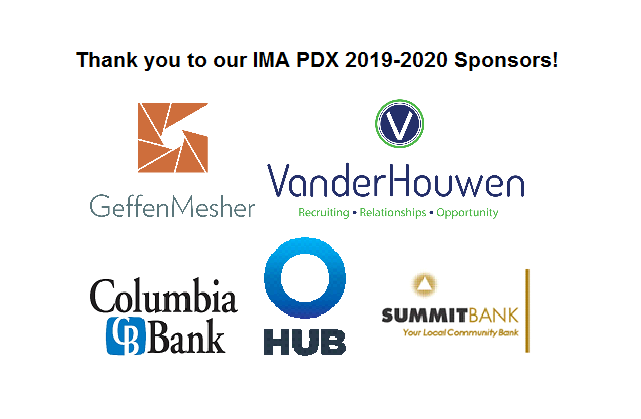 ---
Disclaimers -
Photography: By registering for this event, you agree and acknowledge that IMA® (Institute of Management Accountants) along with its partners, subcontractors, or affiliates plan to take photographs at the IMA Chapter/Council Event Name for reproduction in educational, news, or promotional material, whether in print, electronic, or other media including IMA and IMA's affiliate partner websites. By participating in the IMA Chapter/Council Event Name, you grant IMA and any of its designated subcontractors, partners, or affiliates the right to your name and image (both photographs) for such purposes.
Liability Waiver: By registering for this event, you agree and acknowledge that you are undertaking participation in IMA® (Institute of Management Accountants) events and activities as your own free and intentional act, and you are fully aware that possible physical injury might occur to you as a result of your participation in these events. You give this acknowledgement freely and knowingly and that you are able to participate in IMA events, and you do hereby assume responsibility for your own well being.