iMAP Online! (iYouth Multimedia Afterschool Program)
Description
Do you need to plan more activities for your child(ren) during this time of quarantine? Join iMAP for an informative course in multimedia! Multimedia 101 will cover the basics of:
• Audio
• Journalism
• Photography
• Videography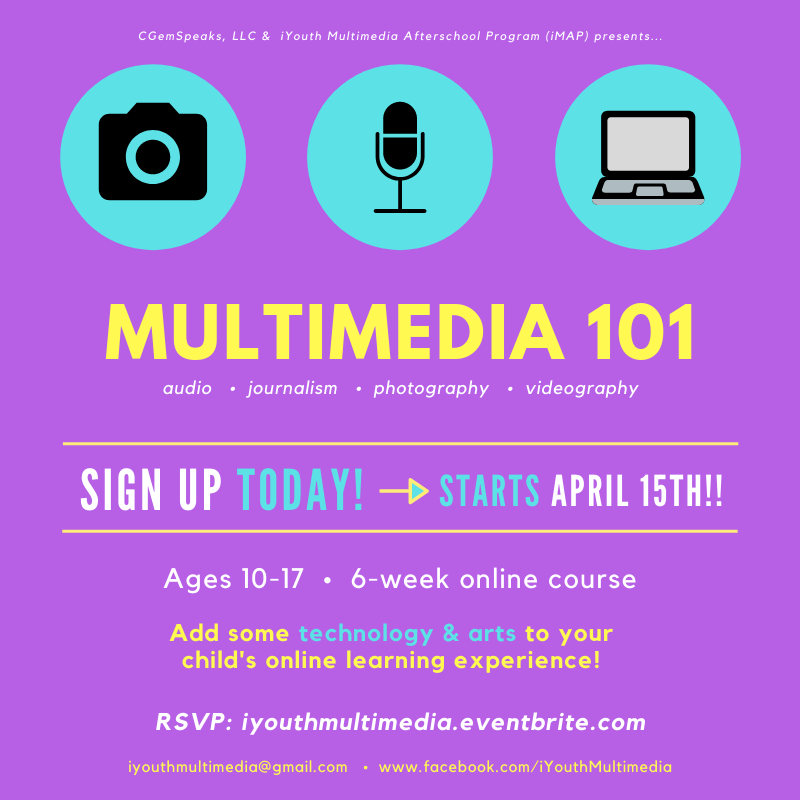 These classes will answer the following questions, host interactive sessions with students, and share a final project that will enable students to become a voice in their community.
What is multimedia?

How does multimedia work?

How can we effectively use multimedia?
If your child is interested in:
✓✓ Taking pictures
✓✓ Shooting videos
✓✓ Creating content
✓✓ Being creative
✓✓ Sharing information with family, friends & community
THIS IS THE PERFECT COURSE!!
SIGN UP TODAY!!!!
>>> EARLY BIRD SPECIALS AVAILABLE FOR A LIMITED TIME! <<<
*** Visit iMAP on Facebook ***
---
The instructor - Tara "Caribgem" Lewis
Tara "Caribgem" Lewis is a creative multimedia professional that helps educate the youth on creating multimedia and using it to empower their community. She has worked with numerous youth groups and community organizations, in the DMV area, providing superb multimedia production.
Organizer of iMAP Online! (iYouth Multimedia Afterschool Program)
The iYouth Multimedia Afterschool Program (iMAP) educates youth on the fundamentals of multimedia. Areas of education include journalism, radio broadcasting, audio production, photography, graphic design, videography & website design. iMAP is a multimedia service of CGemSpeaks, LLC.