Please join us! Topics include data privacy, business agility, economic analysis, data analytics, cybersecurity, and business valuation.
About this event
The conference is designed to provide accounting and finance professionals and faculty with a look at current accounting, finance, and business issues. Two of the sessions relate to data privacy, cybersecurity, and hacking, which were important issues due to the Colonial Pipeline and other notable hacks that took place earlier in the year. Chris Kuehl's economic update will cover topics of importance to accounting, finance, and economics majors and faculty, and will also include a discussion of supply chain and labor issues. The business valuation session is recommended for accounting and finance majors and faculty. Business Agility is recommended for those interested in accounting systems and project management. The Data analysis/Power BI session will be of general interest to all business majors and will include a discussion of data analytics.
We will be offering 8 hours of CPE.
Cost will be $160 for Professionals, $40 for Faculty Members, and free for Students. More details can also be found on https://kansascity.imanet.org.
SCHEDULE:
8:00am - 9:15am – Laura Clark Fey, "America the Vulnerable: The Nation State Hacking Threat to Our Economy, Our Privacy, and Our Welfare." - 1.5 hours CPE
9:30am - 10:45am – Bill Luberto, RGP – "Applying Business Agility to Accounting and Finance" – 1.5 hours CPE
11:00am - 12:15pm – Chris Kuehl, "The Good, Bad and Ugly – 2021 Economy" - 1.5 hours CPE
12:15pm - 1:15pm – Lunch break
1:15pm - 2:05pm – Pam Schmidt, Washburn University, "Life and Work at the leading edge of the Data Analytics Transformation" - 1 hour CPE
2:20pm - 3:35pm – Shannon McMurtrey, Drury University, "Annual Threat Assessment Update and Supply Chain Attack Primer" - 1.5 hours CPE
3:50pm - 4:40pm – Mark Blackton, CVA – "Business Valuation - Do you really need to know?" - 1 hour CPE
SPECIAL GUEST SPEAKER BIO:
Laura Clark Fey:
The recent SolarWinds cyberattack, America's "Cyber Pearl Harbor," is a painful reminder of the vulnerability of our government, academia, for-profit corporations, and non-profit organizations to nation state cyberattacks. Nation state cyberattacks against public and private sector organizations of all sizes are increasing in volume, sophistication, effectiveness, and covertness. In this presentation, Privacy Law Specialist (IAPP), Laura Clark Fey, addresses the serious risks that nation state cyberattacks pose to our lives, liberty, and security. She also provides recommendations for "a whole-of-society response" to address these critical issues. She suggests practical steps that public and private sector organizations can take to help protect themselves and others against nation state (and other) cyberattacks—from implementing specific cybersecurity measures to coordinating, cooperating, and sharing information with other public and private sector organizations. And she emphasizes why she believes intense collaboration between government and corporations, academic institutions, and individual Americans on privacy and data protection is crucial to preserving the American dream for future generations.
Laura utilizes her deep expertise and experience in data privacy & cybersecurity, eDiscovery & legal holds, regulatory compliance, and litigation to help U.S. and multinational organizations develop and implement practical, legally-compliant solutions to their unique privacy and information governance challenges.  Laura is one of 27 U.S. lawyers selected into the inaugural class of Privacy Law Specialists (IAPP).  She also is a member of the inaugural class of IAPP Fellows of Information Privacy (FIP).  Laura is a Certified Information Privacy Professional for the U.S. and Europe (CIPP/US; CIPP/E) and a Certified Information Privacy Manager (CIPM).  Prior to the invalidation of the EU-U.S. Privacy Shield framework, Laura was a Privacy Shield Arbitrator. The U.S. Department of Commerce and the European Commission selected Privacy Shield Arbitrators based on their independence, integrity, and expertise. Laura was chosen as part of the first class of 16 Privacy Shield Arbitrators. Laura teaches Global Data Protection Law at the University of Kansas Law School. She also teaches the global protection and privacy portion of the International Issues course at Baylor Law School for Baylor Law School's Executive LL.M. in Litigation Management Program. Laura has been selected into Baylor Law School's Brain Trust for Baylor's Executive LL.M. in Litigation Management Program, and is recognized as a data privacy thought leader to help educate and guide lawyers in that program. Laura is a frequent speaker on data protection & privacy, eDiscovery & legal holds, regulatory compliance, and information governance compliance issues. She also has provided legal analysis on a number of national television and radio news broadcasts covering high-profile legal issues and cases.
Bill Luberto, RGP:
With more than two decades of experience helping clients across several industries deliver transformational change, Bill joined the RGP family in 2010.  Bill is an agility expert and a frequent project, program and portfolio management commentator.  He received his bachelor's in economics and sociology from the University of Michigan and an MBA in international business from Clemson University. As RGP's VP of Business Transformation, Bill also holds a certification in project management and is passionate about increasing the satisfaction that people get out of work. In 2020, Bill was named APS Innovator of the Year for transforming the business agility practice. He lives in Lakewood Ranch, Florida, where he enjoys cycling, swimming, and cooking.  In this discussion, we will look at the need to adopt an agile mindset, define both Agile and business agility, and discuss how it can be applied to Accounting & Finance functions.  We'll next explore some common barriers to adopting and applying an agile mindset.  The session will end by taking some questions from the audience to help apply the topic to realistic situations.
Dr. Chris Kuehl:
"The Good, Bad and Ugly - 2021 Economy" - There has been something for everybody this year - boundless growth and a potential plunge back to recession. Labor shortages and supply chain disruptions. Consumers rushing back to old patterns and then rushing back into isolation. We hoped that 2021 would be the resumption of normal and now we hope 2022 brings some of that. Dr. Chris Kuehl is a Managing Director of Armada Corporate Intelligence. He provides forecasts and strategic guidance for a wide variety of corporate clients around the world. He is the chief economist for several national and international organizations. Prior to starting Armada in 1999 he was a professor of economics and finance for 15 years – teaching in the US, Hungary, Russia, Estonia, Singapore and Taiwan. He holds advanced degrees in economics, Soviet studies and East Asian studies. Chris is the writer/editor of Business Intelligence Briefs and a writer for the Black Owl Report – both publications from Armada. He is an economic analyst for the Armada Strategic Intelligence System and is responsible for the Credit Manager's Index from NACM as well Fabrinomics from the FMA. He also serves as an Economic Analyst for several CPA societies.
Dr. Pamela J. Schmidt:
Dr. Pam Schmidt is an Associate Professor in the Washburn University School of Business and she holds the William Lyman Dibble Professorship and ISACA's CRISC certification. She earned her Ph.D. in Information Systems with an emphasis in Accounting from the University of Arkansas, an MBA from the Kellogg Graduate School of Management and an MS in Computer Science from the University of Southern California. She chairs the HICSS conference Enterprise Ecosystem track, chaired the Journal of Information Systems (JIS) 2018 Research Conference and edited the JIS's special Issue on AIS and Cloud Computing. Her research interests include data analytics, enterprise systems, accounting information systems, IS controls, cloud computing and blockchain. The American Accounting Association voted to bestow her with the 2021 Accounting Horizons Best Paper Award, along with her co-authors Jennifer Riley and Kim Church for the research article "Investigating Accountants' Resistance to Move beyond Excel and Adopt New Data Analytics Technology" Accounting Horizons, December 2020, Volume 34, Issue 4, pp. 165–180. Her co-authored "A Review of ERP Research: A Future Agenda for Accounting Information Systems" (2011) was the top cited paper in AAA's Journal of Information Systems (2005 Report). Dr. Schmidt's prior business experience includes computer systems architect, operating systems developer, and project manager at AT&T Bell Labs, and in telecom operations, she was the Digital Broadband Internet product manager at SBC/Ameritech/AT&T serving the 5 state area, headquartered in downtown Chicago. This session will cover "Life and Work at the leading edge of the Data Analytics Transformation":  Everyday, the news is filled with the promise of the field of Data Analytics transforming life and business. We all want and need to understand the range of approaches for data analysis from "Little Data" by using recent extensions to Microsoft's Excel and PowerBI software, to the basics of newer "Big Data" software to visualize and automate understanding of corporate data.  Learn about Data Analytics application to numerous existing business challenges. Getting past the technology buzz words (robotic process automation, Internet of Things, artificial intelligence, blockchain, …), this talk will provide you a foundation of concepts and some understandable use of data analytics to go with the Tech terms.
Shannon McMurtrey, Ph.D:
Dr. Shannon McMurtrey began his teaching career in 2002 at Missouri State University where he was a College of Business research award winner; served as Director of the Computer Information Systems graduate program; and created the Cybersecurity degree programs at both Missouri State and Drury Universities. He was named the 2017 "Security Professional of the Year" by the Association of Information Technology Professionals. His professional background includes over 25 years of IT experience in the fields of e-commerce, health care technology, and cybersecurity as the founder and co-founder of three companies currently operating in those areas. Dr. McMurtrey has published in the area of artificial intelligence in the United States and Europe and holds several respected industry certifications in network penetration, incident handling, web application security, and industrial control systems. This session will discuss cyber risk and how to help businesses choose appropriate strategies to respond to those risks, as well, as address many technical areas including network security, software security, web application security, cryptography, end user security, and legal and regulatory compliance. This presentation will summarize the annual threat assessment presented to congress from the office of the Directory of National Intelligence which focused heavily on cyber threats. We will also discuss supply chain attacks and their role in some recent large scale attacks. Finally we will wrap up on how we can keep our companies and communities more secure in this extremely hostile environment.
Mark Blackton, CVA:
Mark is a finance expert with significant business startup, financing and project management expertise. His experience includes developing strategic plans and financial models to support the acquisition, financing, operation and disposition of tangible and intangible assets. Mark's work history includes 10 years at KPMG, as a CPA, and 3 years at Duff and Phelps, doing complex business valuation projects. He has also worked with other notable companies such as Aquila, in Kansas City, and Kinder Morgan, in Denver. Mark had strategic planning and valuation roles with these companies. Mark's industry experience includes energy, commodities, manufacturing, transportation and business services. For the past several years Mark has been working with small to mid-sized businesses to provide business valuation, financial strategy and business brokerage services. He has also had the privilege of assisting business owners in the transition of their business to family members, key employees and to third parties. For more information please check out Mark on LinkedIn at: linkedin.com/in/mark-blackton
Hope to see you there!
Important Disclaimer
The Institute of Management Accountants, Inc. ("IMA") has adopted certain protocol and put in place preventative measures to reduce the spread of COVID-19; however, IMA cannot guarantee that you will not become infected with COVID-19. Further, attending any program may increase your risk of contracting COVID-19, and may increase the risk of transmitting COVID-19 to others.
By registering for this event acknowledge the highly contagious nature of COVID-19 and its variants, and voluntarily assume the risk that I, or members of my group or organization, may be exposed to or infected by COVID-19 and its variants by participating in any way in any event, program, activity, reservation or rental taking place at this IMA Event, and that such exposure or infection may result in personal injury, illness, permanent disability, and death. I understand that the risk of becoming exposed to or infected by COVID-19 and its variants at this IMA Event may result from the actions, omissions, or negligence of myself and others, including, but not limited to, IMA employees, volunteers, and other participants and their families.
I voluntarily agree to assume all of the foregoing risks and accept sole responsibility for any injury to myself or members of my group or organization, including, but not limited to, personal injury, disability, death, illness, damage, loss, claim, liability, or expense, of any kind, that they or I may experience or
incur in connection with participation in this IMA Event. I hereby fully release, covenant not to sue, discharge, and hold harmless IMA, its affiliates, subsidiaries, employees, directors, officers, agents, representatives, successors and assigns, of and from any claims related to COVID-19 and its variants, including all liabilities, claims, actions, damages, costs or expenses of any kind arising out of or relating thereto.
I understand and agree that this release includes any claims based on the actions, omissions, or negligence of IMA, its affiliates, subsidiaries, employees, directors, officers, agents, and representatives, whether a COVID-19 infection occurs before, during, or after participation in this IMA Event.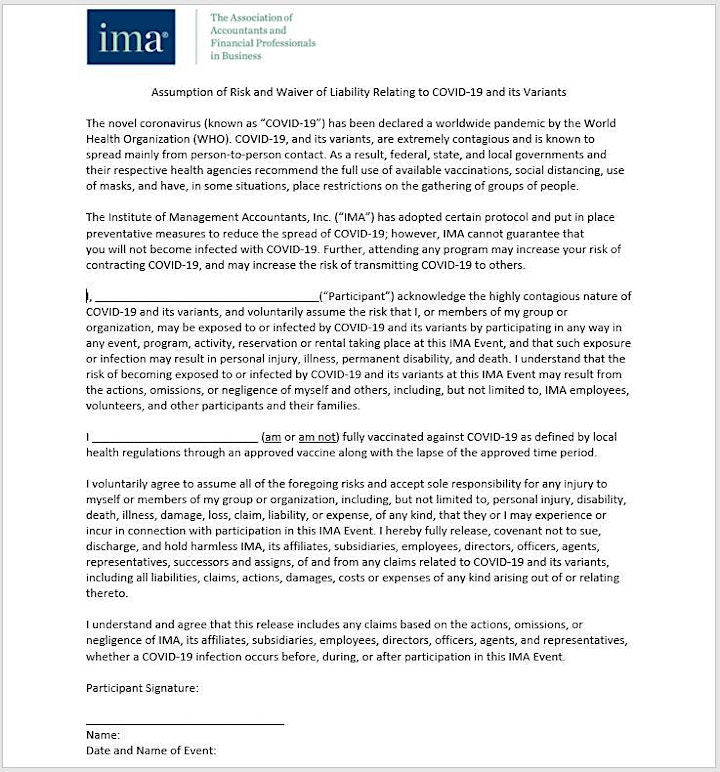 Organizer of IMAKC Annual CPE Conference 2021
The Kansas City Chapter (#0026) of the Institute of Management Accountants was chartered in 1926. The chapter is part of the Heartland Regional Council as well as the Stevenson Division which contains chapters that have more than 125 competition members. We exist to serve local accounting and finance professionals with continuing education programs and networking opportunities.  If you are a college student, young professional or seasoned professional, we have services that will help you in your career.
IMA® (Institute of Management Accountants) is the worldwide association of accountants and financial professionals in business. Founded in 1919, we are one of the largest and most respected associations focused exclusively on advancing the management accounting profession.  We are committed to empowering our 90,000+ members—and those throughout the rest of the profession—to strengthen on-the-job skills, better manage companies, and accelerate careers.
We invite our members to discover the myriad possibilities within the profession and build an actionable future in management accounting.