Join us for a virtual screening and discussion of the film "Deaf Jam"
About this event
Featuring Q&A with filmmaker Judy Lieff
About the film: Deaf Jam is the story of a deaf teen's bold journey into the spoken word slam scene. In a wondrous twist an Israeli immigrant living in the Queens section of New York City, eventually meets a hearing Palestinian slam poet. The two women embark on a collaboration/performance duet creating a new form of slam poetry that speaks to both the hearing and the Deaf.
This event is part of the virtual series "Imagining Change: Film and Dialogue About Disability, Racism, Violence, Gender and Power". The series is a collaboration between Repair and the UCLA Disability Studies program in conjunction with the UCLA Disability Inclusion Lab.
The film and discussion will be closed-captioned. ASL interpretation for the discussion provided. For requests or questions related to disability access, contact: repair.inquiries@gmail.com
Image description: The graphic for this event features a black and white film reel against a blue background. Gold lettering reads "Imagining Change".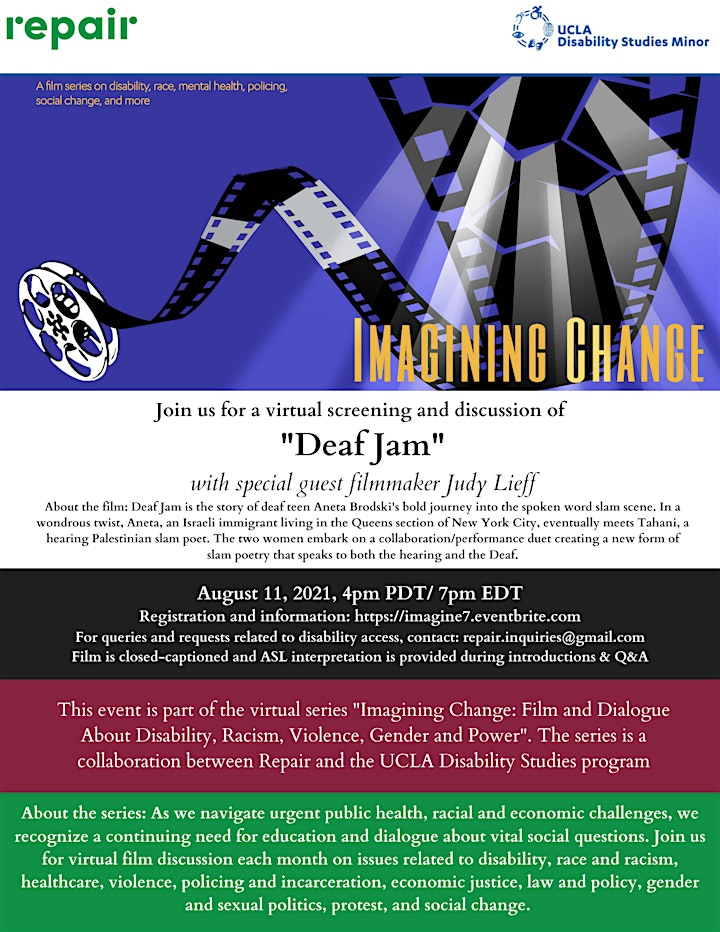 Organizer of Imagining Change Film Series -- "Deaf Jam"
Repair is a health and disability justice organization, based in Los Angeles.
We engage primarily in community and professional education, community-building, and policy analysis on a range of social change issues. Our priorities include: violence and trauma, health and healthcare, civics education, food and nutrition, and criminal justice systems. Many of our projects address the impact of racism, poverty and gender violence on community health.
Contact us at repair.inquiries@gmail.com
Connect with us on facebook, twitter, instagram, LinkedIn, and subscribe to our youtube channel.