Description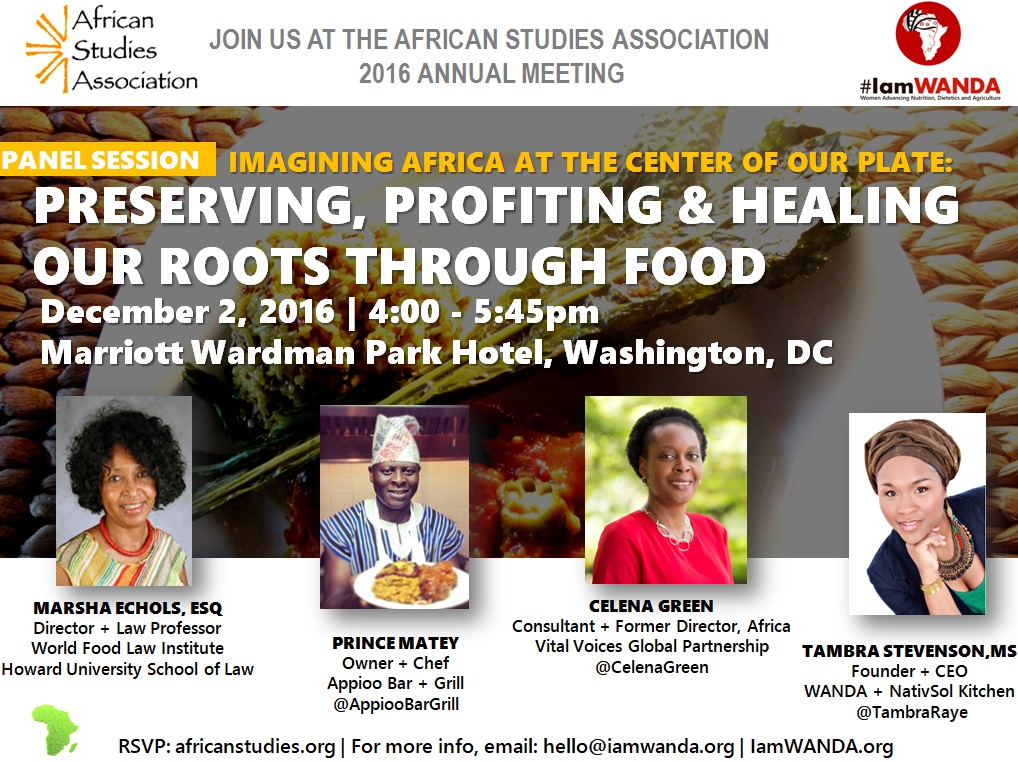 AFRICAN STUDIES ASSOCIATION ANNUAL MEETING
TITLE: IMAGINING AFRICA AT THE CENTER OF OUR PLATE: PRESERVING, PROFITING AND HEALING OUR ROOTS THROUGH FOOD
PANEL SPEAKERS
Organizer: Tambra Raye Stevenson, Founder and CEO, Women Advancing Nutrition Dietetics and Agriculture and Founder, NativSol Kitchen
Celena Green, Consultant & Former Director, Africa, Vital Voices Global Partnershp
Marsha A Echols, JD, Director, The World Food Law Institute, Howard University School of Law
Prince Matey, Chef and Owner of Appioo Restaurant
December 2, 2016 | 4:00 - 5:45pm | Marriott Wardman Park Hotel, Washington, DC
ABSTRACT
The World Economic Forum projected double digit growth of Africa's economy. Like Asia and Latin America, the food and agricultural sectors will follow these economic trends. Currently a rise in Western fast food chains have popped across the Continent in the name of job creation.
However with the projected 44 million Africans slated to acquire diabetes by 2030, what shift in projectory can happen on the continent to ensure that health and economy rise in prosperity together? As research scholars have documented the positive role of the African heritage diet, economic opportunities may life in the investing in local food economy while preserving the heritage and supporting a climate-smart and nutrition-sensitive agriculture. In addition scholarly works and visionary leadership matched with public will can ensure that Africa is truly at the center of the plate for Africa.
RSVP: africanstudies.org | For more info, email hello@iamwanda.org
Organizer of IMAGINING AFRICA AT THE CENTER OF OUR PLATE: PRESERVING, PROFITING AND HEALING OUR ROOTS THROUGH FOOD
Women Advancing Nutrition, Dietetics and Agriculture (WANDA) was born out of love to heal our community by inspiring, engaging and informing women and girls to honor our ancestors: 1) by embracing our foodways to heal ourselves and our communities; 2) becoming a healthy food entrepreneur and 3) advocating for healthy food policies for their communities.
WANDA is building a movement of black women and girls in Africa and the Diaspora with a pipeline and a platform. We value our voices from farm to health. WANDA's mantra is to "educate, advocate and innovate" by offering mentorship, educational resources, and service leadership opportunities while connecting Big WANDAs to Little WANDAs. Ultimately we want to celebrate the changemakers in our communities and create opportunities for the emerging ones.