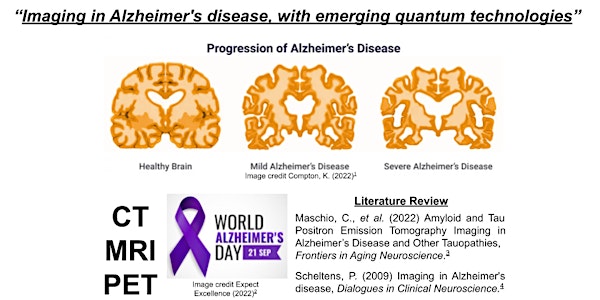 "Imaging in Alzheimer's disease, with emerging quantum technologies"
Next Discussion: "Imaging in Alzheimer's disease, with emerging quantum technologies" Thursday 9/22 6:00pm PDT Episode 49
About this event
Literature Review #1
Maschio, C., et al. (2022) Amyloid and Tau Positron Emission Tomography Imaging in Alzheimer's Disease and Other Tauopathies, Frontiers in Aging Neuroscience.
► "The detection and staging of Alzheimer's disease (AD) using non-invasive imaging biomarkers is of substantial clinical importance."
► "Imaging biomarkers for pathologic proteins are vital for clinical diagnosis, disease staging and monitoring of the potential therapeutic approaches of AD."
► "To improve binding properties such as binding affinity and to eliminate off-target binding, second generation of tau PET tracers have been developed."
Article: https://lnkd.in/gdeFRSzx
Literature Review #2
Scheltens, P. (2009) Imaging in Alzheimer's disease, Dialogues in Clinical Neuroscience.
► "In this review, the various imaging techniques will be highlighted, with an emphasis on their ability to diagnose Alzheimer's disease and separate it from other entities."
► "Alzheimer's Disease (AD) is the epidemic of this century. All research efforts should be combined to find a cure for this devastating disease."
► "From being used for exclusive purposes only, neuroimaging is now in the forefront of aiding in the diagnosis of Alzheimer's disease (AD), frontotemporal dementia, vascular dementia, and and dementia with Lewy bodies (DLB)."
Article: https://lnkd.in/gPqgmhr6
A 2022 supplement regarding neuroscience and quantum technologies: https://lnkd.in/gTPzmPF3
#alzheimers, #imaging, #neuroimaging, #neuroscience, #medicalimaging, #pet, #mri, #ct, #quantumimaging, #quantumsensor, #quantumsensing, #quantum, #quantumcomputing, #algorithms, #ml, #ai, #qml, #huntingtonsdisease, #parkinsons, #dementia
Sincerely,
CEO Kevin Kawchak
ChemicalQDevice
September 18th, 2022