Description
CSU, Chico Society of Women Engineers (SWE) is excited to host our sixth annual STEM education outreach event, Imagineer Day, for the children in and around the Chico community!
Photo from our fifth annual Imagineer Day, 2017
This one-day event, hosted on March 10th, 2018 at the CSU, Chico College of Engineering, will provide 245 local children, Kindergarten through 8th Grade, an opportunity to engage in hands-on lab experiments that demonstrate basic engineering concepts in its multiple disciplines. Each participant will engage in four different lab experiments based on grade level. Come experience what it's like to be an engineer for a day by participating in experiments that explore Mechanical, Civil, Chemical, Environmental, Electrical, Biomedical and Aerospace Engineering!
Due to popular demand, we are excited to announce that we will be continue the new addition of the 7th and 8th Grade Robotics lab for the 2018 Imagineer Day. We will open it up to 15 students!
Your contribution of $16.99 ($15.00 + fee) provides each participant with snacks throughout the day, lunch, and a full day of engineering activities! A unique "Imagineer Day 2018" t-shirt, goodie-bag, and an "Imagineer" certificate of participation are our gifts to you.
*TENTATIVE IMAGINEER DAY 2018 SCHEDULE*

Below is a basic event schedule for Imagineer Day.
Registration/Setup 7:45-8:45am
Introduction 8:45 – 9:00am
Lab Rotation #1 9:10 – 10:00am
Lab Rotation #2 10:10 – 11:00am
Lab Rotation #3 11:10 – 12 pm
Group Photo/Lunch 12:00 – 1:00pm
Lab Rotation #4 1:10 – 2:00pm
Closing Ceremony 2:10 – 2:45 pm
*Those participating in the 7th & 8th Grade Robotics lab will remain in same location through-out the event
FAQs
Q1: What are my parking options? Where is Check-In located?
A1: The parking garage on the corner of West 1st Street and Ivy Street (as well as street parking) offers free parking on weekends. Check-In is located between the Langdon and O'Connell engineering buildings, as shown by a red "X" on the map below: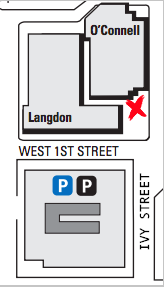 Q2: Do I have to bring my printed ticket to the event?
A2: Although this does make Check-In faster, it is not necessary. We will have printed listed of all participants who purchased tickets through EventBrite.
Q3: What should my child bring into the event?
A3: Your child does not need to bring anything with them, but we encourage them to bring a small bag or backpack to store excess clothing (we will provide an event t-shirt which we encourage them to wear during the event) and take-home goodies from their labs. Also, if your child is vegan, or has other dietary restrictions (excluding vegetarian, gluten-free or peanut allergies), we suggest for them to bring their own lunch.
Q4: What's the refund policy?
A4: Refunds can be provided up to 1 week before the event (March 3, 2018). No refunds will be provided for "no-shows".
Q5: Is my registration fee or ticket transferrable?
A5: Unfortunately, we cannot allow anyone other than the original participant (whose name is on the ticket) to take the place of another child.
Q6: When is the last day to register? Can I register on the day of the event?
A6: Tickets can be purchased through EventBrite until February 16, 2018. Tickets will not be sold on the day-of the event.
Q7: Can I update my registration information?
A7: If you need to update your participant's registration information, please email our Section President, Shelby Freese, at chicoswe@yahoo.com.
Q8: Is my registration fee or ticket transferrable?
A8: Unfortunately, we cannot allow anyone other than the original participant (whose name is on the ticket) to take the place of another child.
Q9: Is it ok if the name on my ticket or registration doesn't match the person who attends?
A9: The name on the ticket and registration should match the name of the participant (not the parent/guardian name). While this error would render an inconvenience for SWE, it would not mean that your child cannot participate.
Q10: I am not a parent or guardian of a prospective participant, but can I still sign her/him up? Can I register my child through her Girl Scouts troop?
A10: Only parents and guardians of a participant may purchase said participant's ticket. All participants must register individually through EventBrite.
Q11: My child wants to be paired with her sister/brother/friend/Girl Scout troop throughout the day. Can SWE make this happen?
A11: In order to promote group collaboration, subgroups of 27 participants based on grade (Kindergarten-3rd Grade or 4th Grade-6th Grade) are selected randomly, so no participants are guaranteed to be placed together. However, in extreme cases, we will do our best to accommodate: please contact chicoswe@yahoo.com.
Q12: As a parent/guardian/group leader, can I attend Imagineer Day along with my child?
A12: In an effort to encourage each participant to collaborate and make friendships, we kindly ask that you not accompany your child throughout the day. However, if your child has a disability which requires your assistance, please contact us at chicoswe@yahoo.com and we would be happy to make accommodations.
Q13: My child has an allergy. Can SWE make accommodations?
A13: Please indicate allergies of any kind during registration so we can plan to make accommodations for your child ahead of time. As far as food allergies, vegetarian and gluten-free lunch options will be provided. If further food accommodations need to be made, please provide your child with his or her own lunch.
Q14: Where can I contact the event organizer if I have any other questions?
A14: Shelby Freese, Section President, can be contacted at chicoswe@yahoo.com.
Donations
Generous donations of any amount are what allows CSU, Chico SWE to host this amazing event every year! There are multiple ways you can support our event, whether you are donating as an individual or on behalf of your company.
Personal Donations:
EventBrite: Under the "Tickets" tab, select the "Donation ONLY" option and enter any amount.
GoFundMe: SWE Chico (Section A052) Imagineer Day https://www.gofundme.com/m54sezk8
Donate by Mail (check or cash):

Company Donations:
Donations by mail can be sent to the address listed above. Additionally, we would be happy to recognize your company's generous contributions by featuring a specified company logo on our "Imagineer Day 2018" t-shirts (unless preferred otherwise) which are provided as a gift to all participants and volunteers.

As the Society of Women Engineers (SWE) is designated by the Internal Revenue Service (IRS) as a not-for-profit 501(c)(3) organization, gifts to SWE are tax deductible to the full extent of the IRS code. Please contact us at swechico@gmail.com and we would be happy to provide our tax ID (EIN) upon your donation.
---
This event was made possible by a Program Development Grant with the Society of Women Engineers through a generous donation from the ExxonMobil Foundation.