Imagine This! A Seminar on Bringing Creativity to Classrooms

Monday, June 20, 2011 at 8:30 AM

-

Wednesday, June 22, 2011 at 12:30 PM (PDT)
Event Details
Put your imagination to work at the second annual arts integration summer seminar, sponsored by The Right Brain Initiative. ImagineThis! once again brings together classroom teachers, arts specialists, school and arts organization leaders for an engaging three days of standards-based arts teaching and learning in Portland.
BRIAN DAVIS, internationally-acclaimed musician with PINK MARTINI, will open the seminar on Monday, June 20, igniting the week with his creative "spark." GARRY GOLDEN, nationally recognized FUTURIST, will close the seminar with his provocative presentation on the future of learning.
Throughout the seminar, participants will choose from a wide range of sessions taught by outstanding arts educators and national experts. Sessions include exciting workshops, studio sessions, and stories from the field – what we are learning about Right Brain practice. 
There is something for everyone:
Classroom teachers will gain arts-based strategies to engage students K-8 and deepen student learning across subjects.

 

Arts specialists will learn current standards-based approaches to arts education and increase their skills as leaders of arts learning in their schools.

 

Administrators will discover new approaches for engaging staff, students and parents in a creative community.

Teaching Artists will deepen their teaching practice and form collaborative relationships with teachers and schools.
The full event schedule and workshop descriptions can be viewed here: Imagine This! Workshop Descriptions. Information about the presenters can be viewed here: Presenter Bios.

Here's how to register:
1. Click on the "Imagine This! Workshop Descriptions" link above and decide which workshops you would like to attend.
2. If you pre-registered for a ticket, you should have received a discount code for 10% off the registration fee. Click "enter discount code" to apply the discount.
3. Select the quantity and type of tickets you wish to purchase and click "Order Now." Registration for the the full seminar (Mon-Wed) is $250, and a single-day registration is $100.
4. Complete the contact and payment information, along with your workshop selections, including all group sessions (i.e. Opening Sparks and Imaginarium) and optional events (i.e. wine and cheese reception and Wednesday luncheon). 

5. You will be able to make changes to your registration at a later date by logging in to your EventBrite account, click on "my tickets", and then "manage order."

Please Note: Registration will end June 16th, 2011.

Other helpful information:
- HOTEL: Hotel deLuxe is offering a 15% discount on room rates for conference participants. Just call (866)986-8085 and reference the "Imagine This Seminar."
- TRANSIT: There are several public transit options for getting to the museum. Go to TriMet to plan your trip.
- PARKING: There are several public parking lots near the Portland Art Museum. Click here for a list of options.
- EDUCATION CREDIT:
PSU Credit will be available for the Summer Seminar at a cost of $55 (1 continuing education credit from the Graduate School of Education).  Registration will take place on site and registration fee is due and payable by check only at the time of registration.  In order to qualify for credit, participants must attend all sessions for all 3 days of the Seminar, as well as the Credit Group Meeting on Wednesday from 12:30-1:30 pm (on site, room TBA).  Participants will be required to sign-in for each session.  A reflective paper will be part of the seminar grade; guidelines to be provided upon registration.  Deborah Brzoska is the Course Instructor.
For more information about The Right Brain Initiative: http://therightbraininitiative.org/
Questions and comments can be sent to: Sarah Moody, smoody@racc.org

Organizer
RACC in collaboration with PEAC and ART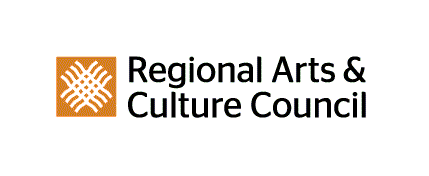 Imagine This! A Seminar on Bringing Creativity to Classrooms