Description

Your ticket includes premium open bars in 11 fairytale-themed worlds of cirque performers, fantasy costumed actors, fairy ballet dancers, wizard magicians, theatrical decor, wine-tasting room, whiskey & cigar lounge, champagne & oyster bar, floating cheese bar, culinary bites, decadent desserts, live jazz club, DJ's & dancing, black-tie optional at a private historical mansion!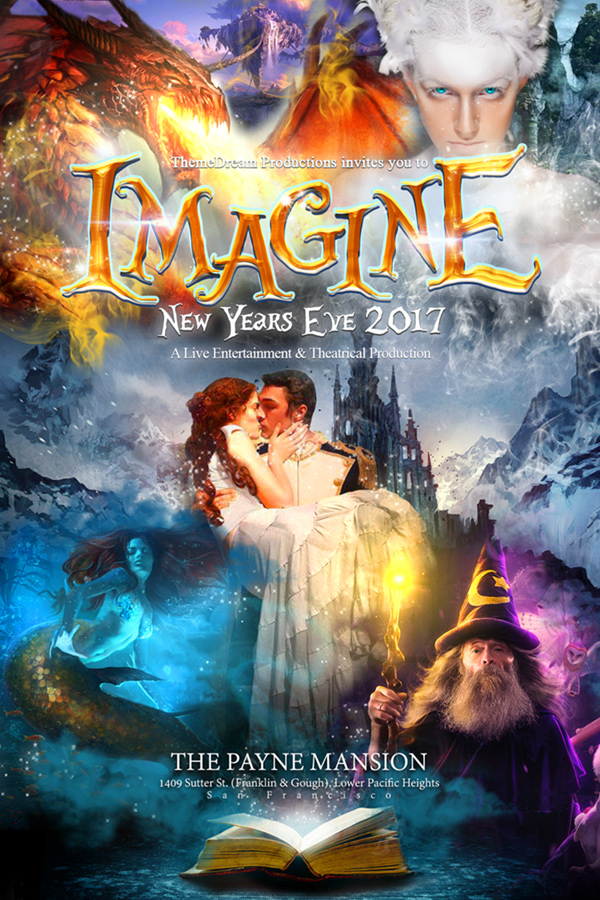 View photo highlights from last year's "IMAGINE l New Year's Eve l Disneyland for Adults"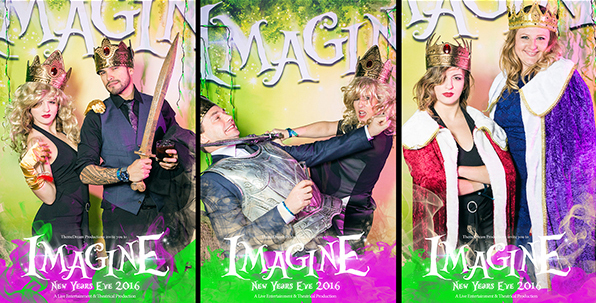 View fun photos of our guests from last year's "IMAGINE"

ThemeDream Productions
in conjunction with Donovan
invite you to…

"IMAGINE"
Where the Mystical and Bizarre Come to Life…

A Live Entertainment & Theatrical Production

NEW YEAR'S EVE 2017
December 31, 2016, 9pm-2am

------------------------------------------

CIRQUE ENTERTAINMENT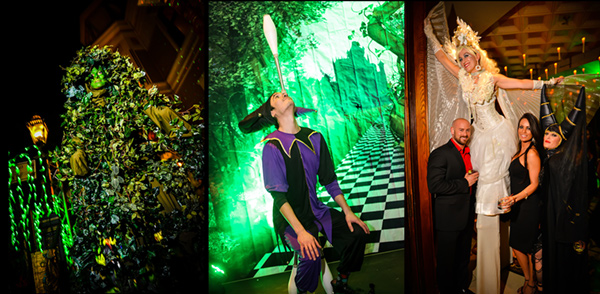 Stilt Walkers

Ballet Dancers

Contortionists

Illusionists

Jugglers

------------------------------------------

TAKE YOUR PHOTO WITH…

Outlandish Costumed Actors from a Land Far, Far Away…
Fairies
Mermaids
Dragons
Wizards
The Evil Queen
The Ice Queen
The Spider Queen
Fantasy Creatures
& More!

------------------------------------------

Red Carpet Event

Black Tie Optional

Premium Open Bar
Wine Tasting Room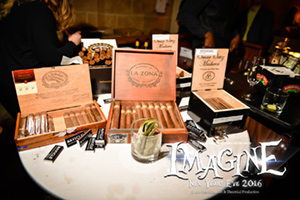 Cigar & Whiskey Lounge

Champagne & Oyster Bar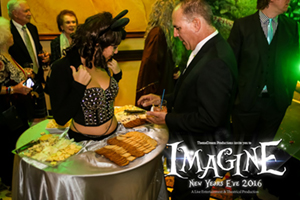 Cheese & Burrata Bar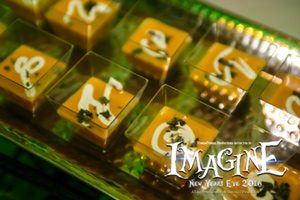 Culinary Bites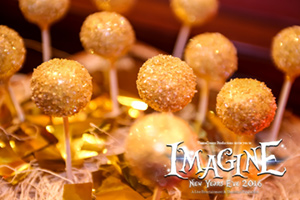 Decadent Dessert Bar

Hand-Crafted Cocktails

Craft Beer Tavern

Midnight Celebratory Toast (of Your Choosing)

------------------------------------------

11 FANTASY AREAS OF PLAYFUL FESTIVITIES

filled with

theatrical lighting

fantasy world décor

dazzling visuals

photo-friendly costumed actors

&

mesmerizing cirque performers

------------------------------------------

TAKE YOUR PHOTOS IN…













MUSIC

Live Music
Old Hollywod Jazz Band
playing all your favorite classic standards by:
Frank Sinatra, Dean Martin, Bing Crosby, Louis Armstrong, Nat "King" Cole, Ella Fitzgerald, Billie Holiday, and Sarah Vaughan. Music that makes a man feel like a gentleman and woman feel like a lady!
(Performing in the "World of Make-Believe")

DJs & Dancing
Top 40, Enchanting EDM & Mystical House Music by
DJ Donovan, Hanik & John Andrew
(Performing in the "The Evil Queen's Castle")

------------------------------------------

VIEW PHOTO GALLERIES
from past Donovan New Year's Eve parties (2003-2016):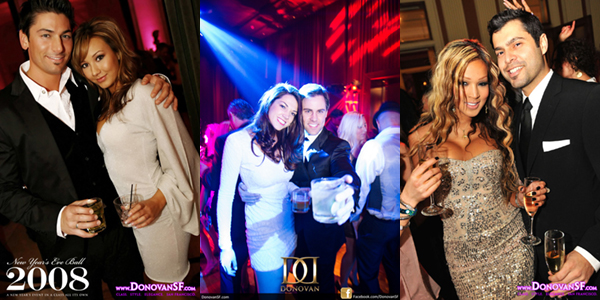 View Party Pictures from Past Donovan New Year's Eve Parties

------------------------------------------


THE VENUE
A San Francisco Historical Landmark (Built in 1881)

The Payne Mansion is considered one of the most beautiful locations of domestic and Victorian-era architecture in the United States.

THE PAYNE MANSION
1409 Sutter Street | San Francisco
(Lower Pacific Heights)

------------------------------------------

HOTEL ROOMS
Don't Drive & Drive. Take the Elevator Home.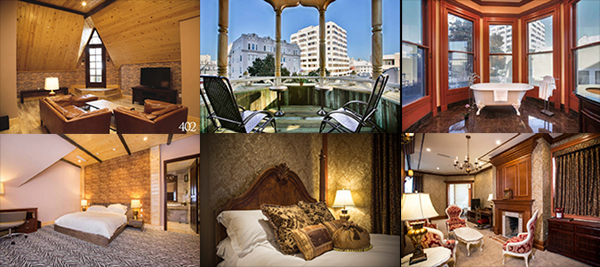 BOOK A ROOM @ THE PAYNE MANSION HOTEL!
STARTING @ $299/NIGHT
Only 11 Rooms Available!!!
Payne Mansion just recently underwent a magnificent $3,000,000 renovation, transforming it into a high-end boutique hotel with modern, high-end amenities, while retaining its original charm, beauty and exquisite craftsmanship that makes this 135 year old building one of San Francisco's most prized gems.
BOOK YOUR ROOM!
(415) 213-2746
reservations@paynehotel.com
NOTE: Online Reservation System will say "No Rooms Available".
You must call or email hotel verifying you are an IMAGINE New Year's Eve attendee to make a hotel reservation!
------------------------------------------
ABOUT DONOVAN EVENTS
Hosting over 600 events in the past 14 years, Donovan has been the pioneer of San Francisco's "upscale nightlife" movement, bringing more innovative, more cultured, more refined, and more cosmopolitan spirit to San Francisco nightlife. The Donovan parties are synonymous with class, elegance, sophistication, wealth, and fashion with a famous reputation for having "The most beautiful, the most fashionable, and the most glamorous people in Northern California".

Donovan has hosted events for world-famous fashion brands Prada, Dolce & Gabbana, Emporio Armani, Calvin Klein, BCBG, Saks Fifth Avenue, Marciano, Macy's, Bebe, Kenneth Cole, Diesel, Ted Baker, Armani Exchange, Benetton, French Connection, Sephora, Bare Escentuals, Shu Uemura, Vidal Sasson, Miss Sixty/Energie, and fashion magazines Vogue, GQ, Details, 7X7, San Francisco, and SOMA.
The Donovan parties are distinguishably known for being hosted at San Francisco's most reputable and most prestigious venues: San Francisco City Hall, Bentley Reserve, U.S. Old Mint, Top of the Mark, the Fairmont Hotel, The Mark Hopkins Hotel, the Clift Hotel, the W Hotel, Ozumo, La Mar, Foreign Cinema, Ana Mandara, Yoshi's, etc.

When people think of upscale nightlife and fashion-forward culture in Northern California,
they immediately think Donovan events.

For more information on Donovan events, please visit www.donovansf.com

------------------------------------------

ABOUT THEMEDREAM PRODUCTIONS
ThemeDream Productions is a leading event production company in San Francisco specializing in innovative, thematic, immersive "experiences" interweaving artistically-presented cuisine by creative chefs, delectable wine & spirits pairings by sommeliers & mixologists, dramatic theatrical décor and lighting, meticulously-curated atmospheric music and spectacular live entertainment.

"A NIGHT IN PARIS: VALENTINE'S DINNER"


View a music video slideshow from ThemeDream Production's "A Night in Paris"

On Valentine's Day 2015, ThemeDream produced its first sold-out show "A NIGHT IN PARIS: A Romantic Dinner & French Cabaret Show" at the historical San Francisco landmark: The Julia Morgan Ballroom (Merchant Exchange Building) built in 1904.
"THE HAUNTED DINNER: HALLOWEEN"


View a music video slideshow from ThemeDream Production's "Haunted Dinner 2015"



View a music video slideshow from ThemeDream Production's "Haunted Dinner 2016"

On Halloween Weekends 2015 & 2016, ThemeDream produced "THE HAUNTED DINNER: A Spooktacular Dinner Theatre Experience" at the historical San Francisco landmark: The Payne Mansion (built in 1881).

"IMAGINE: DISNEYLAND FOR ADULTS: NEW YEAR'S EVE"


View a music video slideshow from ThemeDream Production's "IMAGINE"

On New Year's Eve 2016, ThemeDream produced a theme park for adults called "IMAGINE" with 11 fairytale-themed worlds to explore of cirque performers, costumed actors, singers, dancers, theatrical decor along with premium open bars, wine-tastings, champagne & oyster bars, and a whiskey & cigar lounge.
"DINNER IN WONDERLAND: A MAD HATTER'S AFFAIR"


View a music video slideshow from ThemeDream Production's "Dinner in Wonderland"

In Summer 2016, ThemeDream produced its third dinner show "DINNER IN WONDERLAND: A Mad Hatter's Affair" at the historical San Francisco landmark: The Lodge at The Regency Center (built in 1906).

For more information on ThemeDream Productions and photos from our past events,
please visit our website www.themedreamproductions.com